Singapore Shipyards Keep Busy in Second Half of Year
by Chee Yew Cheang
|
Rigzone Staff
|
Friday, December 19, 2014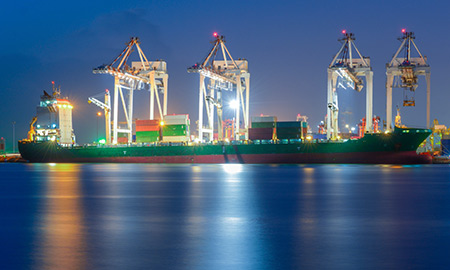 Singapore's major yards managed to keep busy in the second half of 2014 after experiencing a slow first half in orders for rig & platform fabrication and vessel conversions.
Singapore's two major offshore players manage to keep themselves busy in the second half of this year after a fairly slow first half, with orders for newbuild rigs trickling towards the total received for 2013.
While Singapore's Keppel Offshore & Marine (Keppel O&M) – a unit of Keppel Corp. Ltd. – and Sembcorp Marine Ltd. have been dealing with stiff competition from Chinese yards for quite some time, established China's shipyard Cosco Corp. is now feeling the strain posed by a more challenging business environment created by its domestic rivals.
Singapore Yards Edge Nearer to 2013 Rig Orders
Both Singapore yards, Keppel Offshore & Marine (Keppel O&M) – a unit of Keppel Corp. Ltd. – and Sembcorp Marine Ltd., bagged 13 newbuild orders, consisting of 11 jackups and 2 drillships, by the end of November, according to Rigzone's RigLogix database. Last year, these companies secured 17 newbuild orders, comprising 15 jackups, 1 semisubmersible and 1 drillship.
Keppel O&M managed to match last year's total of eight jackup orders, while Sembcorp Marine received only three jackup orders in the same period, four less than in 2013 although it bagged $1.08 billion orders for two drillships from a subsidiary of Transocean Ltd. earlier this year.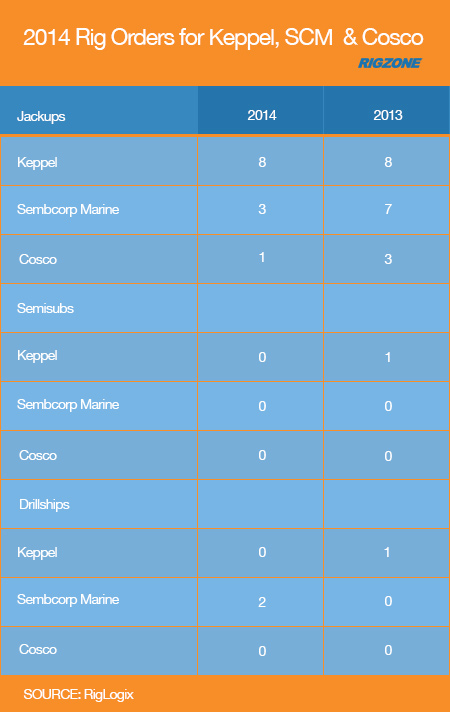 2014 Rig Orders for Keppel, Sembcorp Marine & Cosco
1
2
3
4
5
View Full Article
Generated by readers, the comments included herein do not reflect the views and opinions of Rigzone. All comments are subject to editorial review. Off-topic, inappropriate or insulting comments will be removed.