President Widodo Seeks to Energize Indonesia's Moribund Oil, Gas Industry
|
Monday, December 22, 2014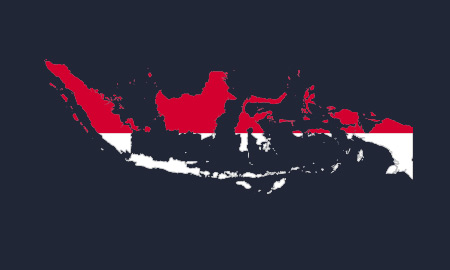 Much work awaits Indonesia's new president Widodo as he attempts to provide some fresh direction for the country's stagnant oil and gas industry.
Shortly after being inaugurated as Indonesia's seventh president in October, Joko Widodo has moved quickly to reinvigorate Southeast Asia's largest economy, including a stagnant energy sector, as he begins his current five year term.
Widido seeks to restore the industry's confidence in investing in a sector currently plagued by regulatory, legal and contractual uncertainties as well tackling graft at the energy ministry and the agencies under the latter's supervision such as upstream oil and gas regulator SKK Migas.
The energy issue is quite pressing for the new president as falling production by Asia's only ever member of the Organization of Petroleum Exporting Countries – from 1962 to 2009 – and a sustained rise in domestic consumption has resulted in an outflow of funds solely needed for local developmental needs to pay for expensive oil imports. Ageing wells and a lack of exploration, caused partly by a lack of investment, have contributed to declining oil production in Indonesia.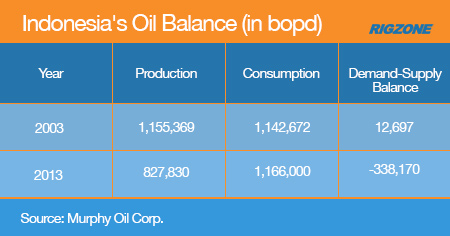 Indonesia's Oil Balance (in bopd)
Last year, Indonesia's oil consumption reached 1.66 million barrels of oil per day (bopd), up 45 percent from 1.14 million bopd more than a decade ago in 2003, while local production declined 28.3 percent in the corresponding period to 827,830 bopd from 1.15 million bopd, figures available from the U.S. Energy Information Administration revealed.
Anti-graft Activist Sudirman Said Heads Energy Portfolio
Given the challenges facing the hydrocarbon industry, Widodo appointed Sudirman Said – a former corporate secretary at Indonesia's state-owned oil and gas firm PT Pertamina and an anti-corruption activist – to head the graft-ridden Energy Ministry, with the minister also responsible for the state's mineral resources sector.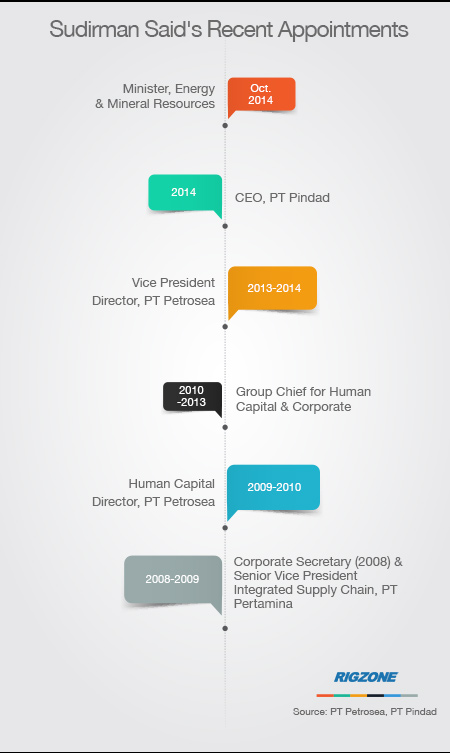 Sudirman Said's Recent Appointments
Said has moved to repair the tarnished image of the energy ministry, where his predecessor Jero Wacik stood down from office in September after being named a suspect in a case involving extortion and kickbacks worth about $841,000. The new minister recently dismissed the director general of oil and gas after the unit was rated poorly by presidential advisors and now required all top directors to re-apply for their jobs.
"Building a reputation and public trust is our homework … we want to refresh our organization...we want to put in place better people," Said explained, as quoted by Reuters.
Seeking to restore investor confidence in the Indonesia's energy industry, Widodo appointed Amien Sunaryadi – a former deputy chairman of Indonesia's Corruption Eradication Commission (KPK) – as the new chief of SKK Migas to succeed former chairman Rudi Rubiandini – now serving a seven year prison sentence for graft.
"SKK Migas needs to be managed by a fighter, and in my opinion Sunaryadi can be categorized as a fighter. His strength, as someone very concerned with the institutional system, is much needed at SKK Migas," the energy minister said, as quoted in a Nov. 19 Reuters report.
Besides focusing its attention on SKK Migas, which has temporarily assumed the role of former upstream regulator BP Migas after the latter was declared unconstitutional by a court ruling in late 2012, the government revealed plans to introduce a new oil and gas law that would further strengthen the regulatory structure for the industry. SKK Migas will continue to handle the country's upstream production activities with oil and gas firms pending the introduction of this law.
In a related development, president Widodo has ordered his cabinet to simplify bureaucracy and de-bottleneck problem areas.
"We are facing a daunting task to bring back confidence, bring back credibility and bring back people who want to do business in Indonesia," Widhyawan Prawiraatmadja, a special assistant to the new energy minister said in a Nov. 12 Reuters report.
The government is currently compiling a list of areas the industry wants fixed, including a tax on land use being applied to oil and gas exploration, according to Coordinating Maritime Minister Indroyono Soesilo, who also oversees the energy ministry.
Moves by the government to improve regulatory efficiency have not gone unnoticed, including the president's recognition of the need for appropriate fiscal terms for different geological specifications in Indonesia's oil and gas reserves.
"When you look for that equitable value for both the country and the investor, that is a key mechanism to be able to achieve that and help things to get developed," Exxon Mobil Corp.'s Indonesia's chief executive Jon Gibbs told Reuters.
ExxonMobil and its partners – Pertamina, France's Total S.A. and Thailand's PTT Exploration and Production plc (PTTEP) – in Indonesia's offshore East Natuna gas field, formerly known as Natuna D-Alpha Block, have yet to receive any news on the production sharing contract for the acreage.
Meanwhile, Chevron Indonesia, the local unit of Chevron Corp., also heaped praise on the Widodo government for opening a constructive dialogue with the oil and gas industry in Indonesia, the company's senior vice president Yanto Sianipar commented.
Projects Pending Government Decisions
Approvals for several upstream projects in Indonesia have been put on hold during the election year and the Widodo government is aware that the energy industry is watching with anticipation its move on these developments.
"These need immediate decisions," according to Pri Agung Rakhmanto, as quoted in Reuters, citing the delays on the Indonesian Deepwater Development (IDD) and Masela Abadi projects operated by Chevron and Japan's Inpex Corp., respectively. Rakhmanto was part of a team that advised the new president on energy matters prior to his inauguration.
While Chevron is proceeding with the first phase of the IDD natural gas project, comprising the Bangka field development, the U.S. major has indicated a delay in the timeline for Gendalo-Gehem development under the second phase.
partners to secure the necessary approvals and contractual and commercial agreements for the second stage of IDD, the Gendalo-Gehem development," a Chevron spokesman said in an email statement to Rigzone.
"A final investment decision (FID) for the second stage of IDD was subject to the timing of approvals and the achievement of required milestones within the validity dates for contractual and commercial agreements. FID for the second stage of IDD will not be achieved in 2014. Delay in the second stage, Gendalo-Gehem FID, will impact the current contractual and commercial agreements," the Chevron spokesman added.
The IDD will be Indonesia's first ultra-deepwater natural gas integrated project, covering the Bangka, Gendalo, Gehem, Gandang and Maha fields, which are located offshore East Kalimantan.
On the Abadi project, Inpex has requested the government to extend the contract for the Masela block beyond 2028 as it needs more time to recoup its investment. The operator is completing front-end engineering design work for the liquefied natural gas (LNG) development, which commenced in January 2013. Abadi LNG project comprises a 2.5 million tons per annum floating LNG facility.
Meanwhile, Total and partner Inpex will not increase its investment in East Kalimantan's offshore Mahakam block next year as the government has yet to decide on an extension of the contract for the block which expires in 2017. The Mahakam joint venture's request is being contested by Pertamina, which has repeatedly expressed to the government it is ready to take over the expiring production block.
"Next year we will invest … around $2.5 billion [in Mahakam block], in cooperation with partner Inpex," Total Indonesie communications chief Arividya Noviyanto told Reuters, compared to $7.3 billion if the contract is renewed.
"There must be a final decision on the contract," Noviyanto warned as output from the field could decline by up to 72 percent if investment in development and maintenance are not made soon.
Pertamina Continues to Acquire Foreign Upstream Assets
Driven by a desire to boost declining crude oil production to meet rising domestic demand, Pertamina remains focused on securing stakes in foreign upstream assets.
In September, the Indonesian firm's subsidiary PT Pertamina Malaysia Eksplorasi Produksi acquired a 30 percent stake in Murphy Oil Corp.'s Malaysian upstream assets for $2 billion, reportedly fending rival bids from Vietnam's state-owned Vietnam Oil and Gas Group (PetroVietnam) and Kuwait Foreign Petroleum Exploration Co. (KUFPEC).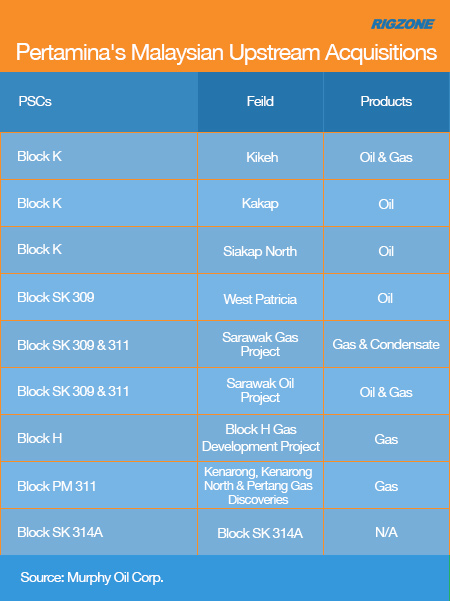 Pertamina's Malaysian Upstream Acquisitions
When the transaction is completed, Pertamina will have 30 percent of Murphy's Malaysia net production, which stood at around 86,000 barrels of oil equivalent per day (boepd) in 2013, data published on U.S. independent oil company's website indicated.
The Indonesian national oil and gas firm is currently assessing five foreign upstream blocks for acquisition next year, Denie Tampubolon, Pertamina's senior vice president for upstream business development told local daily The Jakarta Post.
Foreign crude oil supplies are expected to rise tenfold to around 600,000 boepd by 2013, compared to 63,000 boepd planned for this year.
Looking ahead, market attention is focused on how the Widodo government moves the petroleum industry forward given the stagnation in the last few years. While it appears that the new president has signalled his intention to take measures to attract upstream investments, much will depend on whether words can be translated into deeds.
"A lot of things being said are very positive and I look forward to seeing those materialize," ExxonMobil Indonesia's Gibbs was quoted by Reuters as saying, a mood that reflects the current expectations of the industry.
Generated by readers, the comments included herein do not reflect the views and opinions of Rigzone. All comments are subject to editorial review. Off-topic, inappropriate or insulting comments will be removed.