Starting Out As An Exploration Geoscientist With Shell
Shell
|
Wednesday, November 26, 2014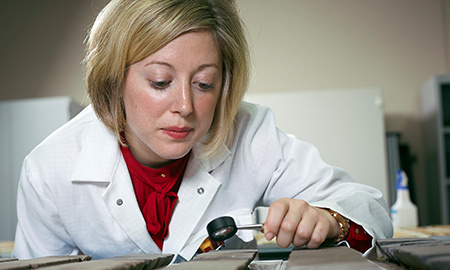 Shell profiles Helen Doherty, Exploration Geoscientist for Upstream International New Ventures: Sub-Saharan Africa.
Helen Doherty studied Geology at Keele University, completed an Assessed Internship with Shell and is now an Exploration Geoscientist for Upstream International New Ventures: Sub-Saharan Africa. So how did it all begin and what's next for this explorer?
"I have always been curious about geology. I enjoy the outdoors and spent a lot of my time as a youngster at Scarborough and Watchet beaches in the UK. When I took a gap year I incorporated geological tourism into my visit to Australia and New Zealand. But I didn't originally go to Keele University to study Geology; I went to read Physical Geography and Biology. After discovering inspiring geology lab classes, and then meeting my eventual PhD supervisor Professor Graham Williams, I decided to try Geology. I haven't looked back since."
As she was finalising her PhD Helen connected with people she knew who were already at Shell and based on their advice, applied for a job in the Exploration team. Looking at her skillset, role availability and the timeframe needed to make a meaningful impact, she was offered a five-month Assessed Internship working within the New Ventures Europe and Russia team, based in London.
After successfully completing her assessed internship, Helen was offered a graduate role as an Exploration Geoscientist working in the New Ventures: Sub-Saharan Africa team. As Helen continues on her journey with Shell she will have the opportunity to take part in geological field trips, face-to-face training courses, and build up operational experience, all with the support of Shell's technical specialists. Upon completion of this her next step will be to complete the Shell Advanced Technical Programme, which will compound her learnings and provide the solid foundations needed to be an explorer within Shell.
"It's great to see talented young geologists like Helen choosing to come to Shell, eager to make an impact and take an active role in their career development. Helen is exactly the type of person we're looking for to join our team – curious, enthusiastic and keen to continue her journey of learning with Shell. I encourage other remarkable geoscientists to explore our Graduate Programme and discover what they can achieve with Shell." Ceri Powell, EVP UIX Exploration.
"Truthing It Out"
But back to the near future, what's next for Helen? Helen is undertaking Geoscience Foundation 1, a structured training course for all Shell Exploration graduates. As part of this Helen will go to Oman for six weeks and spend a week in the desert which will give her the opportunity to assess and understand the geology of the petroleum systems she examines in her day-to-day role. Other graduates may attend similar courses run in the Netherlands and the USA. Over the next few years Helen will complete the second and third Geoscience Foundation courses and also gain operational experience.
Helen concludes: "Shell is a great place to be, I get to work beside world class researchers with diverse technical expertise and geologically challenging data-sets. There are so many opportunities to gain experience within different parts of the business, to travel and to work in varying operational units. The projects I have worked on to date have been fascinating and I feel motivated by the impacts I have been able to make in such a short space of time".
Related Links:
Generated by readers, the comments included herein do not reflect the views and opinions of Rigzone. All comments are subject to editorial review. Off-topic, inappropriate or insulting comments will be removed.
RELATED COMPANIES