Mozambique's LNG Ambitions Taking Shape, Gradually
|
Tuesday, December 02, 2014
The main thrust of the onshore FEEDs is on developing an overall LNG park plan that has the capability to produce approximately 50 million tons of LNG per annum (Mtpa) in future years. The LNG FEEDs will each deliver designs for an initial development consisting of four 5-Mtpa liquefaction trains with capacity. Anadarko is working with Eni, operator of the Area 4 block located adjacent to Area 1, on the onshore FEEDs.
"The [onshore] FEEDs will culminate in the delivery of a full engineering, procurement and construction plan, and a lump-sum turnkey price for the initial two 5-Mtpa trains, as well as associated common facilities," Anadarko said in a December 2012 press release.
The awards of the FEEDs followed an agreement reached by Anadarko and Eni during the same month to jointly plan and construct onshore liquefaction facilities and for separate, but coordinated, offshore activities in the development of common gas resources found in the area that straddles Anadarko's Prosperidade field and Eni's Mamba field in Blocks Area 1 and 4, respectively.
The Mozambique government was keen that the operators pooled their resources amid concerns about the high costs involved in developing separate LNG projects in the same area, the Financial Times reported in December 2012.
Anadarko expected to take four years from project sanction for Area 1 to first production and it is "looking at the first cargo first lifting in about 2019," company's Executive Vice President Chuck Meloy told analysts in the earnings call last month.
Eni Progresses Work on its Mozambique Upstream Assets
Since the Italian IOC made its first gas find at Mamba South-1 well in Area 4 block in October 2011, the total resources discovered are estimated at approximately 85 Tcf. Of these, Eni revealed that at least 27 Tcf are located exclusively in Area 4, while the other 48 Tcf although located in the same block but is part of common resources straddling in the Area 1 block.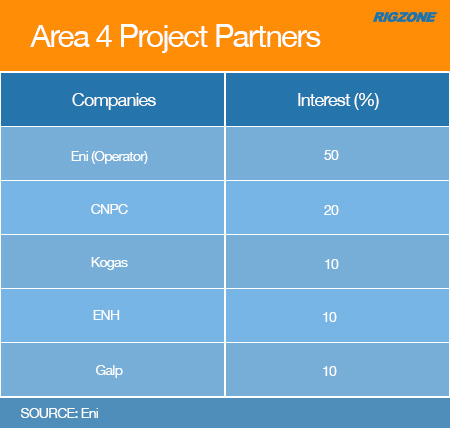 Area 4 Project Partners
1
2
3
4
5
View Full Article
Generated by readers, the comments included herein do not reflect the views and opinions of Rigzone. All comments are subject to editorial review. Off-topic, inappropriate or insulting comments will be removed.