Mozambique's LNG Ambitions Taking Shape, Gradually
|
Tuesday, December 02, 2014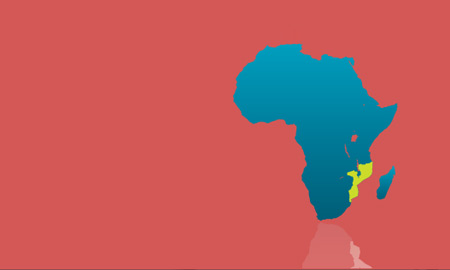 Mozambique's goal of becoming the next major liquefied natural gas exporter is progressing, albeit slowly, pending the government's passage of legislation on energy investment.
Mozambique's hopes to be the world's third largest liquefied natural gas (LNG) exporter after Australia and Qatar by the end of this decade is taking shape slowly, pending the government's passage – before year-end – of legislation governing two major projects in the Rovuma Basin.
The legislation or Decree Law will provide the legal, governmental and contractual framework for the LNG projects in Mozambique's offshore blocks Area 1 and Area 4 – operated by U.S.' Anadarko Petroleum Corp. and Italy's Eni S.p.A., respectively.
Once the law is passed, Mozambique will be able to develop and produce gas with support from these international oil companies (IOC) to export LNG to energy deficient consumers, particularly in Asia.
As such, development of untapped gas resources would certainly be welcomed in the impoverished Eastern African nation as enormous economic and developmental benefits are likely to accrue from proceeding with the LNG projects.
After all, Mozambique, with a gross domestic product (GDP) of $15.32 billion, was placed a lowly 115 in World Bank's ranking of the world's economies in 2013, far below top rank United States, which has a GDP of $16.8 trillion.
"Ratification of an acceptable Decree Law will enable Anadarko and our partners to pursue investment in the country as planned and sets the stage for submission for plant development to the government in 2015. Something we believe will enhance the laws and the well-being of people of Mozambique for decades to come," Al Walker, president and CEO of Anadarko told analysts Oct. 29 in an earnings call for the third quarter.
Anadarko Gets Ready to Develop Area 1 Block
While waiting for Mozambique's passage of the Decree Law, Anadarko has been progressing work on the Area 1 project. The firm, which commenced exploration drilling in Mozambique in 2010, has made sizeable gas discoveries, estimated at 50 to 70 trillion cubic feet (Tcf).
Area 1 Project Partners
The Prosperidade and Golfinho-Atum fields have independently certified reserves capable of supporting a development of 10 million tons per annum (Mtpa) each, according to Steve Hoyle, Anadarko's vice president of LNG Marketing & Shipping, who spoke at the 6th World LNG Series – Asia Pacific Summit in Singapore in late September.
Meanwhile, advanced preparations have begun for early works at a 30 square mile site in the Afungi Peninsula in Cabo Delgado province in northern Mozambique, where the onshore liquefaction facilities for the Anadarko-operated Mozambique LNG project will be located. The government has also given its approval to Area 1 project's environmental impact assessment report.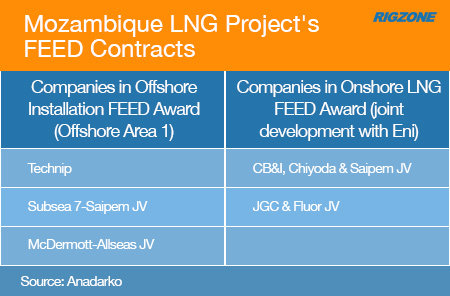 Mozambique LNG Project
Work on Area 1 project's onshore and offshore front end engineering design (FEED) contracts, awarded by Anadarko in December 2012, have been completed. The firm is progressing to the final selection process for the engineering, procurement and construction (EPC) contractor and has already submitted a draft plan of development to the Mozambique authorities, Hoyle said.
The focus of the Area 1's offshore FEEDs is on subsea production systems for the Prosperidade complex, with the FEEDs each culminating in the delivery of a full engineering, procurement, installation and commissioning plan for the development.
The main thrust of the onshore FEEDs is on developing an overall LNG park plan that has the capability to produce approximately 50 million tons of LNG per annum (Mtpa) in future years. The LNG FEEDs will each deliver designs for an initial development consisting of four 5-Mtpa liquefaction trains with capacity. Anadarko is working with Eni, operator of the Area 4 block located adjacent to Area 1, on the onshore FEEDs.
"The [onshore] FEEDs will culminate in the delivery of a full engineering, procurement and construction plan, and a lump-sum turnkey price for the initial two 5-Mtpa trains, as well as associated common facilities," Anadarko said in a December 2012 press release.
The awards of the FEEDs followed an agreement reached by Anadarko and Eni during the same month to jointly plan and construct onshore liquefaction facilities and for separate, but coordinated, offshore activities in the development of common gas resources found in the area that straddles Anadarko's Prosperidade field and Eni's Mamba field in Blocks Area 1 and 4, respectively.
The Mozambique government was keen that the operators pooled their resources amid concerns about the high costs involved in developing separate LNG projects in the same area, the Financial Times reported in December 2012.
Anadarko expected to take four years from project sanction for Area 1 to first production and it is "looking at the first cargo first lifting in about 2019," company's Executive Vice President Chuck Meloy told analysts in the earnings call last month.
Eni Progresses Work on its Mozambique Upstream Assets
Since the Italian IOC made its first gas find at Mamba South-1 well in Area 4 block in October 2011, the total resources discovered are estimated at approximately 85 Tcf. Of these, Eni revealed that at least 27 Tcf are located exclusively in Area 4, while the other 48 Tcf although located in the same block but is part of common resources straddling in the Area 1 block.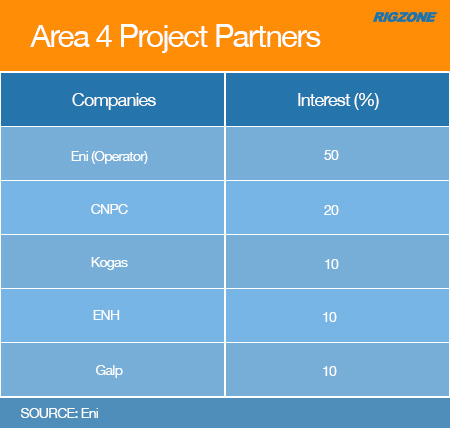 Area 4 Project Partners
"We launched the tender for the EPC contract … we are positive towards reaching FID [final investment decision] in the second half of 2015," Roberto Marino, Eni's executive vice president for Procurement commented Oct. 30 on the firm's third quarter results.
Eni indicated in its outline of the company's strategy for 2014-2017 in mid-February that development of the straddling resources in Area 4 will require 15 Mtpa of plant processing capacity. This comprises an onshore LNG train and two floating liquefied natural gas (FLNG) facilities.
On the Coral field project in Area 4, Eni has commenced the process to reach FID for its development. To expedite development of the project, the operator has contracted three consortia in May to undertake FEED for a FLNG facility.
The KD Consortium, consisting of KBR Inc. and South Korea's Daewoo Shipbuilding & Marine Engineering Company, Ltd. (DSME), was one of the FEED participants, with the successful contractor selected for the engineering, procurement, construction, installation and commissioning (EPCIC) contract to build the FLNG vessel.
Potential Economic Bonanza for Mozambique
Development of the planned LNG projects in Mozambique could provide economic boom to the country. For instance, the Area 1 project using six LNG trains could generate an additional $39 billion to Mozambique's economy by 2035 and contribute to growth in per capita GDP from $650 in 2013 to $4,500 in 2035, the Standard Bank of South Africa Ltd. projected in its July 31's "Mozambique LNG: Macroeconomic Study."
Other potential benefits from the Are 1 Mozambique LNG project are:
large employment opportunities, totaling over 700,000 jobs by 2035 (with no construction delays). Of these, only 15,000 are directly associated with the LNG project, with the rest being indirect and induced jobs throughout the economy
a current account surplus of over $16 billion per annum
infrastructure improvements through direct, indirect and induced investments will include expanded transport infrastructure including air, roads and ports as well as improved water and electrical distribution systems and social support systems such as housing, health care facilities and schools
large financial gains for the government in the range of between $67 billion and $212 billion over the life of the project, depending on how many trains are ultimately constructed
The country's national oil company Empresa Nacional de Hidrocarbonetos E.P. (ENH), with a 15 percent and 10 percent stakes in Areas 1 and 4 projects, respectively is expected to take a leading role in developing the local petroleum industry.
"Mozambique is a green field. We are still developing our oil and gas industry and all kind of services are welcomed … We are open to see anybody … those who come in today will be the winner in this oil and gas industry," Tavares Martinho, ENH's vice president, Commercial told delegates at the 6th World LNG Series in Singapore.
"We have problems and challenges in infrastructure and manpower and also services, so any kind opportunities put in place are needed … Anadarko, Eni and others will need these kinds of services for development of the resources already discovered," he added.
To support the petroleum industry, the Mozambique government is spending $150 million to develop a logistics base at Pemba. When ready, the base will provide logistics services to petroleum producers and to oil and gas services providers, such as maritime firms, drilling contractors and other service companies.
On manpower, ENH's Martinho pointed that Mozambique needs more skilled professionals such as builders, mechanics, radio operators, securities and others, welders, electricians, civil engineers, pipeline constructors. The country also has to build up its pool of higher skilled professionals, including geoscientists, engineers, geophysicists, environmental officials, lawyers, doctors and others.
Mozambique is looking further ahead in spite of the enormous work needed to bring the first two LNG projects into production.
The country's Institute of National Petroleum (INP), on behalf of the government, launched in October the Fifth License Round for hydrocarbon exploration in 15 licenses located in the offshore Rovuma, Zambezi and Angoche blocks as well as onshore around the Pande-Temane concession and Palmeira areas. The tender, which covers around 29,652 square miles of acreage, will close Jan. 20, 2015.
Generated by readers, the comments included herein do not reflect the views and opinions of Rigzone. All comments are subject to editorial review. Off-topic, inappropriate or insulting comments will be removed.