EMAS Offshore Switches Gears from Leased FPSO to EPC Business
by Chen Hui Hui
|
Rigzone Contributor
|
Thursday, October 30, 2014
EMAS Offshore changes tack in its floating production business by targeting engineering, procurement and construction contracts instead of focusing on leasing deals.
EMAS Offshore Ltd. (EOL), the newly consolidated subsidiary of Singapore-based Ezra Holdings Ltd., is switching gears on its floating production business from chasing after multi-year leases to engineering, procurement and construction contracts, Group Chief Executive Lionel Lee said at the full-year results briefing held over the weekend.
EOL is the enlarged subsidiary in which Ezra holds over 75 percent interest, comprising the then Oslo-listed EMAS Offshore Construction and Production and offshore support services provider, EMAS Marine.
Lionel Lee, CEO of Ezra Holdings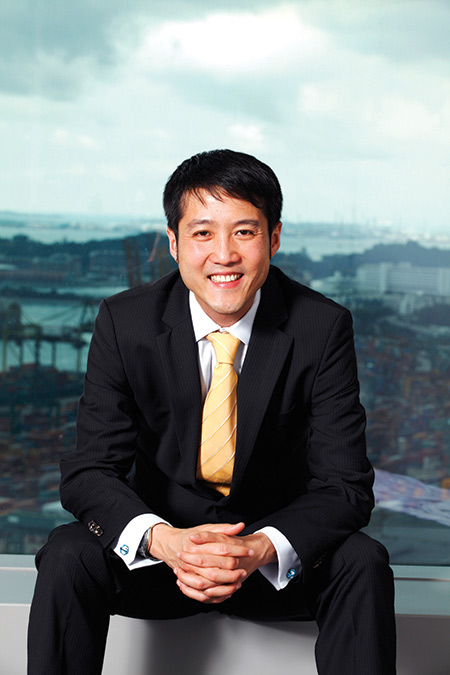 Changed Priorities for Floating Production Business
In December 2012, EOC Ltd. (EOCL) entered into an asset swap with its Malaysian affiliate, Perisai Petroleum Teknologi Bhd, as part of a move to divest its stake in the Lewek Arunothai floating production, storage and offloading (FPSO) vessel, subsequently renamed Perisai Kamelia. The FPSO has been under a three-plus-three year term charter with Hess Exploration and Production Malaysia B.V. in the North Malaya basin off Peninsular Malaysia since November 2013.
When the consolidation of EOC and EMAS Marine was mooted in July, EOL was the 49 percent owner of Perisai Kamelia FPSO and had a 42 percent stake in the Lewek Emas FPSO, which is under contract with UK independent Premier Oil Vietnam.
The FPSO business, Lee pointed out, will be consolidated under maintenance and management of offshore platforms and EOL's new focus will be on the provision of engineering, procurement and installation services.
EOL will not pursue leased FPSOs any more – meaning it will not be owning any additional FPSOs – but instead the now Oslo- and Singapore-listed subsidiary of Ezra Holdings is eyeing engineering, procurement and construction contracts on offer from floating production projects offshore Malaysia and Indonesia, Lee revealed.
The market outlook for FPSOs remains "good" but "a lot of vessels will be owned by field operators," he explained.
Going after leased FPSOs exposes the Singapore-based contracting group to too much capital risk, the Ezra CEO added.
Field operators have taken to shortening the fixed term charters from between eight and 12 years to just six years, group Chief Financial Officer Eugene Cheng further elaborated.
Banks "want to amortize loan over six years" of the fixed term charter without taking into consideration the upside for contract extensions, which translates to increased residual asset value risks for the FPSO contractors, according to Cheng.
Subsidiary Triyards Offer Fabrication Support
EOL can look to fabrication support from Ezra's 60.9 percent-owned yard subsidiary, Triyards Holdings Ltd., for executing its EPC contracts. So far, the yard has delivered a turret for an FPSO installation, Lee said, adding that it can potentially deliver a turret every other year.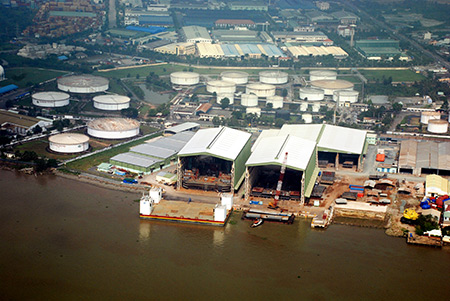 Caption: Triyards' facility in Vung Tau, Vietnam Source: Ezra Holdings
Triyards currently owns facilities in Singapore, Vietnam and Houston. The yard facility in Vung Tau, Vietnam – the largest of the company's three shipyards – has been strengthened to deliver offshore structures of up to 10,000 tons.
The pull-through from Ezra's other business units however, account for under 20 percent of Triyards' business, Cheng commented.
Newbuild lift-boat orders comprise the bulk of Triyards' order book at the moment. While the yard operator is full up to 2017, the company is still looking to sign more lift-boat orders, Lee indicated.
All outstanding newbuild orders, except for a one-plus-one lift-boat contract from Singapore-based Swissco Holdings Ltd., are from U.S. clients.
To boost its customer base, Ezra's yard subsidiary is holding in-depth discussions with potential customers from Vietnam and Abu Dhabi, Lee said, adding that the contracts under discussion include a possible newbuild order for a jackup to be built to its in-house developed high pressure high temperature TDU-400 design.
Still, Ezra has no intention to directly own or operate drilling rigs, even though its 25 percent-owned Malaysian affiliate Perisai Petroleum has invested in the construction of jackup drilling units.
Perisai Petroleum is "happy with" the three jackups on its fleet, and not "looking to expand a lot more", Lee remarked although he hinted the Malaysian affiliate could eye opportunistic asset acquisitions.
The jackup Perisai Pacific 101 (400' ILC) has won a three-year contract from Malaysia's national oil company Petronas Nasional Bhd's upstream unit Petronas Carigali in May, ahead of its delivery from Singapore-based PPL Shipyard. Two other jackups, Perisai Pacific 102 (400' ILC) and Perisai Pacific 103 (400' ILC), also being built at PPL are due to be delivered in mid-2015 and 2016, respectively.
There are presently about two dozen rigs being built on a speculative basis for resale purpose or on order from new start-ups. Most of these jackups are under construction in China.
Ezra's offshore support services business division, which was consolidated into EOL and subsequently went for a secondary listing on the Singapore stock exchange earlier this month, accounted for 17 percent of the group's $1.49 billion revenue for financial year 2014.
EMAS AMC, Ezra's subsea division, accounts for 70 percent of the group's revenue, while the remaining 13 percent comes from Triyards.
Ezra netted an adjusted profit after tax of $41.2 million for financial year 2014, a sharp turnaround from a $26.6 million loss last year. The improvement arose mainly from a 32 percent rise in EMAS AMC's operating profit to over $1 billion.
Generated by readers, the comments included herein do not reflect the views and opinions of Rigzone. All comments are subject to editorial review. Off-topic, inappropriate or insulting comments will be removed.