Asia Leads in Global LNG Demand Growth, China Support
by Chee Yew Cheang
|
Rigzone Staff
|
Thursday, October 23, 2014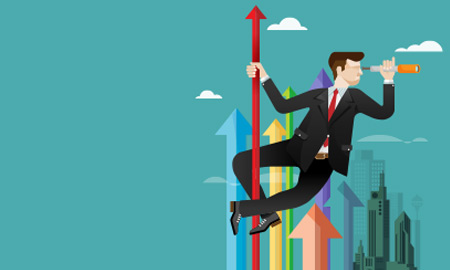 Asia will be the main driver of global demand growth for liquefied natural gas, lifted by expectations of higher gas consumption in China.
Fast expanding Asian economies, with rising energy needs, will emerge as a key driver for demand growth in the global liquefied natural gas (LNG) market over the next few years, with China accounting for the bulk of the increase. The LNG demand growth in Asia comes at a time when producers – in North America, East Africa or Canada – cast their eyes on potential markets in the region.
Soaring Asian LNG Demand
Global natural gas demand is expected to rise by 20 percent from 2013 to 2019, Jerome Ferrier, president of International Gas Union (IGU) and senior vice president for Corporate Security at Total S.A., told the 6th World LNG Series – Asia Pacific Summit in Singapore last month.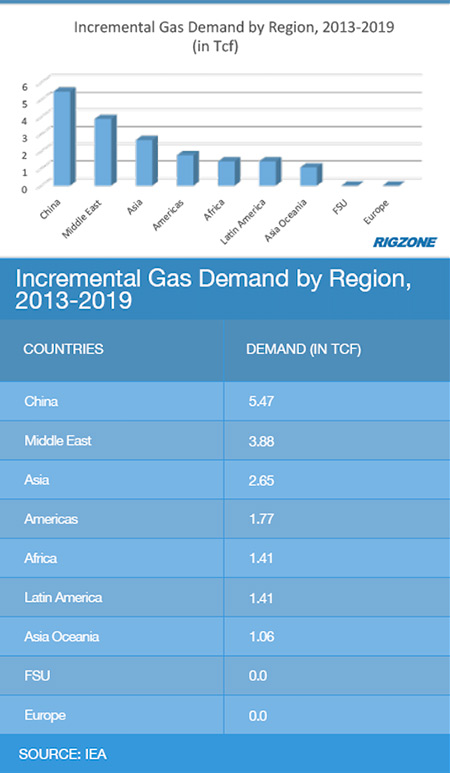 Incremental gas demand by region, 2013-2019
China alone accounts for around 31 percent of global gas demand growth during this period, according to data from the International Energy Agency (IEA), while Asia – including China and Oceania – will collectively contribute 52 percent of the increase. IEA forecast that natural gas demand worldwide will grow around 17.66 trillion cubic feet (Tcf) or 500 billion cubic meters (Bcm) from 2013 to 2019.
"Global natural gas demand is expected to increase by 20 percent over 2013-2019 with Asia – primarily China – growing the fastest while European demand is expected to stay below 2010 levels. Global gas demand grew by 17.66 Tcf (500 Bcm) over the period which is equivalent to European Union's natural gas consumption in 2013," Ferrier said in his speech.
Strong demand for energy to power the world's second largest economy coupled with a desire to improve air quality are expected to raise China's consumption of clean fuels such as natural gas. Gas is poised to play a bigger role in China's primary energy mix, with the fuel's share rising from 4.5 percent in 2011 to 7.5 percent in 2015 under the 12th Five Year Plan.
The U.S. Energy Information Administration (EIA) expects Chinese gas demand to increase to 7.8 Tcf in 2020 and 17 Tcf by 2040. Beijing is expected to continue with gas imports through LNG and via new and proposed import pipelines from neighboring countries, including Russia, which penned a $400 billion deal in May to supply gas to China.
1
2
3
4
5
View Full Article
Generated by readers, the comments included herein do not reflect the views and opinions of Rigzone. All comments are subject to editorial review. Off-topic, inappropriate or insulting comments will be removed.