Industry, US Coast Guard Focus on Safety While Performing Core Functions
by Gene Lockard
|
Rigzone Staff
|
Friday, October 10, 2014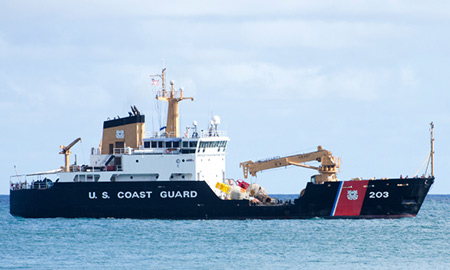 As the industry strives to improve safety during drilling operations, the US Coast Guard seeks to provide regulatory coverage without slowing the production process.
Safety is not only of paramount importance to the oil and gas industry, but it's also something that should be deeply ingrained in every energy company's culture, presenters and attendees alike said at the recent marcus evans 4th Annual Offshore Safety Conference in Houston.
The speakers at the conference focused on a variety of aspects related to safety within the industry, including the elusive human factor, and the need to consider safety as a core part of doing the job. However, some of the attendees noted that adding rules and regulations often works counter to the desired goal of reducing safety events.
Preventing safety events is a big deal to the oil and gas industry, and non-fatal injuries are far lower than the average for most industries, according to the U.S. Department of Labor and Statistics. However, while the energy industry has a safety record that many other industries might envy, safety is receiving increased attention from industry managers and industry safety officials following the Deepwater Horizon disaster, attendees and presenters at the conference noted.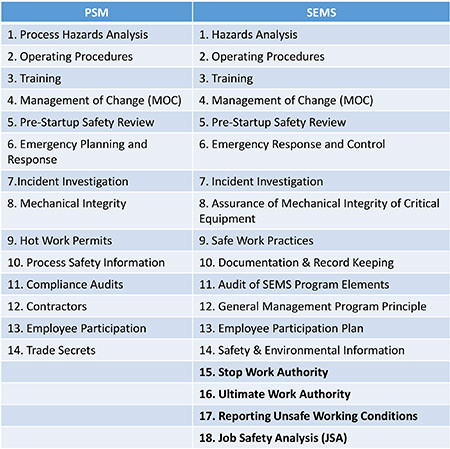 PSM vs. SEMS
Source: Cameron
Back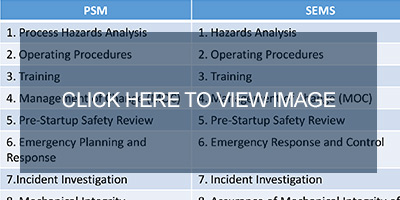 The industry realizes that another large, high-profile safety event is likely to result in restrictions and regulations that will make conducting business in the Gulf of Mexico difficult or impossible, an attendee said, adding that the industry "has to operate without serious incident" going forward.
There were a number of common themes voiced by presenters that resonated with attendees, including:
Safety must be thought of as a culture within the company and the industry, rather than something that can be added on. Safety must be considered a necessary part of doing business.
Energy employees and contractors must be proactive, not reactive, regarding safety practices. After an event has occurred is not the time to start planning for it.
There has to be a balance between thoroughness in safety preparedness and efficiency in actually getting the job done. Management, particularly upper management, typically places safety higher up the priority list than operations, where the focus is on production. Therefore, it becomes doubly important to make safety a part of the basic culture of a company, and to design it in from the beginning.
Many, if not most, safety-related issues have already been identified by energy companies. The sharing of safety issues and possible solutions with other participants in the industry could lessen the likelihood of an event.
Different standards have been developed to help those in the industry operate in an efficient yet safe manner, conference speaker Chris Tagoe, Cameron vice-president of Health, Safety and Environment, said. The Process Safety Management (PSM) standard, and the Safety and Environmental Management Systems (SEMS) and SEMS II standards, are the more notable ones in use, and they acknowledge the differing safety environments inherent in onshore and offshore environments, Tagoe noted.
"The PSM standard was written to be a very high level document. With SEMS II, there was a recognition that there are some activities that are somewhat unique to this industry that perhaps needed some focus."
1
2
3
4
View Full Article
Generated by readers, the comments included herein do not reflect the views and opinions of Rigzone. All comments are subject to editorial review. Off-topic, inappropriate or insulting comments will be removed.