Cairn Well Makes 'Substantial' Oil Find Offshore Senegal
|
Tuesday, October 07, 2014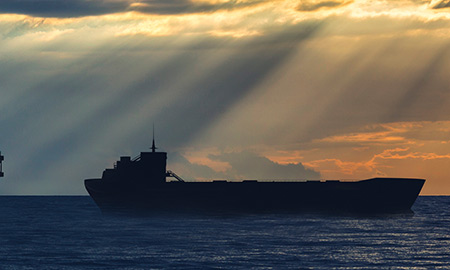 Cairn Energy reports that its FAN-1 exploration well has found up to 2.5 billion barrels of oil.
Independent producer Cairn Energy reported Tuesday that its FAN-1 exploration well, offshore Senegal, has made a "substantial" oil discovery.
The well is located in 4,680 feet water depth and lies approximately 60 miles offshore in the Sangomar Deep block. It was drilled to a target depth of 16,165 feet and targeted several stacked deep-water fans.
Cairn said that preliminary analysis of results from the well indicated a 95-foot oil-bearing reservoir in Cretaceous sandstones. No water contact was encountered in a gross oil-bearing interval of more than 1,640 feet.
Initial estimates for the well range from 250 million to 2.5 billion barrels, with oil types having gravities that range from 28 degrees API to 41 degrees API.
Cairn has no plans for immediate well testing, but further evaluation will now be required to calibrate the well with existing 3D seismic data in order to determine future plans.
Once completion operations are finished on the FAN-1 well, the Cajun Express (DW semisub) rig used to drill it will move to complete a second well – SNE-1 – where the top hole has already been drilled pending re-entry. This Shelf Edge prospects is targeting a dual objective in 3,600 feet of water, also in the Sangomar Deep block.
Cairn has a 40-percent working interest in three blocks offshore Senegal, including Sangomar Deep, Sangomar Offshore and Rusifique. ConocoPhilips holds a 35-percent working interest in the blocks, while FAR Ltd and Petrosen hold 15 percent and 10 percent respectively.
Cairn CEO Simon Thomson commented in a company statement:
"The oil discovered in the FAN-1 prospect is an important event for Senegal and the joint venture.

"We have encountered a very substantial oil bearing interval which may have significant potential as a standalone discovery. Furthermore, this result materially upgrades the prospectivity of the block with a proven petroleum system and a number of deep fan and shelf prospects established.

"Work is already underway with the joint venture partners to determine follow up activity which is targeted for 2015 onwards.

"Cairn looks forward to working with the Government of Senegal and our partners to realize the full potential from this large acreage position off the west coast of Senegal."
Oil sector analysts at London-based investment bank First Energy hold a more cautious view, stating in a research note Tuesday morning: "This is a frontier area and this discovery could potentially be commercial on a standalone basis, however much uncertainty remains and further drilling will be required to de-risk the play."
Generated by readers, the comments included herein do not reflect the views and opinions of Rigzone. All comments are subject to editorial review. Off-topic, inappropriate or insulting comments will be removed.