Oil & Gas M&A in Upstream Sector Falls to $34.5 Billion in 3Q 2014
by Mark Young
|
Evaluate Energy
|
Friday, October 03, 2014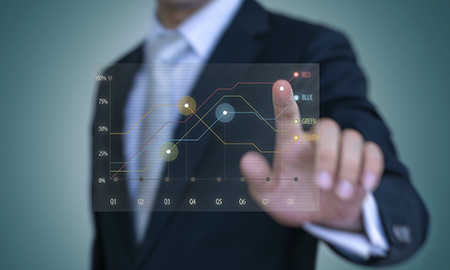 Third quarter 2014 was a quieter period for global oil and gas M&A activity compared to the previous quarter, but 2014 is still on track to have a greater total M&A spend than 2013.
This opinion piece presents the opinions of the author.
It does not necessarily reflect the views of Rigzone.
The total value of E&P deals worldwide in the quarter amounted to $34.5 billion, an approximate 30% drop on the total value of deals announced in Q2. North American activity grew for the 5th consecutive quarter but, curiously, deals outside of North America almost dried up completely; deals in North America made up almost 86% of the total deal value worldwide.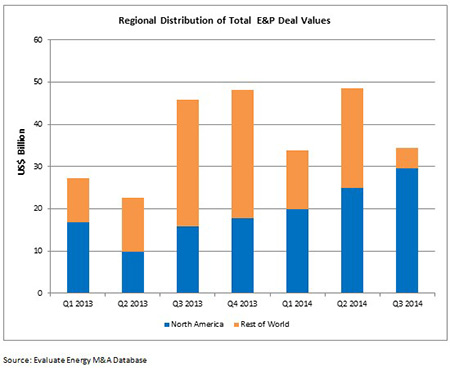 Source: Evaluate Energy M&A Database
The rise in deals in North America could be attributable to various factors. Unconventional oil resource plays are still the hottest properties on the market, with the Permian basin seeming to the current centre of highest demand. There are also many cases of companies with a diverse variety of assets trying to streamline their property holdings to give a more specific area of focus and as a result many North American assets have been made available for purchase. This stands in stark contrast to a few years ago where companies looked to hoard as much shale and unconventional acreage as possible across every play they could find. With the increasing gas prices and the approaching reality of North American gas exports, gas assets are also becoming more and more marketable. As for deal value drying up outside of North America, it is very hard to pinpoint any specific factors that would drive down activity. The number of deals announced outside of North America has been reasonably consistent over the last few quarters, so this points to the lack of "big" deals being the main contributor of the low deal value. In Q3 2014, there were only 2 deals announced outside of North America with a value of more than US$500 million, one of those happening on the very last day. In Q1 and Q2 2014, there were 8 and 12 such deals respectively.
US Permian Basin – High Demand in Q3 2014
Whilst Q3 2014 seems to have been a quiet period for global E&P M&A activity, the US Permian basin has seen a hectic few months in contrast. Acquisitions in the Permian basin made up nearly half of the total E&P deal value in the US and just under a third of total E&P deal value worldwide at around US$11.2 billion. M&A activity in the Permian Basin has been on the rise since Q1 2014.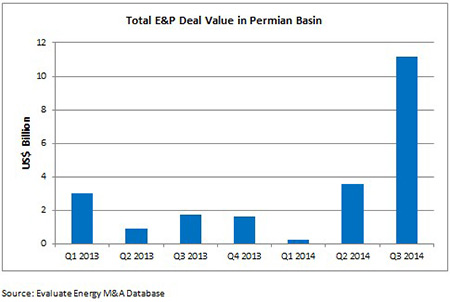 Source: Evaluate Energy M&A Database
1
2
3
4
View Full Article
Generated by readers, the comments included herein do not reflect the views and opinions of Rigzone. All comments are subject to editorial review. Off-topic, inappropriate or insulting comments will be removed.