Significant Water Recycling Achieved in Eagle Ford
by Karen Boman
|
Rigzone Staff
|
Friday, September 19, 2014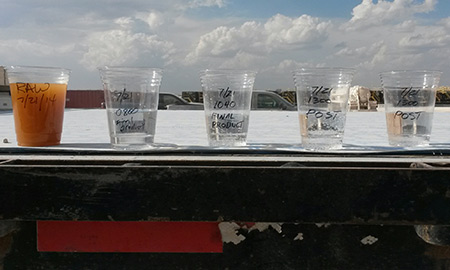 A partnership between Dow and Omni Water Solutions allows for the treatment of over 725,000 barrels of water at an oil and gas project in South Texas' Eagle Ford play.
Officials with Dow Water & Process Solutions and Omni Water Solutions Inc., an Austin-based water treatment technology company, expect the number of barrels of water treated at an Eagle Ford project to pass the one million barrel mark by the end of 2014.
The partnership of technology between the two companies has allowed for the treatment of over 725,000 barrels since the project began in June 2013.
The project operator was having issues with boron, which occurs naturally in produced water in the play, and was interfering with the performance of the customer's fracking and gel systems.
"They needed a way to get the boron levels down," said Warren Sumner, chief executive officer of Omni, in an interview with Rigzone.
Combining Omni's HIPPO mobile water treatment unit with Dow's portfolio of membrane technology is allowing the customer to do something innovative and fairly difficult technically – taking out produced levels of boron from water for reuse without affecting cross link fluids in their chemistry while making a tailored clean brine product used for workovers, said Sumner, adding that he is not aware of any other companies doing this in the oilfield.
Omni is using membranes supplied by Dow in the operator's water treatment system to address the operator's issue at the lowest possible price.
"We are using ultra-filtration, nano-filtration, and reverse osmosis membranes, depending on how our customer wants to use their produced water," Sumner explained.
1
2
3
4
5
6
7
8
View Full Article
Generated by readers, the comments included herein do not reflect the views and opinions of Rigzone. All comments are subject to editorial review. Off-topic, inappropriate or insulting comments will be removed.