Malaysia's Special Purpose Acquisition Companies Expands Upstream
by Chee Yew Cheang
|
Rigzone Staff
|
Wednesday, September 17, 2014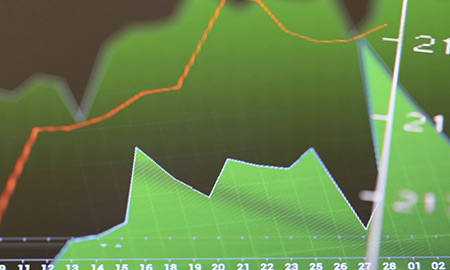 Four special purpose acquisition companies have listed in Malaysia since 2011, making upstream acquisitions from Australia to Norway.
Three years has passed since Malaysia's first special purpose acquisition company (SPAC) was listed on local stock exchange Bursa Malaysia. Interest has however remained high, with Reach Energy Berhad becoming the country's latest and largest SPAC to be listed on Bursa in August. Like the SPACs that listed earlier, Reach Energy plans to shed its asset-free status by acquiring local or foreign upstream petroleum assets.
SPAC is a "shell company" with no operations or income generating business at the point of initial public offering (IPO), but it will utilize funds from the IPO to take over operating firms or businesses.
Under Bursa's regulations, SPACs are given 36 months from the IPO listing to make a qualifying acquisition by utilizing up to 90 percent of the funds or a minimum of $49.8 million (MYR 150 million). To be listed as a SPAC, the management team must have at least 10 percent ownership of the firm and possess relevant industry experience.
Hibiscus Petroleum Berhad became the first upstream oil and gas-focused SPAC to list in Malaysia and in Southeast Asia in July 2011 after raising $78 million (MYR 235 million) from its IPO on Bursa.
Despite Hibiscus' listing over three years ago, "SPAC is still relatively new to Malaysia … and Malaysia is just catching on to global trends," Arhnue Tan, an analyst with Malaysia's Alliance Research told Rigzone.
Malaysia is currently home to a few local petroleum exploration and production (E&P) firms, including state-owned Petroliam Nasional Berhad (Petronas). Petronas Carigali Sdn Bhd – the upstream arm of Petronas – has E&P operations at home and abroad. Last year, Petronas Carigali established Vestigo Petroleum Sdn Bhd to focus on E&P development and production activities for small, marginal and mature fields in Malaysia and abroad.
Despite the dominance of Petronas and its related firms in Malaysia's petroleum industry, SapuraKencanca Petroleum Berhad – whose business was originally focused on the provision of oilfield services – has emerged as an integrated oil and gas company after acquiring Newfield Exploration Co.'s Malaysian upstream assets for $898 million in October 2013.
Given the business environment in Malaysia, SPAC appears to be a viable means for small local companies planning to break into the E&P sector, whether domestic or overseas. Through their IPOs, the four SPACs raised $591.9 million for upstream asset acquisitions.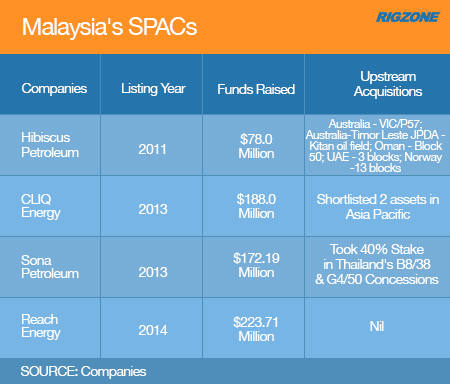 Malaysia's SPACs. Source: Companies
"It's difficult for small companies to grow to the size of SapuraKencana which was built from ground up," Wan Zahidi, an oil and gas analyst with Malaysia' RHB Group explained to Rigzone.
Buzz Over Latest Malaysia Oil & Gas SPAC
Reach's IPO generated quite a buzz locally as it attracted Malaysian cornerstone investors such as CIMB-Principal Asset Management Bhd and Hong Leong Asset Management Bhd, while institutional funds included Koperasi Permodalan Felda Malaysia Bhd, Pelaburan Mara Bhd and Norway's sovereign wealth fund Norges.
The newest SPAC, managed by a team comprising former staff of oil majors, Petronas and international oilfield services provider, raised $245.29 million (MYR 779.17 million) in its Aug. 15 IPO, of which $223.71 million (MYR 710.62 million) has been allocated for the acquisition of a target company or assets.
Reach eyes producing upstream assets or those now under development but possesses an average reserves of 10 million barrels of oil, company CEO Shahul Hamid Mohd Ismail – a former staff at Exxon Mobil Corp. and Royal Dutch Shell plc – commented, as reported in the Aug. 11 edition of local business publication The Edge.
"We are also looking into mature brownfield acquisition, which can produce oil and gas very quickly in order to generate revenue within the first two years from the date of completion of qualifying acquisition," Shahul said, adding that the firm is evaluating 10 upstream assets for acquisition over the next one to three years.
Reach's geographical focus is on Asia Pacific, particularly Malaysia, Indonesia, Australia, the Philippines, Myanmar, Thailand and Vietnam.
"We are doing 'window shopping' and priority is given to the seven countries, due to attractive concession and tax regimes. The geological aspect is also attractive, as Indonesia has lots of remaining reserves and brownfield areas," Shahul added.
"The drive to develop huge unconventional oil and gas resources, namely shale and/or gas, coalbed methane (CBM), etc. is attracting the attention of larger independent oil companies (IOCs). This is opening up more opportunities for smaller independent oil companies," Reach mentioned in its IPO prospectus.
Hibiscus Kicks Off SPAC Listing in Malaysia
Hibiscus's IPO in 2011 formerly launched SPAC as an investment instrument on Bursa, with the company raising 57 percent or $28.21 million (MYR 85 million) over the minimum stipulated amount of $49.80 million (MYR 150 million).
"The funds raised through this exercise places Hibiscus … in a good position to capitalize on the opportunities available in the oil and gas exploration and production industry in the South Asia, Middle East, East Asia and Oceania regions," Managing Director Dr. Kenneth Pereira commented in a press release.
Soon after the IPO, Hibiscus acquired a 35 percent stake in Lime Petroleum plc – whose other shareholders are Rex International Holding and Schroder & Co Banque S.A. – for $55 million in October 2011. Hibiscus' acquisition of Lime gave it access to upstream petroleum assets in the Middle East and Norway, including:
Oman: Offshore Block 50
United Arab Emirates: Rak North Offshore; Rak Onshore and Sharjah Offshore
Norway: 13 offshore licenses
One of Lime's upstream petroleum assets has already yielded positive results. The firm's 64-percent owned joint venture Masirah Oil Ltd. made an oil discovery at Oman's offshore Block 50 in February.
In the Asia Pacific region, Hibiscus acquired a 50.1 percent operating interest in VIC/P57 permit, comprising the West Seahorse oil field in the Gippsland Basin off south-eastern Australia in January 2013. The field development plan for West Seahorse was approved by Australia's National Offshore Petroleum Titles Administrator in November 2013, followed by the grant of a production license VIC/L31 a month later. First oil from the West Seahorse field is expected in the second or third quarter of 2015, Hibiscus said on its website.
To further strengthen its upstream asset base, Hibiscus acquired Talisman Energy Inc.'s wholly-owned unit Talisman Resources (JPDA 06 105) Pty Ltd. for $18 million in June. The purchase gave Hibiscus a 25 percent stake in the Kitan oil field – operated by Eni S.p.A. – in the Bonaparte Basin and within the Australia-Timor Leste Joint Production Development Area. Kitan's average production is expected be around 10,000 barrels a day and consultancy firm Wood Mackenzie has estimated that 17 million barrels of reserves remain as of Jan. 1.
Other SPACs Slowly Growing their Upstream Assets
Malaysia's two remaining SPACs – Sona Petroleum Berhad and CLIQ Energy Berhad – have also taken steps to acquire upstream assets.
Sona, which raised $172.19 million (MYR 550 million) in its July 2013 IPO on Bursa, made its first acquisition in June with the purchase of a 40 percent stake in two oil and gas blocks in the Gulf of Thailand from Salamander Energy Plc for $280 million. Sona is financing the acquisition with IPO funds and $140 million in external bank borrowings million from BNP Paribas and RHB Banking Group.
Following this acquisition, Sona now has an interest in the B8/38 Concession's Bualuang oil field, which produces between 11,000 and 14,000 barrels per day of oil. According to Gaffney, Cline & Associates (Consultants) Pte Ltd., Bualuang has an estimated proven and probable (2P) reserves of 31.2 million barrels or 12.5 million barrels net to Sona. The company also has a stake in the G4/50 concession, which is now in the exploration phase.
The Gulf of Thailand asset acquisitions are "expected to be cash flow positive and earnings accretive, will provide long-term value for Sona Petroleum given their growth prospects supported by a stable production profile," Sona Petroleum's Managing Director Hadian Bin Hashim said in a July 21 press release.
Meanwhile, CLIQ – which raised $118 million (MYR 364.39 million) from its April 2013 IPO – is close to acquiring its first oil and gas assets. The SPAC has shortlisted for acquisition two regional upstream assets that are in the pre-development to production stages. CLIQ had earlier trimmed the list of qualifying assets (QAs) for evaluation from 38 to five, with the blocks located in Brunei, the Philippines, Kazakhstan, Papua New Guinea and Malaysia.
"To-date, we have two firm candidates on the table that we are negotiating with … We are on track and are working to deliver the QAs [in Asia Pacific excluding Malaysia] within the stipulated time frame," Ahmad Ziyad Elias, managing director and CEO said, as quoted in the Aug. 14 edition of local daily The Star.
SPACs Going Forward
While Reach became that latest SPAC to list on Bursa last month, prospects for such listings on the local stock market have been dampened by reports that Malaysia's Securities Commission (SC) has rejected Matrix Capacity Petroleum Bhd's $317 million (MYR 1 billion) IPO.
"Regulations are becoming increasingly tighter … the SC is becoming more restrictive to protect investors and to ensure a good product on Bursa," Tan told Rigzone.
Meanwhile, others industry watchers have some reservations on the SPACs' implementation of their business plans.
"SPACs came in at the tail-end of the upstream blocks' field life … if profitable, why would the owners want to dispose of their assets … The idea of getting quick cash flow which will then be used to acquire more assets is not really sustainable," Wan Zahidi explained to Rigzone.
Generated by readers, the comments included herein do not reflect the views and opinions of Rigzone. All comments are subject to editorial review. Off-topic, inappropriate or insulting comments will be removed.