BP, Shell Urge Scotland to Vote against Independence
by Jon Mainwaring
|
Rigzone Staff
|
Thursday, September 11, 2014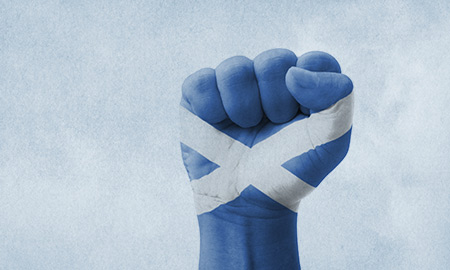 With a week to go before Scotland's independence referendum, BP and Shell come out in support of Sir Ian Wood's view that the Scottish people are being misled by the Yes campaign.
A week to go before the Scottish independence referendum, BP plc and Royal Dutch Shell plc have both come out in support of comments by Scottish oil tycoon Sir Ian Wood that Scotland's voters are being misled by the pro-independence campaign's unrealistic predictions of future oil revenues.
Speaking to the press in Edinburgh Wednesday, Wood warned that a slowdown in production means that North Sea revenues will not exist in 30 years. Wood had previously stated, in late August, that there would be consequences for the oil and gas sector if Scotland were to go independent and that there would be just 15 years before the depletion of North Sea oil reserves began to hit the Scottish economy.
Wood was also highly critical of figures recently produced by N-56 – a Scottish business organization with connections to the Yes Scotland campaign – that stated an additional 21 billion barrels of oil equivalent is potentially recoverable from the North Sea from unconventional shale resources.
"Frankly that's an insult to the intelligence of the Scottish people," he said. "First of all, if it was true a whole lot of oil and gas companies would be doing it right now, but there's one very small company looking at what can be done. Secondly you cannot economically exploit shale offshore. You need a huge number of wells, which are very expensive and that's not going to work. You might manage to drill into some of the rock offshore and exploit that, but no-one's done that so far."
Later on Wednesday, BP and Shell both issued separate statements supporting Wood.
BP Group Chief Executive Bob Dudley commented:
"BP has been in the UK North Sea for 50 years and we hope to operate here for many years to come. However, the province is now mature and I believe Sir Ian Wood correctly assesses its future potential.
1
2
View Full Article
Generated by readers, the comments included herein do not reflect the views and opinions of Rigzone. All comments are subject to editorial review. Off-topic, inappropriate or insulting comments will be removed.
RELATED COMPANIES