Inside GE's New Technology Solutions Center
by Jon Mainwaring
|
Rigzone Staff
|
Friday, September 12, 2014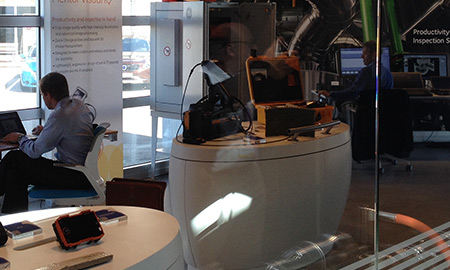 Rigzone takes a tour around GE's New Technology Solutions Center in Stavanger, Norway.
GE Oil & Gas operates several "state-of-the-art" Technology Solutions Centers (TSC) around the world that are designed to create a hands-on experience for its customers and collaborators who need to find out about how the engineering company's products and services fit into their projects.
During the recent ONS 2014 exhibition in Stavanger, Norway, Rigzone saw the latest addition to GE's array of technology centers, which is located in Dusavik Port near Subsea 7's site at Randaberg, north of Stavanger.
The new Technology Solutions Center uses a series of interactive interfaces and multimedia presentations to show visitors the full extent of GE's capabilities from subsea and offshore to midstream and downstream.
The Stavanger Technology Solutions Center features:
a subsea-focused zone and inspection center on the ground floor
an offshore, midstream and downstream domain on the middle floor. This serves as a showcase of GE's current portfolio of remote monitoring and diagnostics solutions, and a dedicated area that explores the impact Industrial Internet will have on the industry in coming years
a large training room, along with several meeting rooms and offices on the top floor
Opening the center during ONS week, GE Oil & Gas CEO Lorenzo Simonelli said that the $5 million invested in the facility by the company was an acknowledgement of the importance of technology development in continuing the success of the oil and gas industry in the northern European region.
"Norway and the wider North Sea region have been incentivized to become leading-edge thinkers—largely the result of stringent regulation and governing standards—and although a maturing province, significant greenfield developments in recent years have put the area firmly back on the map," he said.
"While the TSC is located in Norway, it will undoubtedly play a fundamental role in helping GE, our customers and the wider industry to fuel the future of oil and gas developments worldwide for many years to come."
Video Wall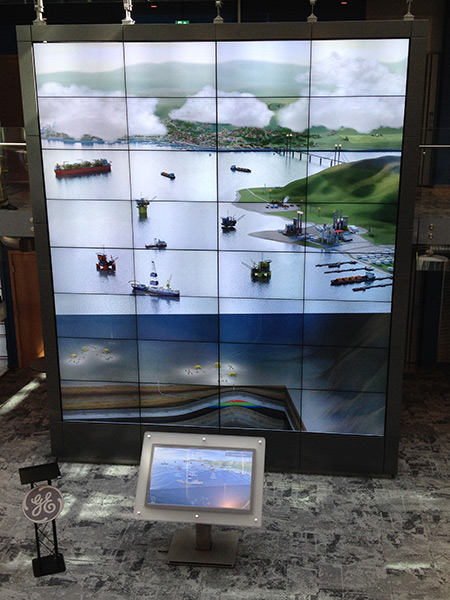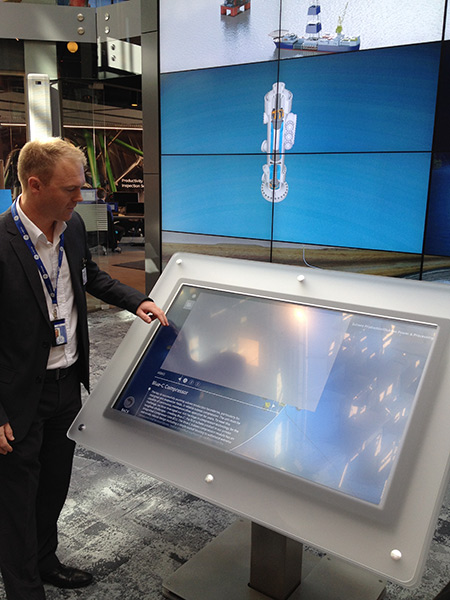 The centerpiece of the Stavanger Technology Solutions Center is a multi-floor atrium that features a large video wall used as a vertical display.
Technology Solutions Center Manager Vidar Strand demonstrates the video wall (lower photo).
3D Model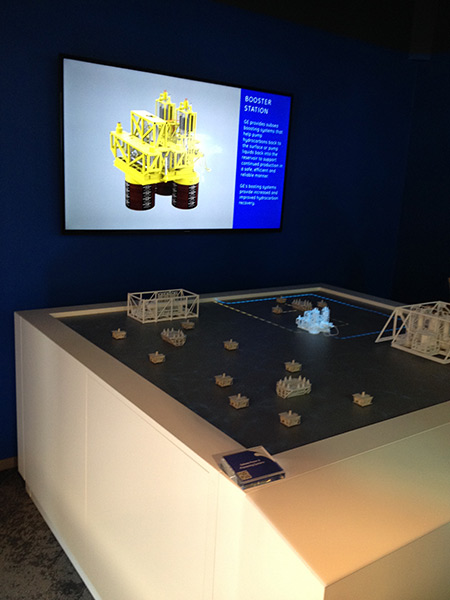 The Technology Solutions Center includes a 3D model depicting the flow of oil and gas as it moves from the well to the subsea production tree, manifold, FPSO/platform and, eventually, to midstream/downstream facilities.
1
2
View Full Article
Generated by readers, the comments included herein do not reflect the views and opinions of Rigzone. All comments are subject to editorial review. Off-topic, inappropriate or insulting comments will be removed.
RELATED COMPANIES