Wartsila Covers The Full Scope Of Making Gas A Viable Fuel
Wartsila
|
Friday, September 19, 2014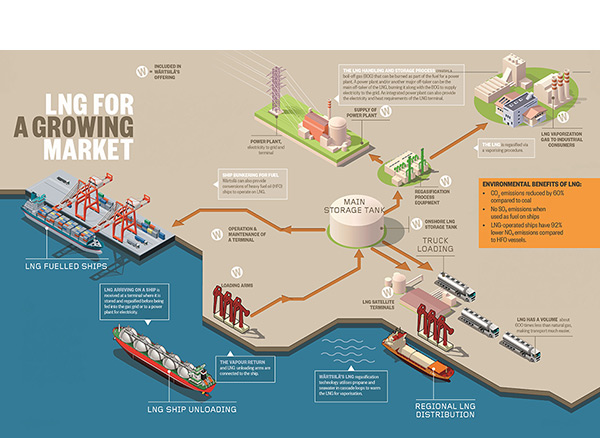 The general consensus of predictions is that the demand for natural gas will grow at a steady rate over the coming few years.
Back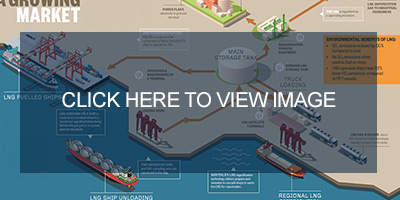 For decades already, Wärtsilä gas and dual-fuel (DF) engines have been at the forefront of the increasingly rapid shift towards gas fuel. More than engines alone, however, are needed to make the use of gas fuel completely viable. For this reason, Wärtsilä has developed a portfolio of products and solutions that cover the entire gas value chain.
The general consensus of predictions is that the demand for natural gas will grow at a steady rate over the coming few years. Experts are predicting a compounded annual growth rate (CAGR) of at least 2 percent. The International Energy Agency, in its 'World Energy Outlook 2013', report projected a rise in demand for gas of 50 percent between 2010 and 2035.
This steady movement towards the adoption of gas fuel is being driven by the dual 'e' factors of economics and environmental legislation. The price relative to energy content of gas is clearly favourable when compared to other fossil fuels, and this is likely to be increasingly the case as shale gas becomes more and more available. On the environmental side, clean burning gas has significantly lower emissions, particularly SOx and CO2, than oil and coal.
The global demand for liquefied natural gas (LNG) is expected to show similarly strong growth. This growth in production has led to similar expansions in LNG receiving terminal capacity and the general LNG infrastructure.
Involved at Every Stage
Wärtsilä's acquisition of Hamworthy plc in January 2012 allowed it to uniquely position itself as a total solutions provider serving the entire gas value chain. The expertise gained through the acquisition includes small-scale LNG liquefaction, reliquefaction, regasification, and various LNG fuel systems. Since Wärtsilä was already a technology leader in gas and dual-fuel combustion engines in the marine and power plant industries, these additional offerings were significant. The gas chain extends from the initial gas exploration and drilling processes, to the production and liquefaction of LNG, which then has to be transported to storage and distribution facilities, and finally to the end users who utilise LNG in their operations. Wärtsilä has products and solutions that are relevant to each of these stages.
Furthermore, Wärtsilä Ship Design with more than 50 years experience and offices throughout Europe and Asia , is able to provide optimised vessel designs and integrated onboard systems specifically geared, not only for the optimal use of LNG as fuel, but also for the special requirements of offshore applications.
LNG Production & Transportation
Wärtsilä Oil & Gas has developed innovative LNG production plant solutions based on well-proven equipment and process control principles suitable for small to medium size liquefaction capacities. The first free-standing small scale LNG plant in Northern Europe was the Snurrevarden facility in Norway supplied by Wärtsilä. Since then the company has delivered a number of complete onshore LNG production facilities, including the introduction of an improved liquefaction system. The LNG production plant for Gasum in Finland, delivered in 2010, uses surplus liquid nitrogen (LIN) as the cooling medium for LNG generation, and incorporates new technology that reduces LIN consumption by some 50 percent.
1
2
View Full Article
Generated by readers, the comments included herein do not reflect the views and opinions of Rigzone. All comments are subject to editorial review. Off-topic, inappropriate or insulting comments will be removed.