Offshore Block A Provides Buzz to Cambodia's Petroleum Industry
|
Monday, September 08, 2014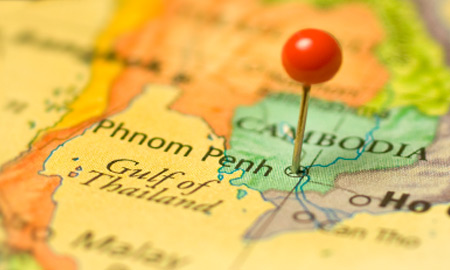 A tinge of optimism has returned to Cambodia's petroleum industry amid recent developments at its sole commercial oil discovery offshore Block A.
Recent events, triggered by Singapore-based KrisEnergy Ltd.'s acquisition of Chevron Corp.'s entire stake in Cambodia's Block A in the Gulf of Thailand, may possibly end the stalemate to develop the country's only oil discovery to date. The prospect has also rekindled hopes in Cambodia to develop its petroleum industry.
Despite being surrounded by petroleum producers in neighboring Thailand and Vietnam, Cambodia currently produces no oil or gas and is wholly dependent on costly imports to meet its domestic needs. Last year, the Southeast Asian kingdom consumed around 47,490 barrels a day of petroleum, according to the U.S. Energy Information Administration.
The absence of petroleum discovery in Cambodia was not due to a lack of interest. Petroleum exploration in fact dates back to the 1950s, when China conducted geological surveys in the country although nothing of significance occurred until 1991 when onshore Blocks I to IV were awarded in Cambodia's first bidding round, followed by two more blocks (V and VI) in 1998.
Three onshore production sharing contracts (PSC) were awarded to foreign firms, Cambodia National Petroleum Authority (CNPA) – the state agency tasked to oversee the sector and now the General Department of Petroleum (GPD) in the Ministry of Mines and Energy (MME) – indicated on its website. They included:
Block 12: PT MedcoEnergi Internasional Tbk and JHL Petroleum Ltd. (which has since relinquished the block to the government)
Block 15: PetroVietnam Exploration Production Corp.
Block 17: Japan Oil, Gas and Metals National Corp.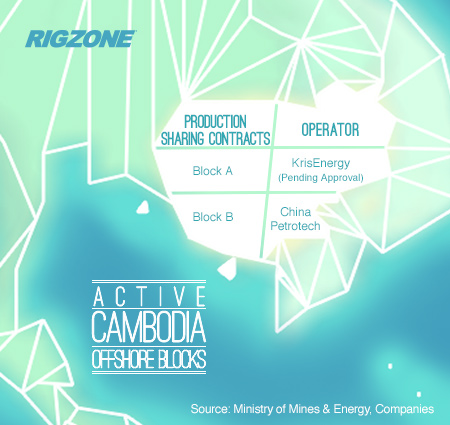 Source: Ministry of Mines & Energy, Companies
Meanwhile, Cambodia awarded six offshore blocks (A to F) for exploration to foreign firms but companies like MedcoEnergi and Thailand's PTT Exploration and Production Co. plc. have since relinquished their acreages. However, Block A has been declared a commercial discovery by Chevron in August 2010 after the U.S. operator first found oil there in 2004.
Chevron Exits Block A in KrisEnergy Operator Takeover as Operator
KrisEnergy, whose shareholders include U.S. energy-focused private equity and infrastructure investment firm First Reserve Corp. and Singapore conglomerate Keppel Corp., announced Aug. 11 that a subsidiary has acquired Chevron Overseas Petroleum (Cambodia) Limited (Chevron Cambodia), which holds a 30 percent participating interest in, and operatorship of, Block A for $65 million.
1
2
3
4
5
View Full Article
Generated by readers, the comments included herein do not reflect the views and opinions of Rigzone. All comments are subject to editorial review. Off-topic, inappropriate or insulting comments will be removed.