Offshore Block A Provides Buzz to Cambodia's Petroleum Industry
|
Monday, September 08, 2014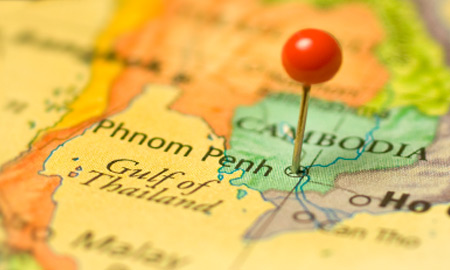 A tinge of optimism has returned to Cambodia's petroleum industry amid recent developments at its sole commercial oil discovery offshore Block A.
Recent events, triggered by Singapore-based KrisEnergy Ltd.'s acquisition of Chevron Corp.'s entire stake in Cambodia's Block A in the Gulf of Thailand, may possibly end the stalemate to develop the country's only oil discovery to date. The prospect has also rekindled hopes in Cambodia to develop its petroleum industry.
Despite being surrounded by petroleum producers in neighboring Thailand and Vietnam, Cambodia currently produces no oil or gas and is wholly dependent on costly imports to meet its domestic needs. Last year, the Southeast Asian kingdom consumed around 47,490 barrels a day of petroleum, according to the U.S. Energy Information Administration.
The absence of petroleum discovery in Cambodia was not due to a lack of interest. Petroleum exploration in fact dates back to the 1950s, when China conducted geological surveys in the country although nothing of significance occurred until 1991 when onshore Blocks I to IV were awarded in Cambodia's first bidding round, followed by two more blocks (V and VI) in 1998.
Three onshore production sharing contracts (PSC) were awarded to foreign firms, Cambodia National Petroleum Authority (CNPA) – the state agency tasked to oversee the sector and now the General Department of Petroleum (GPD) in the Ministry of Mines and Energy (MME) – indicated on its website. They included:
Block 12: PT MedcoEnergi Internasional Tbk and JHL Petroleum Ltd. (which has since relinquished the block to the government)
Block 15: PetroVietnam Exploration Production Corp.
Block 17: Japan Oil, Gas and Metals National Corp.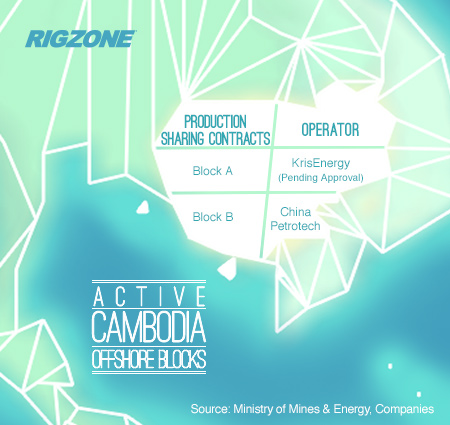 Source: Ministry of Mines & Energy, Companies
Meanwhile, Cambodia awarded six offshore blocks (A to F) for exploration to foreign firms but companies like MedcoEnergi and Thailand's PTT Exploration and Production Co. plc. have since relinquished their acreages. However, Block A has been declared a commercial discovery by Chevron in August 2010 after the U.S. operator first found oil there in 2004.
Chevron Exits Block A in KrisEnergy Operator Takeover as Operator
KrisEnergy, whose shareholders include U.S. energy-focused private equity and infrastructure investment firm First Reserve Corp. and Singapore conglomerate Keppel Corp., announced Aug. 11 that a subsidiary has acquired Chevron Overseas Petroleum (Cambodia) Limited (Chevron Cambodia), which holds a 30 percent participating interest in, and operatorship of, Block A for $65 million.
Development of the offshore project was delayed despite Chevron filing a production permit application (PPA) for the Apsara oil discovery in Block A in 2010. It was updated in 2012 as there was disagreement over taxation, Meng Saktheara, Secretary of State at Cambodia's Ministry of Mines and Energy told local media Phnom Penh Post in February.
"The government has not yet responded to the application [from Chevron] due to the issue of taxation … We want to make sure that all Cambodian people benefit from this development," he added.
While Chevron has so far not comment on why it disposed of its interest in Block A, especially after more than a decade of exploration and development work, the talks with the Cambodian authorities could have been stalled by regulatory changes governing the local petroleum sector.
"The original contract that both parties signed in 2002 [was] based on regulatory documents from 1991, which states that oil companies should pay just 25 percent tax on earnings. But that regulation was changed in 1997, requiring a 30 percent corporate tax, which Chevron rejected upon review," The Cambodia Daily reported Aug. 13.
Upon receipt of governmental approval for the acquisition of Chevron Cambodia, which has been accepted by partners MOECO Cambodia Co. Ltd. and GS Energy Corp., the Block A joint venture will consist of:
KrisEnergy – operator with 52.25 percent interest
MOECO Cambodia Co. Ltd. – 28.5 percent interest
GS Energy – 14.25 percent
MME (which has taken over CNPA) – 5 percent
"In principle, the government has no objection to Chevron selling its stake to KrisEnergy. The process involves some paperwork and is more of an acknowledgement of the sale. Approval is expected soon [before the end of August] and Block A development may begin as soon as possible," Saktheara told Rigzone.
The initial Phase 1a of the Apsara project in Block A will be developed using a single 24-slot platform which will process crude oil to be stored in a floating storage and offloading (FSO) vessel prior to commercial sales. Production from the platform is expected to peak at around 10,000 barrels of oil per day (bopd), KrisEnergy said in a company presentation Aug. 15.
KrisEnergy, the incoming field operator, seems optimistic about Cambodia Block A, which covers an area of 1.2 million acres (4,709 square kilometers) in water depths of between 164 and 262 feet (50 and 80 meters).
"Two additional future development phases in the Apsara area on the discoveries made to date may involve the installation of up to 9 platforms, each with 24 wells. Further development across the entire license area could involve up to 44 production platforms in 7 separate producing areas," the firm said in an Aug. 11 release announcing the Chevron Cambodia acquisition.
KrisEnergy and its Block A partners will declare a final investment decision (FID) for the Apsara project after agreeing terms and conditions, including fiscal terms, of the PPA with the Cambodian authorities. First oil from project could flow as early as 34 months after FID.
"Chevron, with its experience in the Gulf of Thailand, has done some tremendous work in Block A and we hope that with the KrisEnergy entity now holding operatorship, we will be able to steer the Apsara development plans forward to first production as quickly and cost effectively as possible," Richard Lorentz, director Business Development, commented.
Others are hopeful that the exit of Chevron would not hinder the Block A project from proceeding towards development.
"KrisEnergy has experience with producing oil in the Gulf of Thailand. I think that Block A can be developed soon based on this experience," Dr. Men Den, Deputy General Director of GDP in MME said in a brief conversation with Rigzone.
"We were concerned if Chevron pulled out who would replace them, but with KrisEnergy it's less of a concern because they have been there since the beginning of exploration," Kim Natacha, president of the non-governmental organization Cambodians for Resource Revenue Transparency, told The Cambodian Daily Aug. 12.
The cost of developing the Block A oil project has been estimated at around $600 million, Cambodian Deputy Prime Minister Sok An, who was chairman of CNPA, said in late 2012, with Chevron having spent more than $160 million to search for petroleum resources in the acreage.
Plans in the Pipeline
The prospect of tapping its domestic oil resources has created a buzz in Cambodia, with the government coffer expected to benefit from first production at Block A. The International Monetary Fund has estimated that the Cambodia government will gain about $174 million in revenues annually when oil production commences, with the amount set to rise up to $1.7 billion when production peaks.
Cambodia plans to establish its domestic oilfield service sector and a refinery, GPD indicated on its website, adding that "economic models are being developed for a National Oil Company."
"Yes, we have a plan to build a refinery … maybe keep a part of the production from Block A for domestic market," Saktheara told Rigzone.
Last October, Prime Minister Hun Sen called for the construction of a $1.67 billion refinery, which will be located between Preah Sihanouk and Kampot provinces. A joint venture between Cambodian and Chinese firms will build the refinery to process 5 million tons of crude oil per year, The Cambodian Herald reported May 20.
While Cambodia's petroleum industry has yet to take off amid the protracted delay in the development of offshore Block A, the government is aware of the critical need to equip its people for work in the sector.
This appears to be an urgent issue for the authorities to address as there are currently few people equipped to work in the petroleum industry. In 2012, only 2 percent and 10 percent of Cambodians enrolled in technical and vocational training at the tertiary and upper secondary levels, respectively, the World Bank noted in its "East Asia Pacific at Work" report published earlier this year.
"A top priority is to train personnel for the petroleum industry. Close to 100 are being trained in areas covering technical, construction, management and business … we have sent them overseas, mainly Asia and Europe," Saktheara commented to Rigzone.
Cambodia has also reached out to some foreign countries for assistance to seek their expertise in building its domestic petroleum industry.
One of these is petroleum producer Azerbaijan – a country that Commerce Minister Sun Chanthol visited in April. Cambodia's oil and gas reserves, Chanthol said as reported in Cambodia Daily, must be "assessed, explored and developed and Azerbaijan is known for its experience and best practice in this area, which could be useful to us."
In a related development, Cambodia's Minister for Industry, Mines and Energy Dr. Cham Prasidh inked a Memorandum of Understanding (MOU) with Singapore last October to strengthen partnerships in the energy sector. The MOU provides formal framework for information exchange and sharing of experiences between Singapore and Cambodia in areas such as liquefied natural gas (LNG), while facilitating collaboration among private sector players to explore opportunities in the energy sector.
Growth in Cambodia's petroleum industry will happen only when approval has been granted to develop the Block A project, which the joint venture hopes would come soon after the long delay.
Generated by readers, the comments included herein do not reflect the views and opinions of Rigzone. All comments are subject to editorial review. Off-topic, inappropriate or insulting comments will be removed.