Interview with Shell's Ben van Beurden: A Sharper Focus On The Bottom Line
Shell
|
Tuesday, September 09, 2014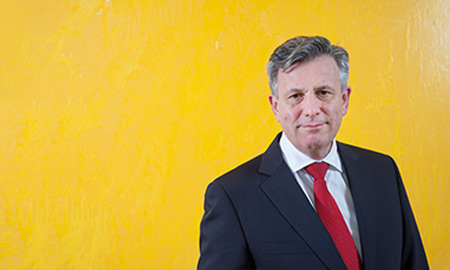 After just a few months in the job, Shell CEO Ben van Beurden reveals what it's like to head up one of the world's biggest companies.
After just a few months in the job, Shell CEO Ben van Beurden reveals what it's like to head up one of the world's biggest companies. He shared his vision of the changing energy landscape and explained how Shell is preparing for the future when he spoke to Shell's Rob van't Wel and Charlotte Brookes at the start of June 2014.
You became CEO at the beginning of 2014. What have your first impressions been?
Ben van Beurden

Shell CEO
First of all I am very happy to have taken the job. Many things that I believed to be true have been reinforced: Shell has an incredibly strong reputation, we are seen as innovative thinkers and preferred partners. As I visit our projects, it's fantastic to see how we bring technology to life and the truly remarkable breadth of what we do. Our people are really committed.
But at the same time a few things are not so pleasing. It is frustrating that, despite all the good things we do, we are not "moving the needle". Our investors are yet to be convinced: we have not always allocated our capital spending well. We need to reflect more deeply on how we control our performance. I will be devoting a lot of effort to better focusing the capabilities and commitment of our people on the bottom line.
You took over as CEO at a time of international turmoil with events in Ukraine and Russia, as well as continuing uncertainty in the Middle East. How does the energy landscape look to you today and into the future?
There are many things happening. North America has seen a revolution in shale gas and tight oil. There is volatile economic sentiment around the world. To perform well in this environment we need a two-fold approach: first we must keep a fundamental, long-term view. We shouldn't change our strategy, but instead look ahead through the turmoil and cycles. Shell has the financial strength to do that and the capacity to understand that the long-term view for our industry is positive.
Energy is fundamental to our lives and we will need all the sources we can get. We are in a growth industry. But we also need to understand what's happening in the short-term and build resilience in our own portfolio, so we are able to cope with multiple scenarios. I don't see that the turmoil will stop – it will likely intensify. There are growing tensions in global systems, with added pressure on energy, water and food. Tremendous resourcefulness is required to deal with the challenges.
1
2
3
4
5
6
View Full Article
Generated by readers, the comments included herein do not reflect the views and opinions of Rigzone. All comments are subject to editorial review. Off-topic, inappropriate or insulting comments will be removed.