Aviation Logistics: ExxonMobil's PNG Air Bridge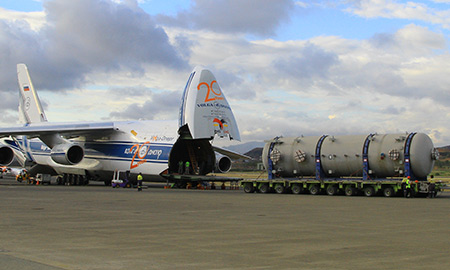 Rigzone talks to Volga-Dnepr about the "air bridge" the Russian aviation logistics firm came up with to help ExxonMobil's Papua New Guinea LNG Project.
As the oil and gas industry explores for hydrocarbon deposits in increasingly-remote regions of the world, it has to seek new ways to develop stranded reserves.
Offshore, large deposits – such as the 3 trillion cubic feet of natural gas discovered offshore Western Australia in the Prelude and Concerto fields – require the development of new-concept floating and subsea facilities if they are to be successfully extracted and exported to market. Onshore, the logistical problems of getting drilling and export facilities built in remote places can be solved with technologies and transport solutions that already exist.
One such example is the work that Russian air freight operator Volga-Dnepr Group has been undertaking in Papua New Guinea (PNG) since 2008.
ExxonMobil PNG Limited enlisted the help of Volga-Dnepr after the discovery of large resources of natural gas in the Hela, Southern Highlands and Western Provinces regions of PNG.
For its PNG LNG Project – which is estimated to deliver 9 trillion cubic feet of gas over a 30-year period – ExxonMobil needed to build a gas conditioning plant in the Highlands of PNG. But the area's rugged mountainous terrain and 350 inches of rainfall a year was going to make the task extremely difficult using conventional means.
Logistically, the main problem was how to deliver equipment and material from the ports of Lae and Port Moresby to the gas conditioning plant in Hides, which is located almost a mile above sea level. The roads in the area are mainly dirt tracks with steep gradients and there are plenty of bridges too, which meant that the maximum cargo weight per vehicle was restricted to 25 tons. Another issue was that the road between the port of Lae and Hides is often subject to road closures due to landslides and other problems.

Source: Volga-Dnepr
An Airport in the Mountains
While thousands of loads have made it to the site via this route, Exxon decided to look at an "air bridge" option so that it could transport very heavy and delicate equipment that simply could not come to the site via the road. This was the point that Volga-Dnepr's help was enlisted to examine whether equipment could be brought in by air on one of its Antonov 124 transport aircraft.
"Five years before we actually started flying [freight] we were in contact with ExxonMobil and they asked us to do a feasibility study of whether an air bridge was even possible. Because, yes, it was difficult to get the freight there by road … but there was no airport to work with either," Georgy Sokolov, Regional Sales Manager for Volga-Dnepr, told Rigzone in a recent interview.
This meant that Volga-Dnepr and ExxonMobil had to first build an airport in the mountains.
"I was there with a team of pilots and navigators and technical people. We flew a helicopter above the proposed locations and we chose … four locations. We actually imitated the approach and take-off of an Antonov 124 for the same flight path of the aircraft on the helicopter. We measured the height of obstacles and saw where the terrain was suitable and where it wasn't, and eventually we recommended a spot. That was the spot they chose and that is where they built the airport."
Work began on the Komo Airfield in 2010. In order to be able to cope with Antonov 124 planes, a paved runway would need to be built that was 2 miles in length and 148 feet wide. This was because the Soviet-designed Antonov 124 is the second-heaviest operating cargo aircraft in the world (the heaviest is the Antonov 225, of which only one has ever been built). It has a wingspan of 240 feet and its maximum take-off weight if 392 tons – including a payload of up to 120 tons.
88 Antonov 124 Flights
According to Volga-Dnepr, the location of the airfield and the use of the Antonov 124 meant that the largest items of construction equipment and materials needed for the gas conditioning plant could be delivered virtually to the door of the site through a series of flights from Port Moresby.
Once the Komo Airfield was completed, the first Antonov 124 flight landed on the runway in early May 2013. During the next three months, 88 Antonov 124 flights transported 6,000 tons of equipment and materials to the gas conditioning plant site.
"The operation went impeccably well," Sokolov said. "We didn't expect it to go that well, and the client didn't expect it to go that well. We always use some risk factor for unpredictable weather or other contingencies. In this case everyone worked so well together and everything went well. We didn't miss one day."
In May of this year, ExxonMobil delivered its first LNG supplies from its Papua New Guinea project, with the Hides gas conditioning plant forming a vital link in the pipeline between the gas fields and the LNG plant near Port Moresby.
In spite of the success of the project, Sokolov does not expect frequent commissions for similar projects in the future.
"Once a decade is about right. We had something similar [in Colombia] in the late 1990s/early 2000s … and that was one of the factors that helped us win this bid."
Meanwhile, Volga-Dnepr continues to carry out more frequent air logistics work for the offshore oil and gas industry, where the time taken to get equipment halfway around the world in order to get a project started on time is an increasingly-important factor.
Time frames for getting essential equipment to a particular part of the world by sea can be as long as eight weeks, Dmitry Grishin, sales director for Volga-Dnepr UK, explained to Rigzone. Chartering an aircraft from northern Europe to, say, Sakhalin Island "will probably cost 20-to-30 percent more, but you can deliver in within days".
Generated by readers, the comments included herein do not reflect the views and opinions of Rigzone. All comments are subject to editorial review. Off-topic, inappropriate or insulting comments will be removed.