Aviation Logistics: ExxonMobil's PNG Air Bridge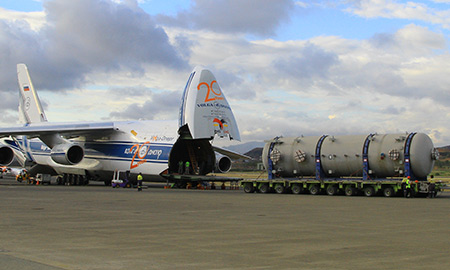 Rigzone talks to Volga-Dnepr about the "air bridge" the Russian aviation logistics firm came up with to help ExxonMobil's Papua New Guinea LNG Project.
As the oil and gas industry explores for hydrocarbon deposits in increasingly-remote regions of the world, it has to seek new ways to develop stranded reserves.
Offshore, large deposits – such as the 3 trillion cubic feet of natural gas discovered offshore Western Australia in the Prelude and Concerto fields – require the development of new-concept floating and subsea facilities if they are to be successfully extracted and exported to market. Onshore, the logistical problems of getting drilling and export facilities built in remote places can be solved with technologies and transport solutions that already exist.
One such example is the work that Russian air freight operator Volga-Dnepr Group has been undertaking in Papua New Guinea (PNG) since 2008.
ExxonMobil PNG Limited enlisted the help of Volga-Dnepr after the discovery of large resources of natural gas in the Hela, Southern Highlands and Western Provinces regions of PNG.
For its PNG LNG Project – which is estimated to deliver 9 trillion cubic feet of gas over a 30-year period – ExxonMobil needed to build a gas conditioning plant in the Highlands of PNG. But the area's rugged mountainous terrain and 350 inches of rainfall a year was going to make the task extremely difficult using conventional means.
Logistically, the main problem was how to deliver equipment and material from the ports of Lae and Port Moresby to the gas conditioning plant in Hides, which is located almost a mile above sea level. The roads in the area are mainly dirt tracks with steep gradients and there are plenty of bridges too, which meant that the maximum cargo weight per vehicle was restricted to 25 tons. Another issue was that the road between the port of Lae and Hides is often subject to road closures due to landslides and other problems.

Source: Volga-Dnepr
An Airport in the Mountains
While thousands of loads have made it to the site via this route, Exxon decided to look at an "air bridge" option so that it could transport very heavy and delicate equipment that simply could not come to the site via the road. This was the point that Volga-Dnepr's help was enlisted to examine whether equipment could be brought in by air on one of its Antonov 124 transport aircraft.
1
2
3
View Full Article
Generated by readers, the comments included herein do not reflect the views and opinions of Rigzone. All comments are subject to editorial review. Off-topic, inappropriate or insulting comments will be removed.