US Energy Boom Better Than Sanctions Against Russia
by Chris Faulkner
|
Breitling Energy Corp.
|
Wednesday, August 27, 2014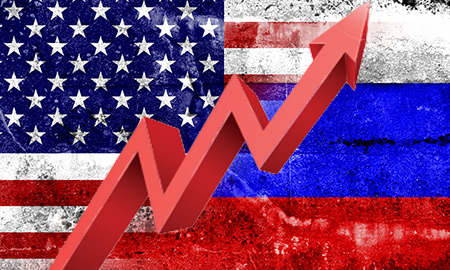 Competition in the form of increased US energy exports is the last thing Russian President Vladimir Putin wants to see, so that's exactly what we should do.
This opinion piece presents the opinions of the author.
It does not necessarily reflect the views of Rigzone.
U.S. oil production is surging, and it's helping to cripple the Russian economy. It's a win-win situation
With 40 percent of the Russian economy hinging on oil and gas sales, America's oil and gas boom is doing more to bring President Vladimir Putin to his knees than any of the sanctions being imposed by the U.S. and Europe.
Competition in the form of increased U.S. energy exports is the last thing Putin wants to see, so that's exactly what we should do. Russia is currently the third-largest oil producer and the top exporter of natural gas, and you better believe that Putin uses these advantages to push his agenda regionally and globally.
Russia needs oil prices to stay above $110 per barrel to keep its budget balanced, but on August 20 Reuters reported that Russian oil is below $100 per barrel.
The U.S. has added roughly 3 million barrels per day to its oil production in the last five years and is on track to surpass Saudi Arabian oil output by 2017. If the U.S. government can get out of the way of progress, the U.S. can increase the downward pressure on Russian and global markets. The U.S. isn't likely to be able to export much crude, but any amount of exports can help create greater investment certainty that could ultimately escalate U.S. production.
The U.S. also recently surpassed Russia as the world's top natural gas producer. If ExxonMobil is correct in its projection that natural gas will become the second most common energy source by 2025, the American shale boom could inflict even greater pain on Russia by causing oil exports to plummet by 25 percent after 2015.
1
2
3
View Full Article
Generated by readers, the comments included herein do not reflect the views and opinions of Rigzone. All comments are subject to editorial review. Off-topic, inappropriate or insulting comments will be removed.