Statoil at ONS: Aasta Hansteen Remains On Track for 3Q 2017
by Jon Mainwaring
|
Rigzone Staff
|
Tuesday, August 26, 2014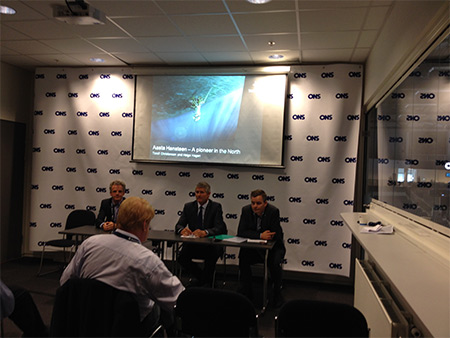 Helge Hagen (left), Statoil's project manager for the Aasta Hansteen subsea development, and Torolf Christensen (centre), Statoil's head of Aasta Hansteen, give a presentation to journalists on the project's progress
Statoil's Aasta Hansteen gas field development remains on track, with drilling due to start in the first half of 2016, the Norwegian oil major confirmed Tuesday at a press conference at the ONS exhibition in Stavanger.
Billed by Statoil as one of the biggest and most-complex industrial projects in Europe, Aasta Hansteen and its Polarled pipeline are taking Norwegian gas infrastructure northward into the Arctic Circle for the first time.
"We are building the largest spar platform in the world and we are setting a new depth record of 1,300 meters [4,265 feet] for a field development and pipeline on the Norwegian Continental Shelf," Torolf Chistensen, Statoil's head of Aasta Hansteen, told reporters.
The Aasta Hansteen discovery, located 183 miles off the coast of Norway, contains an estimated 1.66 trillion cubic feet of natural gas and some condensate.
The first offshore work began in the summer of 2014 and the project is still on schedule for production start-up during the third quarter of 2017.
"We will start drilling during the first half of 2016 and we are going to use the West Hercules [DW semisub] rig as we drill and complete seven wells," Christensen said.
"The two exploration wells that we are planning to drill during the next year are both within the Aasta Hansteen license. There is some good potential in them and it will make for a good supplement, if we make a discovery, to the volumes and reserves that we have already."
Christensen continued:
"We are well underway with construction and our plan now is that we will start production, as set out in the PDO [plan for development and operation], during the third quarter of 2017.
"We set some ambitious goals to create some local ripple effects in northern Norway. This was an expectation also from the authorities, so we set some goals – among others – to create a ripple effect in northern Norway of at least NOK 450 million [$72 million] during the execution phase of the project.
"Today I am happy to announce that we have actually realized more than NOK 400 million already and we have a lot of measures still to make sure that we pass our goal… We still have a lot of installation activities offshore, platform installations and so on…Today, we see that there is more than 200 people that are working with the Aasta Hansteen project on the coast of Helgeland in Nordland county in northern Norway."
Generated by readers, the comments included herein do not reflect the views and opinions of Rigzone. All comments are subject to editorial review. Off-topic, inappropriate or insulting comments will be removed.
RELATED COMPANIES