Lower Tertiary Trend Remains Focus of Western Gulf Bidding
by Karen Boman
|
Rigzone Staff
|
Wednesday, August 20, 2014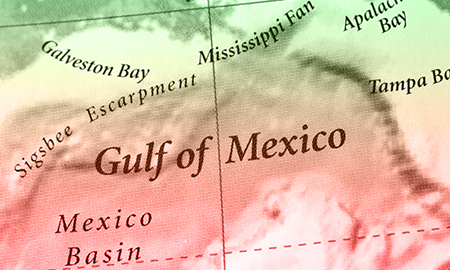 Operators focus bidding on Lower Tertiary and US-Mexico transboundary tracts in BOEM's Western Gulf of Mexico Lease Sale 238.
Lower Tertiary trend acreage in the western deepwater Gulf of Mexico was once again a focal point of bidding in the Bureau of Ocean Energy Management's Western Gulf lease sale Wednesday.
Fourteen companies submitted 93 bids on 81 of the 4,026 offered in Western Planning Area Lease Sale 238. The sale, which offered more than 21 million acres for oil and gas exploration and development offshore Texas, garnered over $110 million in high bids for tracts covering 433,823 acres and more than $135 million in total bids.
ConocoPhillips submitted the highest bid in the lease sale with a $16.7 million bid for Alaminos Canyon Block 431. Port Isabel Block 746 received the most bids of any block offered, followed by Alaminos Canyon Blocks 215, 258, 260 and 431.
The tracts offered are located from 9 to more than 250 miles offshore and in water depths ranging from 16 feet to over 10,975 feet. Of the tracts receiving one bid each, 25 were in water depths between 2,624 feet and 5,249 feet (800 to 1,600 meters), and 34 tracts in more than 5,249 feet (1,600 meters) of water received one bid each. Four tracts in water depths between 2,624 feet and 5,249 feet (800 and 1,600 meters) and eight tracts in greater than 5,249 feet (1,600 meters) of water received two bids.
Alaminos Canyon Block 644, situated in 10,229 feet (3,118 meters) of water, was the deepest block to receive a bid in the lease sale.
Lease Sale 238 offered all unleased areas in the Western Gulf planning area, with the exception of blocks in the Flower Garden Banks National Marine Sanctuary. Bureau of Ocean Energy Management (BOEM) estimates that 116 to 200 million barrels of oil and 538 to 938 billion cubic feet of natural gas production could result from the lease sale. The sale is the sixth sale held under the 2012-2017 Outer Continental Shelf Oil and Gas Leasing Program. The five previous lease sales under this program offered over 60 million acres for development and received $2.3 billion in bid revenues.
Wednesday's sale saw a higher number of bids submitted and more companies participating compared with the previous Western Gulf Planning Area Lease Sale. Twelve companies submitted 61 bids in Lease Sale 233, which was held in August of last year. The sale, in which 20.7 million acres were offered, drew over $102 million in high bids for 53 tracts covering 301,006 acres, according to a BOEM Aug. 28 press release.
1
2
3
View Full Article
Generated by readers, the comments included herein do not reflect the views and opinions of Rigzone. All comments are subject to editorial review. Off-topic, inappropriate or insulting comments will be removed.
RELATED COMPANIES