Prelude: A World's Worth Of Talent And Technology
Shell
|
Wednesday, August 20, 2014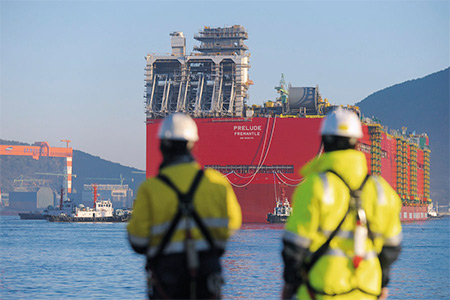 Prelude Man
Creating the world's first floating liquefied natural gas (FLNG) project continues to be one of the most ambitious engineering projects in the world. In order to get the unique combination of talent and technology needed to contribute to this project, Shell brought together technical skills and innovative components from around the world. As the project develops further Shell are now up-skilling local talent and businesses through partnerships with universities and regional training opportunities.
Making FLNG a reality is no simple feat, Shell have had to innovate hard and invest heavily, shrinking an onshore LNG plant to about a quarter of the size. However, Shell are uniquely positioned to make it a success given their commercial capability; their LNG, offshore, deepwater and marine technology; and their proven ability to successfully deliver megaprojects. Many of the technologies used on the FLNG facility are ones they have used onshore, but some have been extended or modified in order for the processes such as liquefaction and offloading to occur at sea.
Size Matters When it Comes to Stability
With increased size comes increased stability. Measuring nearly half a kilometer in length, 74 meters wide and weighing more than 600,000 tonnes with its cargo tanks full, Prelude will be the largest offshore floating facility ever built. Around 260,000 tonnes of steel are being used in the construction of the facility, that's around five times the amount of steel used to build the Sydney Harbour Bridge.
Precision is Paramount
Around 5,000 people are involved in the construction of the Prelude FLNG facility in South Korea, plus 1,000 on the Turret Mooring System, subsea and wells equipment. Watching the team at the Samsung shipyard in Geoje, South Korea as they measure accuracy to the millimeter shows how, despite the colossal size of Prelude, precision is paramount and the team's expertise and dedication are crucial to the success of the project.
Bon Voyage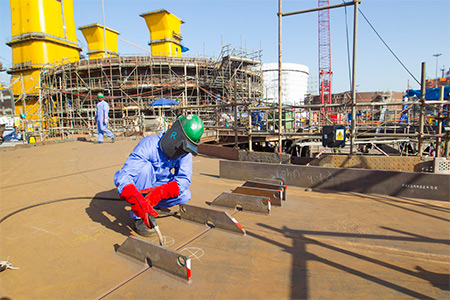 Prelude Supporting
Following the two massive halves of the hull being joined together, Willie Gray, his international team and their families wave Prelude out of the drydock. It's not surprising that, following 18 million hours of design and development, including 14 months of construction so far, Didrik Reymert, Project Director, can't hide his awe and pride when he looks at Prelude. "It's amazing. It's very big, it's very impressive and it's a fantastic achievement by everybody."
1
2
View Full Article
Generated by readers, the comments included herein do not reflect the views and opinions of Rigzone. All comments are subject to editorial review. Off-topic, inappropriate or insulting comments will be removed.
RELATED COMPANIES