Will Widodo Succeed in Reforming Indonesia's Upstream Sector?
|
Thursday, August 21, 2014
Priority Issues Awaiting Resolutions
Joko Widodo, or Jokowi, won a fiercely contested presidential race in July with 53.15 percent of the vote compared to 46.85 percent for ex-general Prabowo Subianto, according to Indonesia's general elections commission (KPU). Even so, Subianto refused to concede defeat and alleged that fraud was committed during the elections, a case dismissed by the KPU.
"Jokowi's election is a positive signal for Indonesia's upstream sector. He is seen as a more progressive president, having outlined his intention to introduce new fiscal terms to encourage development of mature oil fields; incentivize enhanced oil recovery and exploration; and reduce the amount of red tape," Andrew Harwood, senior upstream analyst at commercial intelligence firm Wood Mackenzie told Rigzone.
Although resource nationalism has constrained the government's ability to implement policies to encourage foreign investments, "it's impossible to be a fully nationalist country, because we still need foreign investors … they [Jokowi and Subianto] will be market-friendly," Pri Agung Rakhmanto, executive director of energy think tank ReforMiner Institute told Jakarta Globe newspaper just prior to the president elections.
There are areas in Jokowi's energy security agenda, published during the election campaign, which dealt with the upstream petroleum industry. The focus areas, as compiled by Jakarta Globe in its July 4 report, cover:
revision of oil and gas law with more nationalistic spirit and improved legal certainty
increasing oil production with enhanced oil recovery technology; designing better exploration scheme to balance risks and investment returns; developing a flexible fiscal system to accommodate different oil field conditions and attract investment; simplifying administrative procedures for investment
fiscal incentive to boost gas infrastructure
Given the slowdown in new foreign upstream projects in Indonesia, enhancing regulatory certainty could boost the country's investment climate. Clarity on contract tenure for petroleum blocks is one of the major issues that needed to be addressed by the new government.
"There are 20 oil and gas cooperation contracts which will expire in five years with no certainty whether they will be extended or not," Indonesian Petroleum Association (IPA) chairman Lukman Mahfoedz, who is also CEO of Indonesian energy firm PT Medco Energi International Tbk, told the 38th IPA convention and exhibition in May.
In addition, the existence of red tape – in which petroleum firms would have to wait for as long as 2 weeks for certification, 24 to 30 months for contract approval and 6 to 12 months to obtain transportation clearance – are issues that most of foreign companies operating in Indonesia have to deal with, ConocoPhillips Indonesia president and general manager Eric Isaacson was quoted by Jakarta Post in May.
Upstream Projects Pending Approval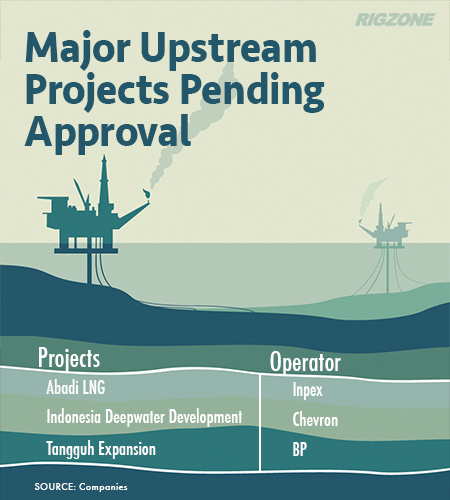 Major Upstream Projects Pending Approval.
1
2
3
4
5
View Full Article
Generated by readers, the comments included herein do not reflect the views and opinions of Rigzone. All comments are subject to editorial review. Off-topic, inappropriate or insulting comments will be removed.