Will Widodo Succeed in Reforming Indonesia's Upstream Sector?
|
Thursday, August 21, 2014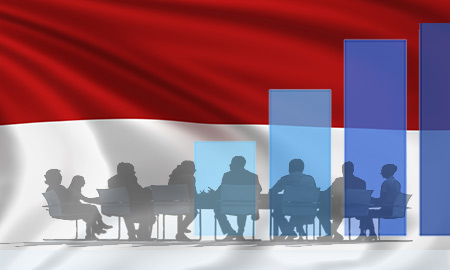 Indonesia's upstream petroleum sector is poised for interesting times as the new president may introduce investment-friendly policies to boost domestic petroleum production.
The victory of Joko Widodo in Indonesia's presidential elections in July raises the specter of policy changes ahead for the local economy, including regulations that may have an impact on the upstream petroleum industry. Policy reforms are needed as legal uncertainty and inadequate investments have led to stagnant oil and gas production in Southeast Asia's largest country.
Falling foreign upstream investments in recent years has contributed indirectly to a decline in Indonesia's petroleum production, particularly oil. Resource nationalism – a term Eve Warburton, writing in local daily Jakarta Globe in early July, describes as government efforts to extract greater value from, and assert more control over, its natural resource sectors and often at the expense of foreign investors – is seen as a major factor causing overseas firms to hold back from investments in the country's upstream sector.
Domestic crude production in Indonesia, Asia's sole representative in the Organization of Petroleum Exporting Countries from 1962 to 2009, continues to slide, after falling below one million barrels of oil per day (bopd) in 2007, figures from the United States Energy Information Administration (EIA) showed. The country produced 797,000 bopd in the first half of 2014, less than its target of 818,000 bopd, Upstream Oil and Gas Regulatory Special Task Force (SKKMigas) spokesman Handoyo Budi Santoso told Jakarta Post in July.
Lower production at its matured fields and sustained rise in local consumption resulted in a worsening of the oil demand-supply balance in Indonesia. Demand increased to 1.66 million barrels of oil per day (MMbopd) last year, 45 percent more than the 1.14 MMbopd consumed a decade ago, EIA said. A similar trend was also seen in gas, with demand rising just over two-thirds from 0.79 trillion cubic feet (Tcf) in 2002 to 1.32 Tcf in 2012.
As a result, Indonesia had to rely on expensive oil imports to meet the supply deficit, straining its trade balance. Such funds could have been used for the country's other development needs given its per capita gross domestic product of $3,475 in 2013 compared to $53,143 for the United States, World Bank figures showed. Tapping on its own petroleum resources is therefore an urgent priority for Indonesia.
Priority Issues Awaiting Resolutions
Joko Widodo, or Jokowi, won a fiercely contested presidential race in July with 53.15 percent of the vote compared to 46.85 percent for ex-general Prabowo Subianto, according to Indonesia's general elections commission (KPU). Even so, Subianto refused to concede defeat and alleged that fraud was committed during the elections, a case dismissed by the KPU.
"Jokowi's election is a positive signal for Indonesia's upstream sector. He is seen as a more progressive president, having outlined his intention to introduce new fiscal terms to encourage development of mature oil fields; incentivize enhanced oil recovery and exploration; and reduce the amount of red tape," Andrew Harwood, senior upstream analyst at commercial intelligence firm Wood Mackenzie told Rigzone.
Although resource nationalism has constrained the government's ability to implement policies to encourage foreign investments, "it's impossible to be a fully nationalist country, because we still need foreign investors … they [Jokowi and Subianto] will be market-friendly," Pri Agung Rakhmanto, executive director of energy think tank ReforMiner Institute told Jakarta Globe newspaper just prior to the president elections.
There are areas in Jokowi's energy security agenda, published during the election campaign, which dealt with the upstream petroleum industry. The focus areas, as compiled by Jakarta Globe in its July 4 report, cover:
revision of oil and gas law with more nationalistic spirit and improved legal certainty
increasing oil production with enhanced oil recovery technology; designing better exploration scheme to balance risks and investment returns; developing a flexible fiscal system to accommodate different oil field conditions and attract investment; simplifying administrative procedures for investment
fiscal incentive to boost gas infrastructure
Given the slowdown in new foreign upstream projects in Indonesia, enhancing regulatory certainty could boost the country's investment climate. Clarity on contract tenure for petroleum blocks is one of the major issues that needed to be addressed by the new government.
"There are 20 oil and gas cooperation contracts which will expire in five years with no certainty whether they will be extended or not," Indonesian Petroleum Association (IPA) chairman Lukman Mahfoedz, who is also CEO of Indonesian energy firm PT Medco Energi International Tbk, told the 38th IPA convention and exhibition in May.
In addition, the existence of red tape – in which petroleum firms would have to wait for as long as 2 weeks for certification, 24 to 30 months for contract approval and 6 to 12 months to obtain transportation clearance – are issues that most of foreign companies operating in Indonesia have to deal with, ConocoPhillips Indonesia president and general manager Eric Isaacson was quoted by Jakarta Post in May.
Upstream Projects Pending Approval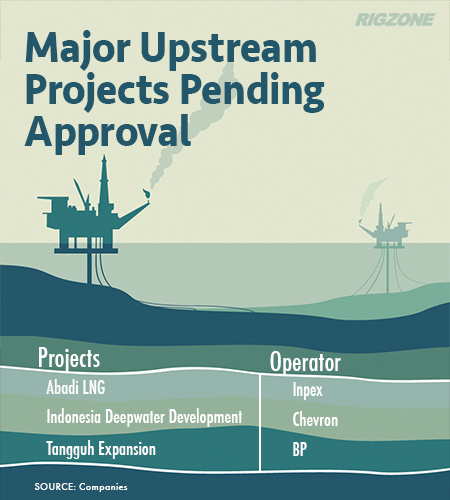 Major Upstream Projects Pending Approval.
Several large upstream oil and gas projects now awaiting approval from the authorities include Chevron Corp.'s $12 billion Indonesia Deepwater Development (IDD), which covers the Gendalo, Maha, Gandang, Gehem and Bangka gas fields offshore East Kalimantan, Japan's Inpex Corp.'s Abadi liquefied natural gas (LNG) project in the Masela Block in Arafura Sea and BP plc's $12 billion Tangguh expansion in West Papua.
The sanction of these projects "could generate over $30 billion of new investment in Indonesia's oil and gas sector," Wood Mackenzie said in a July 22 release, adding that "a revision of the 2001 Oil and Gas Law and formalization of the upstream regulator's role is a longer term objective that would enhance the investment environment by removing regulatory uncertainty."
In this regard, the future of the Total S.A.-operated Mahakam block offshore East Kalimantan continued to hang in the balance as the production sharing contract (PSC) approaches expiry in 2017. Industry players note that the decision on Mahakam PSC would serve as a guide on the new government's position on foreign upstream investments in Indonesia.
Still, any decision by the government to extend the Mahakam PSC, which accounts for a third of the country's gas production, is likely to be some time away as "negotiations … with the Indonesian government on contract extension for Mahakam are still ongoing," an executive at Inpex – an equal partner with Total in the PSC – told Rigzone.
"Total's Mahakam project is the first important decision for the new Government to make. Pertamina would like to get a stake in an extension of Mahakam PSC. The decision on Mahakam will indicate the likely approach for other expiring PSCs and impact future investment decisions," Harwood explained.
The decision on Mahakam's PSC extension is a politically sensitive one for Jokowi to make as national oil and gas firm PT Pertamina had repeatedly informed Indonesia's Energy and Resources Ministry of its readiness to takeover operations at the block.
"We are 100 percent ready to manage the [Mahakam] block," Muhammad Husein, Pertamina's upstream oil and gas director told local media kompas.com in May, adding that the company had already acquire relevant experience through its takeover of the West Madura Offshore and Offshore Northwest Java blocks from foreign contractors .
Separately earlier this month, both BP and Inpex received approvals of their environmental and social impact assessment, known locally as AMDAL (Analisis Mengenai Dampak Lingkungan), for the Tangguh expansion, which will add a third LNG processing train, and the Abadi LNG projects, respectively.
"We are engaging closely with SKK Migas, the Ministry of Energy and Mineral Resources and other related government agencies to receive these critical approvals," Christina Verchere, BP regional president Asia Pacific said in a press release.
Meanwhile, front-end engineering and design (FEED) work for the Abadi project, comprising a 2.5 million tons per annum floating LNG facility, nears completion. Just like the Mahakam Block, Inpex has requested for the contract for the Masela Block be extended beyond 2028 as it needs more time to recoup its investment in the Abadi project.
"The FEED [for the Abadi project] had been 98 percent completed," Johannes Widjonarko, SKKMigas chairman told Jakarta Globe, which reported that local authorities wanted the link the talks on contract extension to a request for Inpex to allocate at least 30 percent of the gas production from Abadi for domestic use.
Jokowi Faces Obstacles in Seeking Upstream Investments
Despite his victory, Jokowi's grip on political power in Indonesia is relatively weak as his coalition – led principally by the Indonesian Democratic Party-Struggle (PDI-P) of former president Megawati Sukarnoputri – controlled only 37 percent of the seats in Parliament, while the remainder is held by supporters of his defeated electoral opponent Subianto.
"Jokowi is going to face internal challenges in the coalition … Widodo will try to engage parliament directly rather than building coalitions beforehand but that will be a challenge," Dr Marcus Mietzner, Associate Professor at Australia National University told BBC News July 22.
The assessment is shared by others monitoring the upstream industry in Indonesia.
"The key uncertainty for Indonesia is Jokowi's ability to implement reform. He has to work with the opposition in parliament and that may dilute some of his intended reforms," Harwood commented.
It remains to be seen how far Jokowi will move to implement reforms in the upstream oil and gas sector given the pressing need to become more self-sufficient – which would require foreign investments and technological expertise to explore and develop petroleum resources in deepwater blocks in Indonesia – while being constrained by resource nationalism.
Generated by readers, the comments included herein do not reflect the views and opinions of Rigzone. All comments are subject to editorial review. Off-topic, inappropriate or insulting comments will be removed.