ConocoPhillips Reaches Out To Put Veterans to Work
by Gene Lockard
|
Rigzone Staff
|
Thursday, August 14, 2014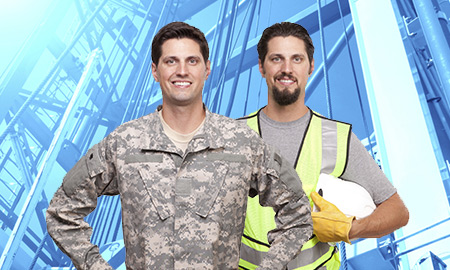 ConocoPhillips works with recruiters for military veterans to find workers wanting a career in the oil and gas sector.
The transition from military life to the civilian world can be daunting for many new veterans, and finding a civilian career makes the challenge even greater. However, ConocoPhillips has recognized the strengths that veterans can bring to an organization, and has put in place a program designed to help guide them to high-paying oil and gas jobs within the company.
Assessing the Need for Jobs, Energy Workers
The vets can use the help, since a disproportionate number of them have missed out on the economy recovery from the Great Recession of a few years ago. While the jobless rate for all veterans was down to 6.6 percent in March 2014, the unemployment rate for veterans who served in the U.S. Armed Forces since 2001 was 9 percent in 2013, according to the U. S. Bureau of Labor Statistics (BLS). The figures for non-commissioned officers is even higher, recruiters say.
The gap in employment among veterans is particularly noticeable among those 24 years old or younger, the BLS said. Among male Gulf War-era veterans in that age group, the unemployment rate is about 24.3 percent, compared with a non-veteran male unemployment rate of 15.8 percent.
While many veterans need jobs, energy companies need new workers. It is no secret that STEM (science, technology, engineering and math) disciplines are needed within the industry for engineering and technical jobs. However, energy companies also need rig and field workers, particularly in places like the Bakken Shale in North Dakota, where the existing pool of qualified workers in the area is insufficient to meet the need.
Personnel transitioning from the Armed Forces into the civilian world are eligible to be reviewed for a number of different positions at ConocoPhillips. Some of the skilled technical avenues open to non-commissioned officers are:
Multi-skilled operators
I/E technicians
Maintenance technicians
Aviation roles
Former junior military officers also have a number of avenues, including:
Procurement specialists
Revenue analysts
Engineering positions
Pilots
Hiring Vets "Makes Sense"
There are a number of reasons why former military service personnel are ideal for filling the employment needs at ConocoPhillips. For one thing, many of the skillsets needed in the energy sector are present in those who served in the Armed Forces, ConocoPhillips' Bill Stephens, senior advisor for External Communications, told Rigzone. The specific training and educational background used to develop the talents of military make then valuable assets in the world of oil and gas. Also, because of their varying experiences, veterans are able to "add to the demographic diversity" of ConocoPhillips' workforce, as well as the company's "diversity of thought," Stephens noted.
1
2
View Full Article
Generated by readers, the comments included herein do not reflect the views and opinions of Rigzone. All comments are subject to editorial review. Off-topic, inappropriate or insulting comments will be removed.
RELATED COMPANIES