Distributed Fiber Optic Sensors Poised to Remap Upstream Sector
by Grant Rudgley
|
Visiongain
|
Wednesday, August 06, 2014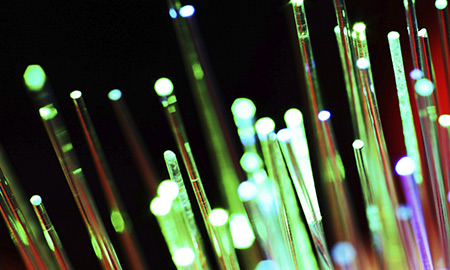 Distributed fiber optic sensing (DFOS) solutions are poised to empower the upstream oil and gas industry, improving such activities as pipeline monitoring, well monitoring and seismic acquisition.
Distributed fiber optic sensing (DFOS) solutions are poised to empower the upstream oil and gas industry. With DFOS, the entire fiber can become a sensor, enabling monitoring on a truly distributed basis.
They promise the cost-effective mapping and monitoring of wells, pipelines and reservoirs. In short, DFOS can provide the industry with clearer sight. Examples of this include: dangers posed to pipelines, progress during hydraulic fracturing and the integrity of a thermal enhanced oil recovery project.
What is Distributed Fiber Optic Sensing?
DFOS utilizes the backscatter from light pulses directed down a fiber optic cable. As light travels down the cable some of it is reflected back off the glass and structure of the cable; this forms a "backscatter" that makes its way back up the cable to the source.
It is the interpretation of distortions to various reference points within this "backspatter spectrum" that enables the monitoring of temperature, acoustics and/or strain affecting the cable. Backscatter occurs down the entire length of a fiber optic cable. As a result, every single part of the fiber can become a monitoring device: a sensor. Changes to surrounding conditions can thus be identified, localized and interpreted.
Pipeline Monitoring
Pipeline outages due to theft, accident or vandalism can all be anticipated using DFOS. By using the fiber as an acoustic sensor one can identify in real-time what is happening near the pipeline. Using this intelligence a rapid response unit can be deployed and the threat averted.
This makes for compelling economics because pipeline outages can cost millions of dollars on a daily basis, creating uncertainty in supply and driving oil price speculation. Across Asia and the Middle East, Visiongain estimates that a new distributed acoustic sensing solution adds between .15 percent and .2 percent to the total cost of a pipeline.
The pipeline monitoring capabilities of DFOS are invaluable to an oil and gas industry struggling with security issues. Nigeria, Yemen and Mexico are but a select list of countries that suffer pipeline issues. Mexico's Pemex reported the discovery of 2,614 illegal siphons on oil, gas and petroleum product pipelines in 2013, whilst Chatham House has estimated that 100,000 barrels of oil per day (bopd) was lost in Nigeria in the first quarter of 2013 due to theft. In Yemen, attacks on pipelines are an all too frequent occurrence.
1
2
3
View Full Article
Generated by readers, the comments included herein do not reflect the views and opinions of Rigzone. All comments are subject to editorial review. Off-topic, inappropriate or insulting comments will be removed.