New Oilfield Water Platform Serving Permian Basin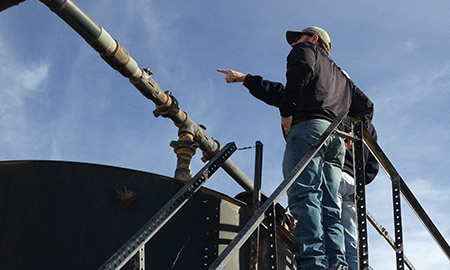 An energy industry veteran discusses with Rigzone the plans for a new oilfield water platform that will initially serve the Permian Basin.
Technological advances in hydraulic fracturing and horizontal drilling have unlocked significant shale gas and tight oil resources in the United States. The use of these technologies, however, also has created infrastructure challenges such as a lack of pipelines and housing for workers.
Water usage in hydraulic fracturing has become a major issue for the oil and gas industry due to competition for water in some areas from agricultural and other interests, drought conditions in parts of the United States and concerns over hydraulic fracturing's impact on drinking water resources and amount of water used. Oil and gas industry officials say the amount of water used in hydraulic fracturing is nominal compared to other industries such as agriculture, but remains a concern over the long-term, the Midland Reporter-Telegram reported June 3.
These infrastructure challenges are being seen in a number of unconventional shale gas and tight oil plays across the United States, including the Permian Basin. The "sandbox full of oil" has been producing for almost a century, but technological improvements are allowing operators to commercially produce oil from less permeable areas of the basin. As a result, Permian Basin production has risen from 850,000 barrels per day (bpd) in 2007 to 1,350,000 bpd last year.
A newly formed oilfield water platform, Oilfield Water Logistics, LLC (OWL), which will offer water and oilfield fluids infrastructure and services, is working with operators in the Permian Basin and looking for investment and development expansion opportunities worldwide.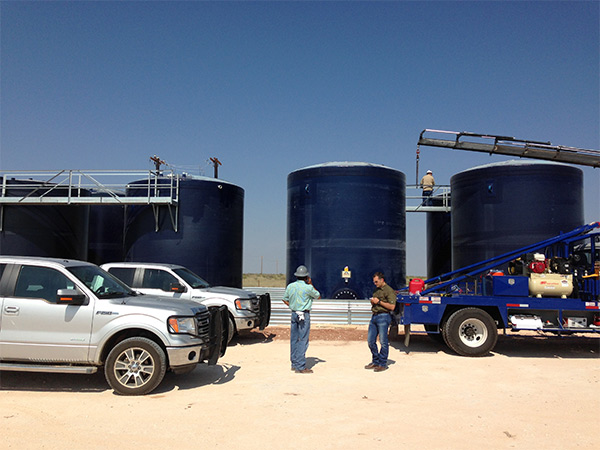 OWL is developing new saltwater disposal wells and infrastructure in southeast New Mexico like this facility on Highway 128
Source: Oilfield Water Logistics
Back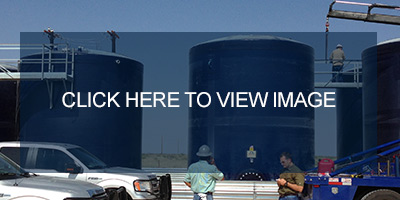 The company earlier this month acquired Midland-based AggieTech Operating LLC, a saltwater disposal well and pipeline infrastructure company and the saltwater disposal affiliate of Big Bear AggieTech, the largest independent pumping unit service company in the Permian Basin.
The acquisition will expand OWL's footprint in the Permian, establish a company office in Midland and indicate the company's commitment to growth through acquisition, OWL said in a July 14 press statement. The purchase of AggieTech means that OWL now owns 12 saltwater disposal wells and a network of water pipelines with producer contracts, in addition to significant exclusive surface-use agreements in the Permian.
Rigzone recently spoke with OWL CEO Chris Cooper about the company's future plans.
Rigzone: When was OWL formed? What is your background and the background of the company's management team?
Cooper: OWL was formed in May with NGP Natural Resources X, LP, NGP Energy Technology Partners II, L.P. and friends and family to acquire, develop, and manage water-related and other oilfield fluids infrastructure and services. The management team includes [myself] and Nevin Bannister, who previously formed and operated Oilfield Water Lines, LP, and are joined by long-time co-investor Roger Johnson and former investment banker Matt Thiel. Previously, Cooper was CFO of a company which was Nuverra's first oilfield water investment.
Rigzone: Can you talk about the challenges of infrastructure and services that the energy industry faces in shale plays and in the Permian Basin?
Cooper: In every shale play, infrastructure has played catch-up with drilling, and this is particularly true as it relates to water. One of the exciting things about the Permian Basin is that with the vast areas of land, we are able to design and build complete water systems for producers that include miles of pipelines, supply, reclamation and disposal. These can be wholly owned by OWL or developed in joint ventures. In fact, many producers have had to build their own water infrastructure out of necessity. In these cases, OWL is able to invest in or acquire those systems and return capital to the producer for additional drilling.
Rigzone: In terms of dependable solutions, what kind of solutions exist on a national scale? Are there enough solutions? If not, why do you think there is still a lack of choice in this arena?
Cooper: The water business is still very fragmented, and we think E&P companies would very much like to have a dependable, go-to company on a national scale. This was our original goal and a reason we partnered with NGP – to fill the void by building a large, first-class national water operation with a long-term vision to solve this problem. OWL is rapidly growing into a full-cycle water company with permanent infrastructure and closed-loop systems with established customer relationships and contracts, modeled similarly to a midstream gas gathering company.
Rigzone: In terms of water rights acquisition and well management, what kind of challenges have these issues posed and continue to pose for oil and gas companies?
Cooper: There certainly has been a water-grab, which has been good for ranchers interested in selling or leasing water rights. We've been pleasantly surprised to see communities and oil and gas companies working together because both need each other. The communities need the producers because of the economic benefits, and the producers need the support of the communities, so they are committed to preserving the long-term water supply through reclamation and other initiatives. However, I do think it is important to point out that while water is critical to the oil & gas industry, the amount of water used is a small fraction of that in other sectors, particularly agriculture. The University of Texas alumni magazine, Alcalde, has a great piece this month where they also note that biofuel production is 100 times more water-intensive than fracking. That doesn't get much press.
Rigzone: In terms of other oilfield fluids, what kind of infrastructure and services are needed in the energy industry?
Cooper: In addition to water, proppant (or frac sand) is the other critical component to fracking. There are major railports being created in the market to handle this, which is an efficient system. Unit trains come in loaded full of sand, and leave loaded full of oil. It's impressive.
Rigzone: Your company will be involved in acquiring, developing, and managing water-related and other oilfield fluids infrastructure and services. Will the services aspect of this organization include development of technology for water treatment/management, or will it focus more on the infrastructure and delivery?
Cooper: OWL will be focused on infrastructure and delivery/disposal, and on providing our customers with innovative technologies for water treatment/management. We have a long and successful experience in water delivery and disposal and have been looking at water treatment technology for years; we are strong supporters of efforts to make reclamation cost-effective. One of the many reasons we were excited Natural Gas Partners was joining us to form OWL was that they are experienced energy investors and were able to introduce us to NGP Energy Technology Partners as a co-investor. NGP ETP is a leader in oilfield technology investing and has been valuable, working with NGP, in providing access and knowledge in the space. We expect reclamation to be one of the cornerstones of the water logistics business and have access to both proprietary and off-the-shelf solutions for our customers.
Rigzone: What types of water reclamation technology will be used? What kind of solutions will be available for the differing needs of individual basins?
Cooper: There are many types, and needs vary by basin as well as the quality of water desired by the customer. Chemical and ozone treatment, electrocoagulation, ceramic filtration and distillation are available solutions, among others, and they vary by cost and quality. OWL is well-versed in each and can implement any of the options for customers as needed.
Rigzone: What kind of strategy, other tools will the companies through this partnership use for the reclamation and disposal of water?
Cooper: We handle a large volume of water on a daily basis, and the demand for fresh and brine water is so high that it only makes sense to recycle as much water as possible, in addition to important environmental benefits.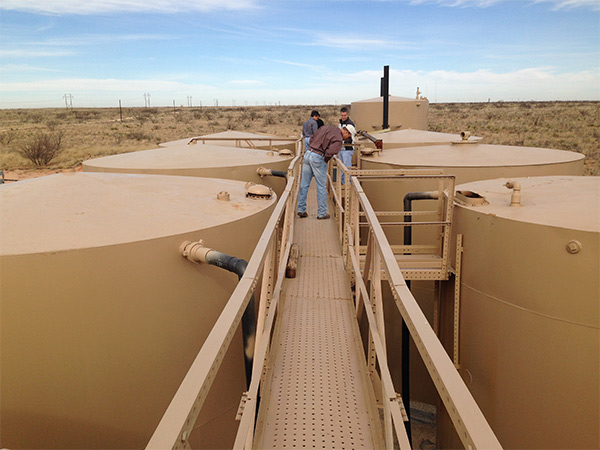 OWL recently acquired 8 saltwater disposal wells which receive water via pipelines like the AggieTech Parks Bell facility north of Midland.
Back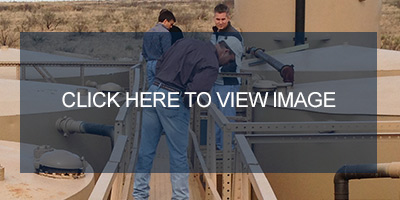 Rigzone: What kind of facilities are available from OWL (the website listed facilities such as Bobcat SWD and Brinninstool SWD)?
Cooper: OWL currently has 12 saltwater disposal wells (SWD) like Bobcat and Brinninstool, a network of water gathering pipelines for producers, and freshwater and brine stations.
Rigzone: In terms of supply, where will you source water, oilfield fluids from? Do you plan to build additional pipeline infrastructure to transport these fluids?
Cooper: Water is sourced from water wells and the reclamation of produced water. Yes, OWL is actively building a network of pipeline infrastructure in the Permian, and intends to have most of its water transported via pipeline.
Rigzone: What made you decide to partner with NGP Natural Resources and NGP Energy Technology Partners? What kind of resources do they offer in terms of capital, expertise and relationship?
Cooper: NGP and NGPETP have been incredible to work with. We know many people who have had successful, repetitive partnerships with NGP and they are truly the gold standard for private equity. They have nearly unlimited capital for our venture, but provide much more than investment dollars. NGP is an energy-focused investor with over 80 portfolio companies, many of which are facing water issues. The relationships NGP has made for us in just a few months have opened doors and provided unique investment and mutually beneficial customer opportunities. NGP ETP also brings specific knowledge and experience in evaluating new oilfield technologies and helping formulate how to strategically position OWL to enable us to offer our customers reliable, cost effective, technology-related product and service solutions.
Rigzone: How many producers will you serve through the exclusive surface use agreements for the Permian Basin in New Mexico? How much in terms of additional investment and acquisition opportunities will you seek in the Permian?
Cooper: We expect to serve many of the producers in the Permian Basin in New Mexico given our ability to create economies of scale and reduce costs for them. We have very good relationships with most of the producers in the region and are committed to giving them reliable and responsible results with safety and environmental stewardship of their water being paramount.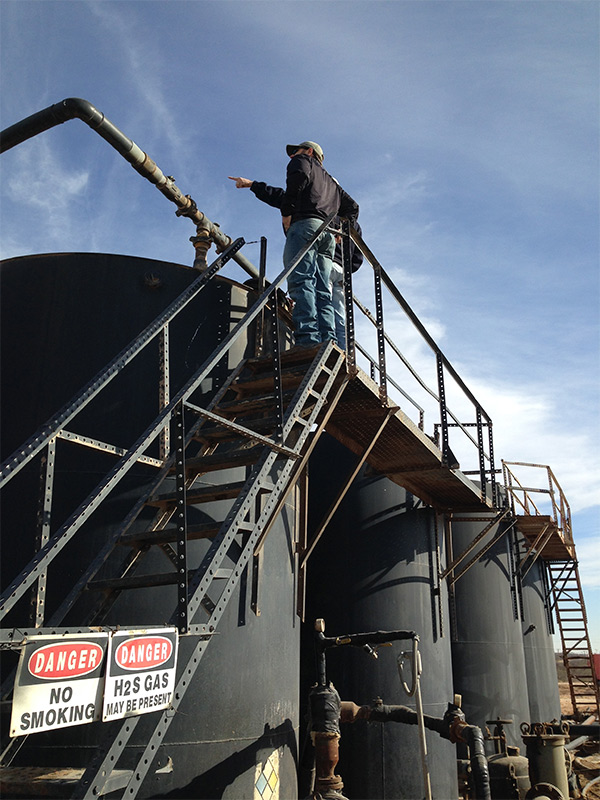 Safety is a foremost concern for OWL.
Source: Oilfield Water Logistics
Back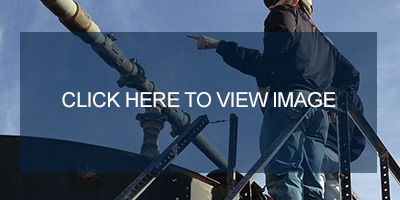 Rigzone: What kind of water infrastructure is available across southeast New Mexico for companies active in plays such as Bone Spring? How does the infrastructure differ from the Texas side of the Permian Basin? Is one side underserved compared with another?
Cooper: New Mexico is underserved, given the amount of activity in the southeast part of the state, and it is OWL's primary growth market. We entered the market early and have been able to secure exclusive surface use agreements with large ranchers in the area to design and build a vast water infrastructure network for producers. This will bring costs down for producers and reduce truck traffic in the region. An interesting fact about southeast New Mexico is that most of the minerals are owned by the government, so the billions of dollars in royalties that are being paid directly benefit us all.
Rigzone: Into what basins do you plan to expand? When would this expansion occur?
Cooper: We have significant capital resources and are actively seeking new expansion opportunities in at least half of the shale plays. It is going to be a very busy year.