Singapore's Major Offshore Players Hit by Slow Orders, Chinese Competition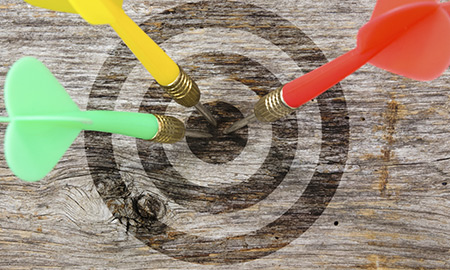 Business for Singapore's two largest shipyards has been slow year to date, with the situation exacerbated by intense competition from China.
Optimism generated by record deliveries of newbuild jackups by Singapore shipyards in 2013 has faded somewhat amid slow orders and a sustained challenge from lower cost competitors in China so far this year.
Singapore's two major offshore contractors, comprising subsidiaries of Keppel Offshore & Marine (Keppel O&M) – a unit of Keppel Corporation Limited – and Sembcorp Marine Ltd., have seen orders for their mainstay jackup construction business halved in the period under review. Chinese shipyards have, on the other hand, secured more newbuild jackup contracts than their Singapore rivals.
China Maintain Leads
Since the beginning of the year, Chinese shipyards have managed to sustain the momentum of winning more jackup orders compared to their Singapore counterparts, a milestone first achieved in 2013. China-based firms secured contracts to build 10 new jackups in the current year, while Singapore yards trail behind with seven, according to Rigzone's RigLogix database.
"This is the second year in a row that China has won more jackup orders than Singapore … although the jury is still out there," on whether the trend will be sustained through the rest of this year, Vincent Fernando, research director at Religare Capital Markets (Singapore) Pte Ltd. told Rigzone.
Apart from jackups, Chinese yards made further inroads in the semisubmersible and drillship construction market in Asia. While Singapore yards received orders for drillship construction, they did not clinch semisubmersible contracts this year.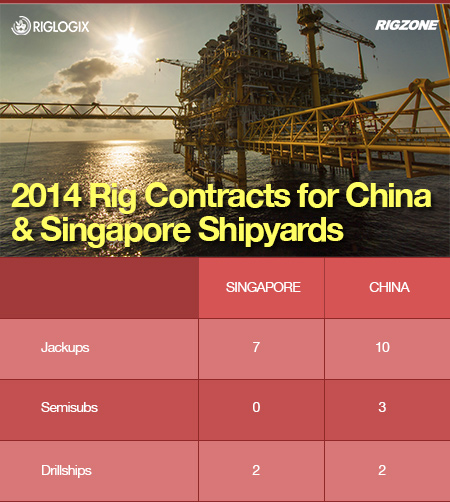 Source: Riglogix
"Overall rig orders are dramatically lower year on year … around 30-50 percent less [than last year] … this is a dramatic slowdown," Fernando commented on the decline in new rig orders this year.
The weaker demand for new rigs was attributed to reduced capital expenditure (capex) for exploration and production by major international oil companies (IOC) such as Exxon Mobil Corp., Chevron Corp. and Royal Dutch Shell plc, as well as a projected rise in supply of drilling rigs in the near-term, Carmen Lee, head of research at Singapore's OCBC Investment Research Pte Ltd. pointed out in an April 10 investor note.
The decline in new rig orders also coincided with lower rig utilization worldwide during the first half of 2014, according to RigLogix's assessment. Jackup utilization rate fell to 81.1 percent in June, compared to 87.3 percent in January, while the level for semisubmersibles and drillships declined to 84.7 percent and 89.3 percent, respectively from 89.9 percent and 91.3 percent in the corresponding period.
Still, the current weakness in new rig demand is likely to have an impact only in the near-term as global requirement for new jackups is projected to increase amid an ageing fleet. At present, nearly half, or 216, of these rigs are over 30 years old and "customers [are] actively replacing lower-spec rigs," Transocean Ltd. said in its June presentation to investors.
Industry watchers mostly agreed, with the existing slump in new rig orders seen as "only a temporary slowdown and not a downturn in the sector as commodity prices remain firm and long-term sector fundamentals remain sound," Lee said.
Others believed that orders for new jackups will grow as there is "replacement demand for aged fleet and stricter safety requirements," Singapore's DBS Group Research Equity elaborated in a July 14 investor note.
High Rig Construction Cost an Issue
Despite the favorable long-term demand outlook for new jackups, Chinese and Singapore shipyards, who are vying for fresh construction contracts have to deal with the all-important issue of escalating cost.
Already, higher construction costs and shipyard/equipment provider constraints were cited as factors that discouraged additional investments in new jackups, Ensco plc mentioned in a March 25 company presentation.
Given their higher cost base, Keppel FELS and Sembcorp Marine are more vulnerable to such pressures compared with their Chinese counterparts, who have accepted new jackup construction orders at prices below those achieved by their Singapore competitors. The price difference, compiled using data from RigLogix and company sources, revealed that Chinese shipyards charged around $15-$30 million below those of their Singapore competitors for new jackup orders.
In May, Foresight Group's Derwent Ocean Ltd. S.A. ordered a LeTourneau Super 116E Class design jackup from China's Cosco Corp. unit Cosco (Dalian) Shipyard Co. Ltd. for $184 million, while Singapore-listed KS Energy Ltd.'s indirect subsidiary KS Rig Invest Five Ltd. contracted China's Shanghai Zhenhua Heavy Industry Co., Ltd. (ZPMC) to build a Friede & Goldman JU-2000E design jackup for $199 million.
Over in Singapore, Keppel FELS received an order from Fecon International Corp. in February to build three KFELS B Class jackups for $650 million or around $216.67 million each, while local rival Sembcorp Marine's subsidiary PPL Shipyard secured a $214.3 million deal in the same month from Marco Polo Drilling (I) Pte Ltd. to construct a PPL Pacific Class 400 design jackup.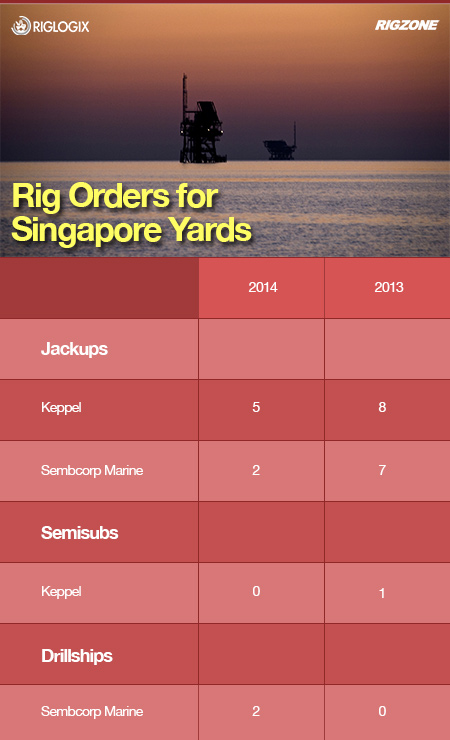 Source: Riglogix
Industry players expect the stiff challenge posed by Chinese rig builders to prompt the two major Singapore shipyards to move up the value chain if they are to maintain their market share. Despite strong competition from China, Keppel and Sembcorp Marine managed to secure record rig building contracts last year totaling over $7.88 billion (SGD 10 billion), according to 2014/2015 edition of the Singapore Shiprepairing, Shipbuilding & Offshore Industries Directory (SSSOID).
"Singapore shipyards need to move into higher value products, like new niches and new technologies. Ultimately, China can be more competitive in price because they are not so focused on profit margins and they are willing not to make that much profit," in order to get a foothold in the sector, Fernando elaborated.
The industry appears more confident in placing orders for newbuild jackups in China compared to a year ago, going by contract prices that customers were prepared to pay. Last November, Singapore-based Viking Offshore & Marine Ltd. partnered Chan Kwan Bian – a co-founder of Singapore-based Labroy Marine Ltd., which was acquired by Dubai Drydocks World in 2008 – ordered a GustoMSC designed jackup with China Merchant Heavy Industry (CMHI) for $180 million. Higher new rig building contract prices were reported in the latest deals involving Derwent and KS Energy, which were at $184 million and $199 million, respectively.
"The more orders China wins [in the rig construction market], the more credible they become [to the industry] … certain yards in China [already] command higher prices," Religare's Fernando told Rigzone.
Slow Offshore Orders for Singapore Yards
The two major Singapore shipyards will undoubtedly attempt to boost their newbuild rig order books especially after a relatively lackluster performance in the year so far. However, the situation facing Keppel and Sembcorp Marine is currently exacerbated by fairly weak demand for offshore fabrication work, such as ship conversion and platform construction during the same period.
Still there were some notable contracts awarded to Singapore in the non-rig building segment. Keppel O&M secured a $735 million contract to convert an existing liquefied natural gas (LNG) carrier to a floating liquefaction vessel (FLNGV) for Golar LNG Ltd. Keppel Shipyard also received an order from SOFEC Inc. to fabricate an external turret mooring system for a floating production, storage and offloading vessel that will operate in the Twenboa-Enyenra-Ntomme fields in Ghana.
However, Sembcorp Marine did not win any non-rig offshore projects this year unlike in 2013 when the company bagged a $725 million contract from Norway's Det Norske Olijeselskap (DNO) to build an offshore platform integrated topside for the Ivar Aasen development in the North Sea.
Business prospects for the two Singapore shipyards could improve in the second half of this year as national oil companies, unlike IOCs, are expected to maintain high E&P capex, which is estimated at just over 10 percent.
"Oil companies still require short- to medium-term production for cash flows, and as such demand for jackups remains strong … Coupled with the ongoing bifurcation towards premium assets, there are still pockets of opportunities for market leaders such as Keppel Corporation and Sembcorp Marine," OCBC's Lee said in an investor note early last month.
Looking ahead, Singapore's offshore industry hopes to continue growing the sector, which has expanded steadily in the last three years. The rig building and ship repair/conversion segments each contributed approximately $7.66 billion (SGD 9.72 billion) and $3.73 billion (SGD 4.74 billion) in revenue last year.
Given that rig building remains a dominant part of Singapore's offshore sector, the focus has been on improvement to the service offerings. Seen in this context, while "Singapore's forte is in jackups and semisubmersibles, industry leaders have taken a cognizant view of the steady shift from semisubmersibles to drillship and have embarked on drillship construction," the SSSOID report highlighted.
Keppel FELS has taken the first step with CAN DO – its first ever drillship built on speculation, while Sembcorp Marine's subsidiary Jurong Shipyard is now constructing two Jurong Espadon III design drillships for Transocean Ltd.
Generated by readers, the comments included herein do not reflect the views and opinions of Rigzone. All comments are subject to editorial review. Off-topic, inappropriate or insulting comments will be removed.