Oil and Gas Hiring Set to Increase, Candidates Choosier
Rigzone
|
Monday, July 21, 2014
Half of hiring managers in the energy industry plan to hire more oil and gas professionals in the next six months as compared to the first half of the year, according to a semi-annual hiring survey from Rigzone, the leading online resource for oil and gas information, data and talent recruitment. That's a slight tick down from the start of 2014 when 53 percent of hiring managers said they planned to increase hiring.
While more hiring is on the horizon, the recruitment environment is becoming increasingly challenging for oil and gas companies. Nearly four in 10 (39%) hiring managers said the time to hire has lengthened, primarily due to the inability to find qualified professionals to fill open positions. That's up from 32 percent who noted longer fill times at the beginning of 2014.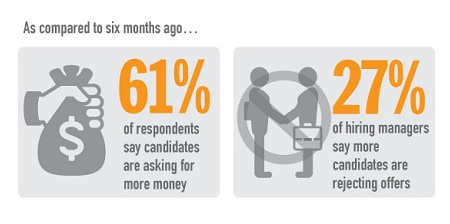 Four in 10 (42%) employers said an improving economic or market environment is leading to the hiring increase. And, candidates are ready to take advantage: more than six in 10 hiring managers said candidates are asking for more money than six months ago and nearly half (48%) of companies said jobs are going unfilled due to an inability to match the compensation requirements for the position with candidates' expectations.
"Oil and gas professionals today recognize the energy job market is theirs for the taking," said Paul Caplan, President of Rigzone. "It's up to companies to offer the right position for the right compensation package or risk losing candidates to firms and industries competing for the same in-demand talent."
When companies find the right talent for open positions, they act quickly. After a position is budgeted, it takes less than a month to extend an offer to an oil and gas professional, said a third of hiring managers. The issue is more than a quarter (27%) of companies said an increasing number of candidates are rejecting offers, as compared to six months ago.
Adding to the positive news for energy professionals and their colleagues, just 11 percent of companies said layoffs are likely in the next six months.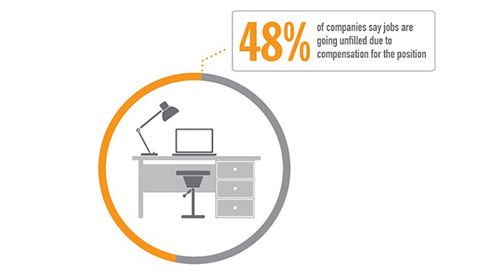 Nearly half (49%) of hiring managers anticipate more full-time hiring this year as compared to 2013. More than a third (34%) expect a rise in contract hiring, and a quarter foresee hiring more oil and gas professionals who work on a rotational schedule.
1
2
View Full Article
Generated by readers, the comments included herein do not reflect the views and opinions of Rigzone. All comments are subject to editorial review. Off-topic, inappropriate or insulting comments will be removed.