New Modi Government Plans to Revamp India's E&P Sector
by Ranveer Karan
|
Rigzone Contributor
|
Wednesday, July 16, 2014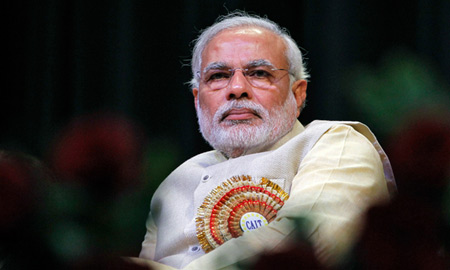 Fresh from its election success, India's newly elected government prepares to introduce policies to strengthen the country's upstream hydrocarbon sector.
India's new government, led by Prime Minister Narendra Modi of the Bharatiya Janata Party, is working on a number of schemes, considerations and plans to revamp current contracts for exploiting the country's hydrocarbon resources, a senior official at the Directorate General of Hydrocarbons (DGH) told Rigzone.
"We are looking at a new model of contract to fast pace hydrocarbon exploration and production [E&P] in India," DGH's Chief Technical Officer Rajeev Kumar Sinha said.
Issues in Current Production Contracts
The government, with the help of the industry, has identified some 20 bottlenecks and issues in existing production contracts which need to be replaced or modified. Current regulations pertaining to exploration and production (E&P) cost recovery – which is one of the main issues identified – would likely be replaced as the state plans to work out a new revenue sharing contract for future hydrocarbon exploitation, Sinha explained.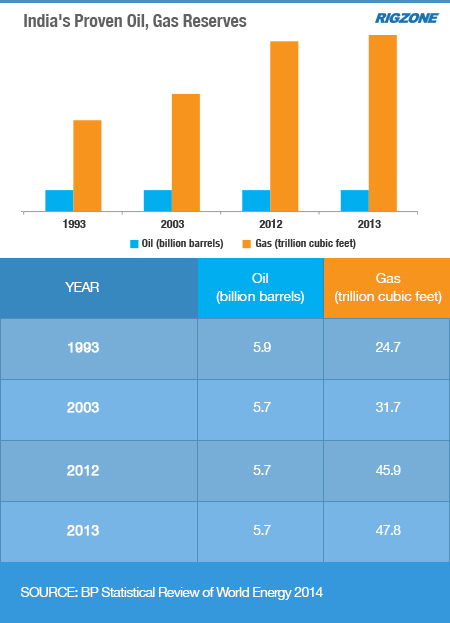 India's Proven Oil, Gas Reserves
Cost recovery has been an issue in India's upstream sector as it involves defining and verification of hydrocarbon discoveries, he added. The government intends to be more flexible in declaring commercial discoveries.
"We will give more time to contractor and operator in verifying commerciality of a discovery," he said.
The DGH is considering giving contractors/operators the flexibility of extending the exploration period to complete their committed work programs during the development phase. Such a move will allow them to test out leads that have been left out during the earlier exploration phase and add new hydrocarbon finds during development of a petroleum project in the same contract or block. Right now, there is no clarity in existing contract on such exploration during the development phase.
"By allowing exploration during development phase, there is a chance of exploiting zones of interests which can yield more hydrocarbon reserves," the DGH's CTO said.
The practices of allowing exploration during development phase, in some cases, are being allowed in blocks offshore Krishna Godavari basin and onshore Rajasthan.
As of now, each confirmed hydrocarbon find has its own development schedule. Some of these standalone discoveries were non-commercial or their development plan was not submitted on time, leaving these resources out of the main development, explained Sinha.
But there will be a change. The government is thinking of adopting a more flexible schedule for developing these discoveries by linking them to the ongoing development, he added.
To increase resources, a timeline will be set to develop the contractor's last hydrocarbon find in a block. This will be beneficial to the contractor and India as it allows the combined development of all other discoveries in the same block as part of the main field development, Sinha elaborated.
"Once the government approves this flexibility of allowing latest discovery to be added to the main development, we will develop all the small discoveries in a block as cluster project," he said.
"The government is in the process of carrying out a feasibility study to develop such a cluster project, which will incentivize the development of smaller fields and monetize small pocket of reserves along with the main field development."
"It is a big plan to monetize reserves fast," Sinha emphasized.
Revenue Sharing
To encourage upstream companies to invest more in developing hydrocarbon reserves, whether large or small, the Indian government is considering revenue sharing ratio to make it more attractive for investment in resource development than the current production sharing contracts.
Even as the model is being studied, the idea is to reduce the government's take from the revenue share of a new field. The state's take can be as nominal as possible to keep the contractor ploughing through potential prospects and exploitation of hydrocarbons.
A structured and percentage-based revenue sharing will encourage development of more hydrocarbon reserves in challenging environment, Sinha pointed out.
This will do away with such issues as the often debated cost recovery. It will give a freer hand to the contractor to continue working on the assigned block. The contractor will also be independent in managing the development of hydrocarbon resources without any interference from the state, including the right to source for his own material for field development.
A management committee representing the government and the contractor will be appointed for a block or concession, with the committee making all decisions on the field development, the DGH CTO told Rigzone.
"Once this model is approved, it will be a good for all," he commented.
International Companies to Have More Say
To complement the ongoing industry revamp, the government expects international oil and gas companies to have more say in selecting E&P blocks in India.
The DGH is now in the midst of establishing a National Data Repository (NDR) center. Once operational in late 2016 or early 2017, the NDR will have all the data on India's 26 sedimentary basins across the country.
The E&P companies will be allowed to study the NDR data and select a specific area for exploration.
"We will then carve out a block out of the proposed area and open up for competitive bidding," Sinha said as he assured total confidentiality of the company which had selected a specific acreage.
The selected block will be put through a competitive tender, with the contractor who had already expressed an interest in securing the acreage after reviewing the NDR data participating as a bidder. Competitive bidding will make the block award transparent.
India has not had it easy with the development of indigenous hydrocarbon resources in the past. Oil and gas production has been stagnant for a decade with average production of 40 million tons per year for the past four to five years.
"We need to improve on this output," Sinha stressed, adding that all these plans are aimed at managing output.
Indian also has increasing number of ageing wells, which have contributed to annual production declining by an average of 10 percent to 15 percent.
"We are looking to increase new production by the same rate to maintain production from these ageing wells," Sinha said to Rigzone.
The approach will be to use the globally tried and tested Enhanced Oil Recovery (EOR) and Improved Oil Recovery (IOR) schemes to lift more hydrocarbons from older wells. To stimulate interest in the EOR/IOR schemes, the government will offer producers attractive prices for their crude oil, he said.
"We expect to implement all these new plans, policies, initiatives and schemes by end of this year and take a position on how much production can be increased."
"We are expecting 5 percent to 10 percent increase in production from the EOR/IOR schemes," Sinha said although he conceded that "this success will not come overnight but [will] take time."
The DGH will conduct a new study of hydrocarbon resources in India's 26 sedimentary basins, compared to current data which covers only 16 basins, estimated to contain approximately 206 billion barrels of oil equivalent.
"We have decided to study all [of] the basins by the end of 2016 which will give us the total hydrocarbon potential of the country. We are now trying to hire [an] international agency to do the data study," Sinha revealed.
Generated by readers, the comments included herein do not reflect the views and opinions of Rigzone. All comments are subject to editorial review. Off-topic, inappropriate or insulting comments will be removed.