Virtual Tools Close Gap between Remote Operations, O&G Experts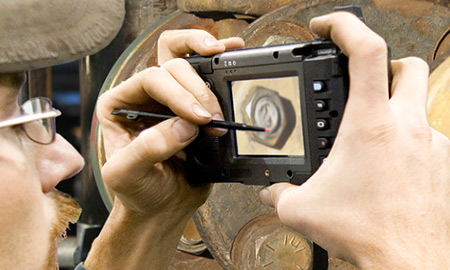 The increase of oil and gas operations in remote locations and emphasis on safety and efficiency create the need for new virtual and audio collaboration tools.
The oil and gas industry's expansion of its global exploration and production efforts to remote, rugged locations, combined with a limited pool of experts available for consulting when incidents occur, has created the need for new methods of communication.
Lack of local experts in remote, rugged areas can lead to lost productivity and revenue, and employee health and safety concerns mean that companies are seeking to have fewer workers spending less time in hazardous situations. The remote and rugged locations in which oil and gas companies are operating today mean that new ways to access expertise in real-time are needed.
Mobile video is one way of allowing oil and gas companies to allow subject matter experts to collaborate with workers present at a site to troubleshoot problems, according to officials with Winnipeg, Canada-based Librestream Technologies Inc. The company provides Onsight, a virtual presence collaboration system for energy and other industries such as manufacturing, telemedicine, insurance and collision repair, military and defense, and public safety.
"The Onsight system provides a rich collaboration experience that includes much more than live audio and video," said Marieke Wijtkamp, vice president of marketing and client services for Librestream, in a statement to Rigzone, noting that remote experts need to see highly detailed visuals, talk, draw onscreen, take pictures, share images and even remotely control the camera in the field. "Without this level of interaction, it is very difficult to make accurate and responsive decisions remotely."
Onsight also can be used by companies to build their knowledge base by recording sessions and storing images that are tagged for future use. Librestream has partnered with Cisco, Verizon and Inmarsat to support the use of Librestream's technology across different locations, such as operational control centers, offshore rigs, onshore operations and mobile experts.
By accessing subject matter experts through a mobile video system deployed globally, companies can perform remote maintenance and repairs, mentor and train junior staff, conduct safety audits, and reduce overall travel, saving companies significant time and cost, said Wijtkamp.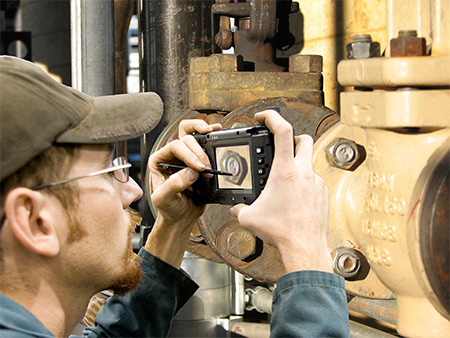 A field technician communicates with remote experts, sharing live video, talking and drawing onscreen to resolve the issue immediately.
"In our experience, customers report high hurdles in bringing experts to any offshore location – regardless of location," said Wijtkamp. "The shortage of living quarters, travel logistics and safety requirements make these trips time consuming and also impact overall health safety and environment. Onshore operations also face many of these same hurdles, especially when experts are located in different regions."
In one case, a customer was even concerned with teams travelling 100 miles to troubleshoot an issue with a core tool due to their organizations health, safety and environment objectives.
Librestream has found that the shortage of experts extends across operations within oil and gas, but especially with engineers; this is the core group involved in live Onsight collaboration sessions, said Wijtkamp. Engineers are the scarcest commodity in the oil and gas industry, according to a March 2014 survey by Air Energi and OilCareers.com. In the survey, over half of the participants identified engineers as the most in-demand role in industry.
"The remote expertise is needed because of their specialized knowledge and experience level with a core tool or process. The situations may involve troubleshooting, preventative maintenance inspections and training on new processes or approaches," said Wijtkamp.
In other cases, the field work may not be trained formally as an engineer, but needs guidance from engineering experts, Wijtkamp noted.
In one case, a field engineer connected to a gas valve expert by using mobile collaboration. Together, they were able to resolve an issue that had caused repeated shutdowns at an unmanned well in the Middle East, increasing production by an estimated $3 million per year.
"We also see high demand in the health, safety and environment side of the operation," said Wijtkamp. "With the focus on safety, many teams are performing more responsive and frequent safety training sessions and inspections.
"Following a safety incident at an offshore rig, one customer was able to complete an immediate risk assessment, remotely resulting in an estimated saving of $56,000 from travel and productivity cost savings. With this more responsive approach, they also felt it improved their overall safety performance."
The skills shortage compounds the problem of higher demand for remote expert capability as the pool of experts available do not want to travel to remote locations because of increased time commitments.
A field technician uses the Onsight rugged device and zooms into the problem area while communicating with remote experts.
"We've seen the desire to bring experts to the problem virtually has grown along with these increased costs in hard dollars and time," said Wijtkamp.
This system can be used for both offshore and onshore fields. While the use cases and benefits of this kind of remote expert capability are typically the same, different environments present different connectivity challenges, Wijtkamp explained. In the case of an offshore rig, the company's Onsight 2500Ex hazardous location approved camera device is often used to perform safety audits or troubleshoot assets. The rugged device is typically connected over a wireless or wired network at the rig and engaged in a live call with a remote expert onshore over the VSAT network.
Often, the bandwidth is locked down to 120k bits per second or less to ensure ongoing data transmission is not impacted. In onshore operations, these devices are often connected to cellular networks or portable BGAN satellite terminals.
"In both cases, the remote expertise can mentor the field operator from afar and build a valuable knowledge base at the same time," Wijtkamp said.
While hazardous location-approved camera devices are available today on the market, Wijtkamp said that Librestream's virtual presence approach is uniquely focused on meeting the difficult challenges within the oil and gas industry. The Onsight system also features a central management system that includes strict security controls, bandwidth management, usage reports and privacy settings. The centralized control is critical to an industry that must restrict bandwidth consumption and enforce security policies systemwide.
O&G Industry Views Mobile as Critical to Global Operations
The oil and gas industry is growing to view mobile applications as a critical part of global operations. By 2015, $8 billion will be spent on oil and gas mobile applications, according to a survey by Oil and Gas IQ. Chief information officers ranked mobile technology second on a list of top 10 priorities for the oil and gas industry. In that survey, 95.2 percent of the survey respondents said that mobile devices would enhance operations within the oil and gas sector.
In an August2013 survey by The Economist, 80 percent of oil and gas executives surveyed see mobile technologies as a means for companies to achieve high productivity and capacity, while 76 percent see it as adding value to scheduling and crew management.
Eighty-two percent of the executives surveyed saw mobile applications as a way to more effectively handle crisis or emergency management. Sixty-five percent saw mobile technologies as valuable in preventing failures, while 56 percent of executives surveyed said that mobile technologies could enhance environmental safety and sustainability efforts.
The company's technology was profiled in April at the 2014 Innovation Showcase at Anadarko Petroleum Corp.'s headquarters near Houston. The showcase was hosted by the Oil & Gas Innovation Center.
Generated by readers, the comments included herein do not reflect the views and opinions of Rigzone. All comments are subject to editorial review. Off-topic, inappropriate or insulting comments will be removed.