Philippines Considers LNG Import Receiving Options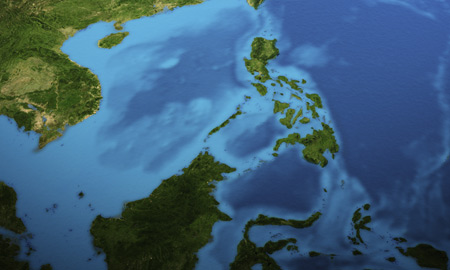 The Philippines is exploring plans on liquefied natural gas import receiving options as the country cannot depend on supplies from the offshore Malampaya gas development indefinitely.
Like most of its Asian neighbors, the Philippines has been a net energy importer for decades. The country's dependence on hydrocarbons is relatively lower as compared to South Korea or Singapore as it has alternatives such as geothermal, hydropower and other renewable sources for electricity generation.
But rising energy consumption and the expected depletion of gas resource at the offshore Malampaya field – the country's major gas development – in a decade's time has induced the Philippines to seek alternative energy supplies.
Liquefied natural gas (LNG) import, together with the accompanying gas receiving facilities, is one of the options being considered by the government and the energy industry. The potential of LNG as an energy source, primarily for power generation, is not new, with the idea having been mooted over a decade ago. There was however lackluster interest in proceeding with LNG projects amid competition from coal – which was a cheaper alternative – and a lack of support from the government for such developments.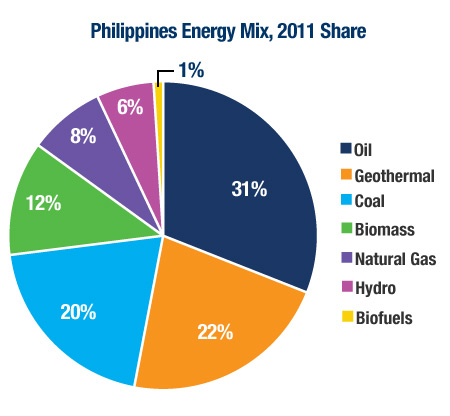 Philippines Energy Mix, 2011
Source: Philippines Department of Energy
In 2011, oil and natural gas accounted for 31 percent and 9 percent of the country's total primary energy consumption, respectively. Other major contributor to domestic energy supply included geothermal with 22 percent and coal with 20 percent, statistics from the Philippines Department of Energy (DOE) showed.
Coal plants in the Philippines presently provide about 35 percent of domestic power generation capacity, Edgar O. Chua, country chairman at Royal Dutch Shell plc's companies in the Philippines said in a June 10 press release. These plants made up almost half of the power generation mix in Luzon – the most populous island – and 36 percent and 10 percent in the Visayas and in Mindanao, respectively.
The European oil major is working with the DOE to offer solutions to address rising demand for power and to meet the requirement in the Philippines to balance the growth with competitiveness, health and environmental sustainability as well as energy security.
Shell Keen on Bringing LNG to the Philippines
Shell, as operator of the Malampaya project, supplies gas to 3 power plants that generate around 2,700 megawatts (MW) of electricity in Luzon Island in the Philippines, Laura Saguin, Chief Science Research Specialist at the DOE's Natural Gas Management Division told the APAC Small & Mid-Scale LNG Forum in Singapore in May.
"One solution we see is in increasing the supply of natural gas, the cleanest-burning fossil fuel, to help the Philippines meet its growing energy requirements with less cost and less impact on the environment. One of the major advantages of LNG-fired power lies in the lower upfront capital cost and shorter build time of the ultra-efficient combined cycle gas turbine power plants," Chua added.
To achieve this, the Philippines government needs to introduce policies that encourage LNG investments, Chua said. These include:
a clear energy mix spelling out the contribution of LNG, coal, renewables and oil to the country's power generation. This will ensure that as demand grows, each energy source grows proportionately and the balance of cost, environment and health considerations is also maintained
government's support and encouragement to develop an LNG infrastructure such as import terminal and gas pipelines to allow more customers access to natural gas
enforcing air emission regulations in the power sector which will ensure the best available technology is chosen such that power demand is met in a sustainable way without detriment to the air quality, ensuring a firm foundation for a livable society
Shell revealed in July 2013 that it has commenced a technical feasibility study into the viability of building a LNG import terminal, possibly a floating storage regasification unit (FSRU), near its refinery in Tabangao, Batangas. Gas from the terminal would be supplied to power plants, industrial users and transport, adding more power supplies to the Philippines.
Given the urgency to plan ahead to meet future energy demand, the Philippine authorities are mindful of the potential need to import LNG due to resource depletion at the maturing Malampaya gas field after 2024. The project – which has been in operations since 2001 and owned 45 percent by Shell and Chevron Corp. each and 10 percent by Philippine National Oil Company-Exploration Corp. (PNOC EC) – has now entered into the next development stage. Phases 2 and 3 of the project are intended to keep production levels that currently exist at the Malampaya field.
"Shell is looking to build a FSRU in Batangas," Senior Scientific Research Specialist Vivian Panes at the DOE's Natural Gas Management Division told Rigzone.
Other LNG Projects
Concerns about dwindling gas supply at the Malampaya field has encouraged local power company First Gen Corp. to look elsewhere for energy supply to meet a projected increase in demand from its power plants, including those in operations and under construction.
"Our current gas supply contracts from Malampaya will expire in about 10 years' time, so we are already preparing for a post-Malampaya gas world to provide replacement fuel for our new and existing power plants," First Gen President Francis Giles Puno told reporters Jan. 14, as quoted by Reuters.
First Gen now operates 2 gas-fired power plants in Luzon, the 1,000-MW Santa Rita and the 500-MW San Lorenzo plants. The firm is expanding its natural gas portfolio in the area with the commencement of construction of a third power plant, the 414-MW San Gabriel unit, in January. Depletion of the Malampaya supplies and new gas demand from the upcoming San Gabriel power plants has induced First Gen to consider building its own onshore LNG Terminal, which is estimated to cost around $1 billion and targeted to begin operations in 2019.
"We will pioneer the entry of imported LNG by constructing the country's first LNG regasification terminal located on land we own adjacent to our power plants here in Batangas City. This strategic asset will have the benefit of providing clean, efficient and reliable energy supply for the country's future energy needs," Puno told local daily Philippine Star.
Forward planning suggests that that "there will be an urgent need to import gas … with the Philippines expected to build 1 to 2 LNG import terminals and 1 will definitely located at the Luzon area," Panes added.
Hong Kong-based Energy World Corp. Ltd. is the only firm with an ongoing LNG project in the Philippines. The firm is building the Pagbilao LNG hub terminal and power plant projects, costing approximately $1 billion, in Quezon province in Luzon.
The entire Pagbilao project consists of several components, according to EWC's 2013 Annual Report, including:
a storage tank with a capacity of 4.59 million cubic feet or 130,000 cubic meters for storing LNG on site
a jetty and receiving and re-export terminal for berthing, unloading and reloading LNG ships
a regasification facility to convert LNG back to natural gas
related support facilities (such as receiving and discharge lines, boil-off gas lines, metering, pumps and compressors)
EWC is concurrently building a 650 MW power plant adjacent to the Pagbilao LNG hub project, which will receive gas from the LNG hub and then sell electricity to the main Luzon Power Grid. The company plans to supply LNG for the Philippines hub project from its own Sengkang gas fields in South Sulawesi, Indonesia.
"We expect to be ready to operate at the end of this year or early 2015," EWC CEO Stewart W. G. Elliot told Reuters June 9.
The Pagbilao import hub is expected to be equipped to have an initial capacity to ship in 3 million tons of LNG a year. While the power plant will consume most of the imports, EWC plans to make gas available throughout the Philippines, distributing by sea to coastal terminals and by land via road tankers.
Meantime, key issues facing any future LNG import receiving developments in the Philippines centered on their commercial viability and government support.
"The commercialization challenge [is to] develop a market for LNG that can justify the investment in the LNG importation facilities … It is not about government guarantees, government construction of infrastructure or long term inflexible gas purchase contracts," Saguin highlighted.
Even so, the "government clearly needs to help LNG, because right now everybody is focused on the cheapest [energy source] which is coal," Jesse Ang of the World Bank's International Finance Corp. told Reuters.
The switch towards greater use of LNG – together with the development of relevant facilities like import terminals – hinges on whether coal loses its appeal as a cheap fuel source in the Philippines.
For the foreseeable future, coal will remain an important contributor to domestic energy supply as the government is optimizing exploration, development, production and utilization of indigenous coal reserves, as stated in the 2012-2030 Philippine Energy Plan. Most utility companies are therefore quite reluctant to invest in gas-fired power plants as coal is considered to be the most viable energy source.
Generated by readers, the comments included herein do not reflect the views and opinions of Rigzone. All comments are subject to editorial review. Off-topic, inappropriate or insulting comments will be removed.