Philippines Considers LNG Import Receiving Options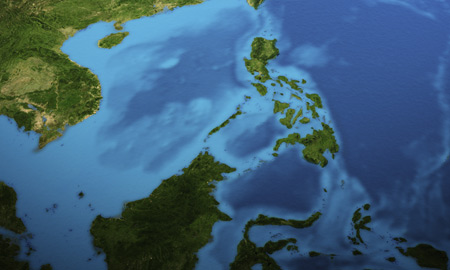 The Philippines is exploring plans on liquefied natural gas import receiving options as the country cannot depend on supplies from the offshore Malampaya gas development indefinitely.
Like most of its Asian neighbors, the Philippines has been a net energy importer for decades. The country's dependence on hydrocarbons is relatively lower as compared to South Korea or Singapore as it has alternatives such as geothermal, hydropower and other renewable sources for electricity generation.
But rising energy consumption and the expected depletion of gas resource at the offshore Malampaya field – the country's major gas development – in a decade's time has induced the Philippines to seek alternative energy supplies.
Liquefied natural gas (LNG) import, together with the accompanying gas receiving facilities, is one of the options being considered by the government and the energy industry. The potential of LNG as an energy source, primarily for power generation, is not new, with the idea having been mooted over a decade ago. There was however lackluster interest in proceeding with LNG projects amid competition from coal – which was a cheaper alternative – and a lack of support from the government for such developments.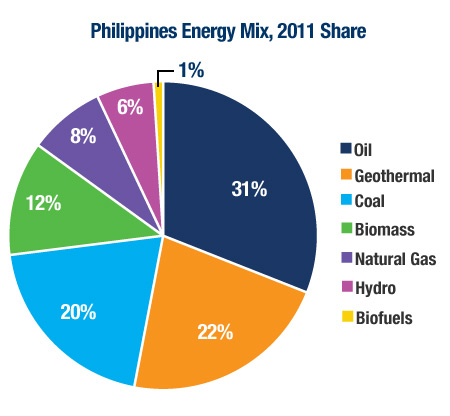 Philippines Energy Mix, 2011
Source: Philippines Department of Energy
In 2011, oil and natural gas accounted for 31 percent and 9 percent of the country's total primary energy consumption, respectively. Other major contributor to domestic energy supply included geothermal with 22 percent and coal with 20 percent, statistics from the Philippines Department of Energy (DOE) showed.
Coal plants in the Philippines presently provide about 35 percent of domestic power generation capacity, Edgar O. Chua, country chairman at Royal Dutch Shell plc's companies in the Philippines said in a June 10 press release. These plants made up almost half of the power generation mix in Luzon – the most populous island – and 36 percent and 10 percent in the Visayas and in Mindanao, respectively.
The European oil major is working with the DOE to offer solutions to address rising demand for power and to meet the requirement in the Philippines to balance the growth with competitiveness, health and environmental sustainability as well as energy security.
1
2
3
4
View Full Article
Generated by readers, the comments included herein do not reflect the views and opinions of Rigzone. All comments are subject to editorial review. Off-topic, inappropriate or insulting comments will be removed.