New ND Flaring Regs Make Statoil's Nat Gas Container System Timely
by Gene Lockard
|
Rigzone Staff
|
Wednesday, July 02, 2014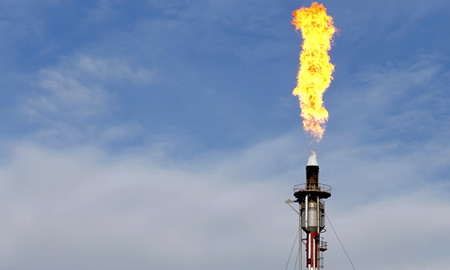 Statoil's new container system for capturing natural gas will help reduce flaring in the Bakken just when more restrictive flaring rules go into effect.
Statoil ASA recently announced a container system to reduce flaring in the Bakken. The company's timing could not have been better, considering that North Dakota just approved new flaring regulations.
More restrictive regulations covering flaring on existing wells were passed by the North Dakota Industrial Commission – the state's regulating entity for oil and gas – July 1. The goal of the commission is to reduce flaring to 26 percent by the fourth quarter of 2014, 23 percent by the first quarter of 2016, and 10 percent – with the potential of 5 percent – by the fourth quarter of 2020, according to the commission's website.
Previously, about 30 percent of natural gas in North Dakota was flared.
Operators that do not comply with the new flaring restrictions will be subject to restrictions in oil production. Operators will be restricted to producing 200 barrels a day if they do not collect at least 60 percent of their natural gas. There will be a 90-day grace period for an operator not meeting the new rules to produce at a maximum rate before being subject to a penalty.
The new regulations on existing wells fall on the heels of more restrictive regulations covering flaring on new gas wells, which were approved and went into effect June 1. The regulations require energy companies that are filing for permits to also submit a plan to capture natural gas that is likely to be released by the new wells. No new wells will be approved without a plan, according to North Dakota state officials.
Estimates prior to the new regulations found that as much as 30 percent of natural gas found in the Bakken was flared, compared with a national average of less than 1 percent. The amount of emissions produced by flaring in the Bakken has been nearly 13 billion pounds annually, compared to about 365 billion pounds of emissions that are produced from the oil that comes from the Bakken annually, according to a December 2013 story in Forbes.
1
2
3
View Full Article
Generated by readers, the comments included herein do not reflect the views and opinions of Rigzone. All comments are subject to editorial review. Off-topic, inappropriate or insulting comments will be removed.
RELATED COMPANIES