Africa's Natural Resources: Focus for Both Oil and Gas Sectors
|
Wednesday, June 25, 2014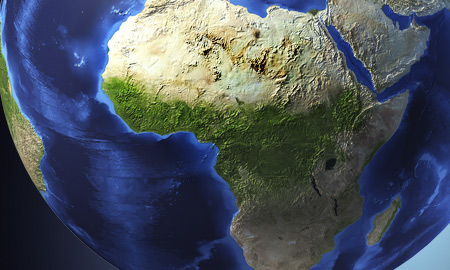 Investors estimate that $1.25 trillion will be invested over the 2001 to 2030 period in African energy.
Africa's key oil producing countries are expected to continue to list among those countries expanding the fastest on the continent, according to KPMG's report "Oil and Gas in Africa". The continent is home to some of the world's fastest-growing economies with many of them buoyed by new oil and gas finds.
There are currently 500 oil companies exploring for natural resources in the continent, considering Africa's proven oil reserves have grown by nearly 120 percent in the past 30 years, from 57 billion barrels in 1980 to 124 billion barrels in 2012, according to U.S. Energy Information Administration (EIA). The organization also estimated that at least another 100 billion barrels are offshore Africa, only waiting to be discovered.
In March, Repsol announced its plans to spend $95 million drilling its first well offshore Namibia, proving that exploration in the South Atlantic Coast will ramp up in speed from exploration and production companies. The company is willing to take this risk considering that last year, 11 out of the top 20 oil and gas discoveries made in the world occurred in Africa, according to the company's January 29 presentation.
Cairn Energy plc commenced drilling operations last month on the Fan-1 well offshore Senegal, making it the first deepwater well drilled off the coast and only the second and third deepwater wells along the central Atlantic margin of West Africa.
"It's a tremendous risk they are taking and one that raises hope for us," Petroleum Commissioner Immanuel Mulunga told Bloomberg, referring to Repsol's activity offshore Namibia. "It's a risk worth undertaking as we believe this block has oil."

Film Stills: Big Men
Africa's prospects and potential for further oil and gas finds remain exceedingly positive, stated KPMG. Their report noted that only 500 wells have been drilled in East Africa to date, while some 15,000 wells were drilled in West Africa.
"While new hydrocarbon finds boost the interest in and potential of East Africa, prospects of pre-salt discoveries across the Gulf of Guinea are significant," KPMG stated.
That statement is what has grabbed the attention of Asian investors looking to diversify from too deep a dependence on Middle Eastern oil, the report noted. It is projected that oil exports to China from Africa will increase over the medium- to long-term, with the International Energy Agency projecting that China will become the world's largest net-importer of oil by 2020.
"Robust demand from especially India and China over the past decade, fueled by strong economic growth in these countries, has started to change not only Africa's export profile, but also the continent's economic landscape."
A Regional Perspective
The Gulf of Guinea is a growing source of oil to world markets and continues to attract significant amounts of foreign direct investment targeted at Africa's hydrocarbons, KPMG noted; and recently, Ghana joined the ranks of West African oil producers in mid-December 2010. Ghana's annual overall economic growth rate has averaged about 6 percent in as many years, according to a report by the African Development Bank Group. The country is home to the Jubilee field, discovered in June 2007, which came online in 2010.
"This [development] helped the country to register one of the highest economic growth rates in the world in 2011 – when Ghana saw its first full year of oil production," KPMG noted.
Q&A with Big Men Director Rachel Boynton
The film premiered in Houston June 6 and ended its run Thursday, June 19. The film is set to premier in Nebraska, San Francisco and Boston.
Rigzone:
You knew that you wanted to do a film about oil and initially you targeted Nigeria. But then you stumbled on the Ghana angle. How did that transpire?
Boynton:
At the time that I approached Kosmos they were looking to be involved in Nigeria. To make a long story relatively short, after much effort, Brian Maxted, current Chief Exploration Officer of Kosmos Energy, invited me to their office to do a PowerPoint presentation and pitch them on the idea of a film.
I gave them several options. Option number one was, please let me film anything, because I really need to put together a reel to raise money. It's very hard to film on an oil rig, because no one will let you. Option number two was, let me follow you in Nigeria. I still had this idea in mind that I was going to do everything in Nigeria because I had spent an enormous amount of time there while conducting research.
Then, I learned that Kosmos had just drilled the first well in Ghana for the Jubilee field, and option number three was that angle. I told them it was a really great story, and potentially a good news story for the oil business, which is a rare thing, so I asked to follow that angle.
They said yes to option number three. But when that happened, I had to reconfigure my concept of the film.
So the end result of this film emerged by exploring, asking a lot of questions, a lot of seeking. I didn't go in this project with a specific idea or a specific point to prove. In a certain way it's more anthropological than that. I went in. I spent a lot of time listening and watching and learning about the things around me. Hopefully the film reflects that.
Rigzone:
Kosmos endured a lot of setbacks in Ghana. From the lawsuit, to leadership changes, to Jubilee not producing as expected. Yet the company still seemed optimistic and hopeful. Was that your impression during the course of filming?
Boynton:
The major thing that Kosmos has going for it is they've got really super-talented people. I had heard about Kosmos, while conducting research, through their experience and relationship with Triton Energy in the 1990s. They discovered resources off the coast of Equatorial Guinea. People knew who they were and were interested in what they were going to do, because they had a remarkable track record. No one discovers first oil in two different countries twice without being really good at what they're doing. Because they are really good, they have reason to be optimistic.
Also, Kosmos has changed a lot as a company since it started. It was a start-up created with the intention to sell. That's not what the company is anymore. It has a completely different structure. It's a publicly held company that's in it for the long haul.
Kosmos Energy placed Ghana's resources on the map, opening a new frontier for explorers. Proved crude oil reserves of the Jubilee field are 660 million barrels, as of January 2013, but given recent discoveries and further oil exploration, proved resources are expected to rise.
Jubilee is expected to produce 105,000 to 110,000 barrels per day (bpd) in 2014, versus a budgeted 100,000 bpd, the chief executive of Ghana National Petroleum Corporation told Reuters.
"It is expected that the field could produce an average of 100,000 barrels, which is budgeted for, but I am sure we will hit about 105,000 to 110,000 barrels in 2014," CEO Alex Mould told an investment conference in the Ghanaian capital. "The average oil production as of March 25 was about 104,000 barrels. We're currently (at) about 109,000 barrels."
Ghana has lifted about 20 percent of the crude produced from the time Jubilee came online, Mould said. Expansion of the Jubilee field continues with Jubilee Phase 1A expected to boost production further from 2015, and with this expansion comes additional investments in the country.
However, production has been troubled lately, in part because of delays in the construction of a pipeline to bring gas onshore.
In 2011, with the incorporation of Ghana Gas, the company launched plans to build an offshore pipeline, an onshore pipeline, a gas processing plant and an NGL export system. The gas processing plant, the Atuabo Free Port, being constructed at Atuabo in the Ellembele District of the Western Region of Ghana, will be able to monetize gas produced from several offshore fields.
The country expects to debut the production of gas in 2014, according to the 2014 Budget and Fiscal Policy Statement presented to Ghana's Parliament Nov. 19, 2013. Finance Minister Seth Tekper noted that the first two components of the gas infrastructure project, consisting of offshore and onshore pipelines were 95 and 90 percent complete, while the third component which is the gas processing plant was 55 percent complete.
Though Ghana has a "zero gas flaring policy," the Jubilee partners were recently given the green light to flare gas, so stakeholders are expected to keenly follow the construction process, demonstrating particular interest in the plant's completion deadline.
Ghana's burgeoning growth in the oil and gas sector has caught the attention of Swift Worldwide Resources and Eastern Nzema Stool community in the Atuabo region. The two have formed a joint venture, titled SOMINU, which will provide job opportunities for more than 2,000 individuals, mostly Ghanaians. The joint venture will provide contingent personnel to all clients providing services to the deepwater port project, with the construction phase lasting through 2017.
"The Atuabo Free Port Project will require more than 2,000 people, and this community partnership will continue long after the construction is complete," Swift CEO Tobias Read told Rigzone recently. "This joint venture is unique in the fact that its profits after cost recovery will be reinvested in training programs for the communities, which will allow Ghanaians to acquire the skills necessary for obtaining more technical positions."