Apprenticeships Gain Momentum in Upstream Oil, Gas Sector
"Oil and gas employers can build strong relationships with apprentices and grow their talent from within," it said. "They will not only develop their talent, but they will also retain this talent for a number of years."
Within the United States, there are more than 375,000 apprentices currently obtaining the skills they need in an apprenticeship program. In 2013, more than 164,000 individuals nationwide entered the apprenticeship system and over 52,000 participants graduated from the system, according to the United States Department of Labor.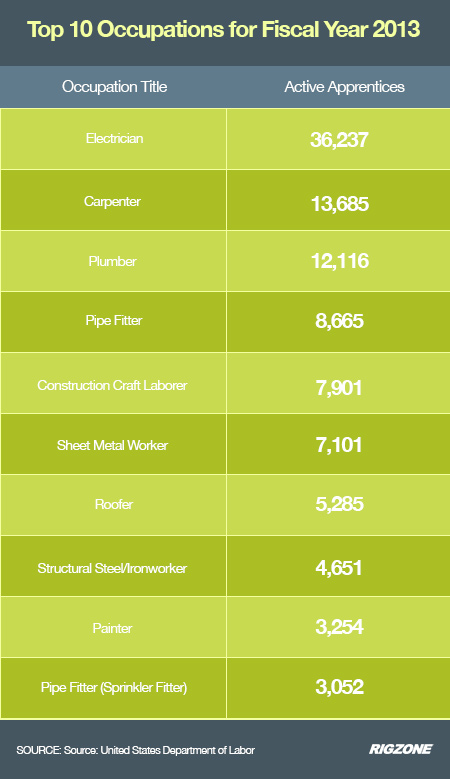 Table 1
Are Other Regions Participating in Apprenticeship Programs?
OPITO, a UK-based oil and gas skills organization and in partnership with the Engineering Construction Industry Training Board (ECITB) celebrated its 15 year anniversary of its youth training programs last month. The program has graduated more than 1,400 people since the programs formation in 1999, according to its website.
The program, which is backed by more than 15 United Kingdom companies and is one of the biggest industry-led Modern Apprenticeship programs of its kind, offers a range of disciplines including process operations, electrical, instrument and control maintenance. Split into two phases, the program offers a 21-month full-time course at one of the industry-appointed colleges in Aberdeen, Forth Valley or Edinburgh, before embarking on a two-year worksite placement.
1
2
3
View Full Article
Generated by readers, the comments included herein do not reflect the views and opinions of Rigzone. All comments are subject to editorial review. Off-topic, inappropriate or insulting comments will be removed.