Apprenticeships Gain Momentum in Upstream Oil, Gas Sector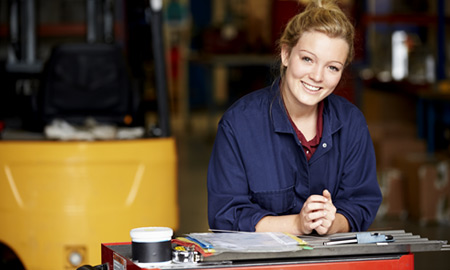 Apprenticeship programs produce highly skilled workers to meet the demands of oil and gas employers, according to a white paper.
Apprenticeships have gained popularity in today's modern world as the demand for skilled trade workers in the upstream oil and gas industry continues. More companies are establishing formal apprenticeship programs to ensure sustained employment while promoting successful progression of apprentices through technical training, noted The Petroleum Human Resources Council in a whitepaper, "Exploring Apprenticeship Completions of Skilled Trades in the Upstream Oil and Gas Industry."
With the demand for skilled labor intensifying, countries are looking at training and development programs so incomers can learn the practical and theoretical aspects of a highly-skilled occupation. Canada's upstream oil and gas industry is estimated to employ more than 45,000 skilled tradespeople, and industry demand for these workers is projected to grow by about 7,100 jobs by 2022. The demand for skilled workers is expected to grow in all trades, with particularly strong demand for power engineers, heavy equipment operators and oil and gas well drillers, servicers, testers and related workers.
The Canadian regions with the highest increase in demand for workers in skilled trade occupations over the next decade are:
Alberta: Between 2013 and 2023, Alberta will have a shortage of 6,788 workers in skilled trade oil and gas occupations.
British Columbia: Oil and gas expansion in British Columbia will result in new demand for more than 7,637 additional occupations.
Saskatchewan: New job creation in Saskatchewan results in 5,400 additional trades and transport workers from 2013 to 2017.
Atlantic Canada: The greatest occupational demand in Newfoundland and Labrador between 2011 and 2020 include oil and gas drillers, supervisors, operators and machinery equipment mechanics.
Petroleum Human Resources Council noted that growth in apprentice registrations is especially strong in Alberta where the total number of new apprentices registered last year grew by almost 50 percent from 2010. Although Alberta has only 12 percent of the country's labor force, it trains around 20 percent of the country's apprentices. This initiative created almost 13,800 new apprentices skilled in core trades for oil and gas.
"If the provinces were able to maintain this high level of new registrations, and if all the apprentices completed their training, within 12 years, Alberta could double the labor force of oil and gas trade occupations," the white paper noted.
How Can Employers Benefit from Hiring Apprentices?
Employers with apprentices experience an average incremental revenue of $1.47 for every dollar they invest in apprentice training, which is a return of nearly 50 percent, according to the Canadian Apprenticeship Forum (CAF).
Additionally, when oil and gas employers hire apprentices that are transitioning out of other industries, they have related skills that transfer well into this industry, the whitepaper stated. Meaning, less time is needed to effectively train and educate a newcomer into this industry.
"Oil and gas employers can build strong relationships with apprentices and grow their talent from within," it said. "They will not only develop their talent, but they will also retain this talent for a number of years."
Within the United States, there are more than 375,000 apprentices currently obtaining the skills they need in an apprenticeship program. In 2013, more than 164,000 individuals nationwide entered the apprenticeship system and over 52,000 participants graduated from the system, according to the United States Department of Labor.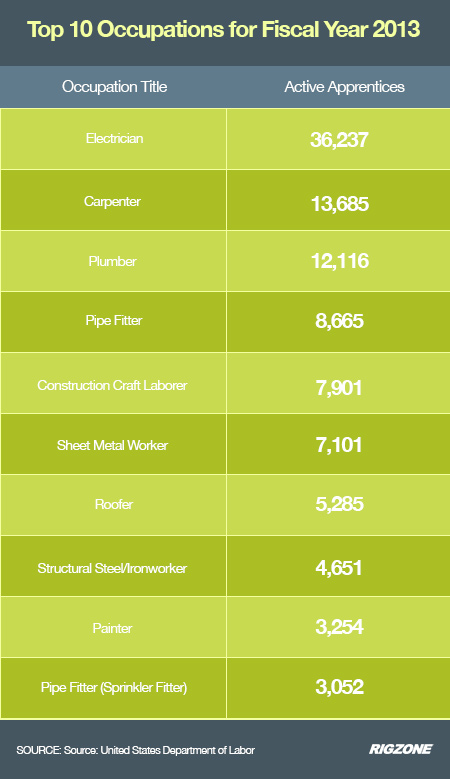 Table 1
Are Other Regions Participating in Apprenticeship Programs?
OPITO, a UK-based oil and gas skills organization and in partnership with the Engineering Construction Industry Training Board (ECITB) celebrated its 15 year anniversary of its youth training programs last month. The program has graduated more than 1,400 people since the programs formation in 1999, according to its website.
The program, which is backed by more than 15 United Kingdom companies and is one of the biggest industry-led Modern Apprenticeship programs of its kind, offers a range of disciplines including process operations, electrical, instrument and control maintenance. Split into two phases, the program offers a 21-month full-time course at one of the industry-appointed colleges in Aberdeen, Forth Valley or Edinburgh, before embarking on a two-year worksite placement.
"Apprenticeship programs are an excellent example of how an industry can proactively tackle its skills issues. Oil and gas is the UK's largest industrial investor, contributing billions to the economy and employing more than 440,000 people. The recruitment and training of technicians is critical to developing and retaining the workforce we need to continue to take on the world's toughest energy challenges," said John McDonald, UK managing director of OPITO, in a news release.
"We receive thousands of applications annually from young people keen to be part of the industry journey. The qualifications they gain are recognized internationally so the apprentices have the skills required to work anywhere in the world and, as such, are highly sought after by employers. As the skills organization for oil and gas, we are keen to ensure that future generations of workers are aware of the opportunities in the sector and we believe that it is critical that industry plays a role in maintaining students' levels of interest in the sector from a young age," he said.