Canadian Oil Sands Projects Continue to Vie for Skilled Talent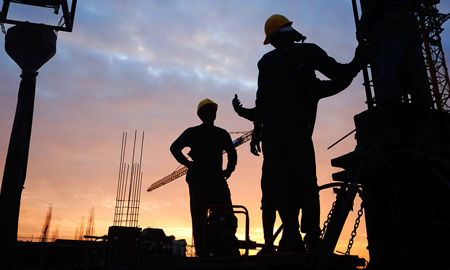 Employment in Canada's oil sands sector expects to reach around 98,380 jobs over the next decade.
More than 98,000 oil sands construction, maintenance and operations jobs will be generated over the next decade, according to a new report "the Oil Sands Construction, Maintenance and Operations Labour Demand Outlook to 2023".
"Accurate labor market information gives us a clear understanding of the workforce issues affecting oil sands development, and helps ensure that $172 billion in wages and salaries continues to generate economic benefits right across this country. This new information helps government and industry make the best possible decisions, and helps Albertans and Canadians make informed choices about their careers," said Kyle Fawcett, minister of Alberta Jobs, Skills, Training and Labour, in the report.
The Labour Demand Outlook report analyzed data and viewed insights from the construction sector, the oil sands sector and government to highlight the need for the construction and oil and gas industries to work together to ensure the supply of skilled workers supporting future hiring needs.
The report's projections underscore the significant workforce challenges facing oil sands employers, the Petroleum Human Resources Council noted. Alberta continues to compete for key trades and occupations as other resources, infrastructure and engineering projects across the country get underway.
Specific construction occupations in dire need of manpower are boilermakers, carpenters, electricians and laborers. With more than 98,380 positions vying for skilled talent, the report noted.
Alberta's oil sands have proven reserves of about 168 billion barrels, and every dollar invested in the resources create about $8 worth of economic activity; with one-third of that economic value generated outside of Alberta, according to the Conference Board of Canada. Moreover, oil sands-related investment is expected to generate $79.4 billion in federal and provincial government revenues between now and 2035.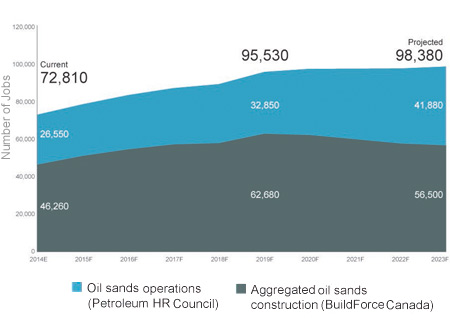 Source: Petroleum HR Council and Buildforce, 2014
1
2
3
View Full Article