East Africa Must Tackle Challenges to Become an Export Hub
|
Wednesday, June 11, 2014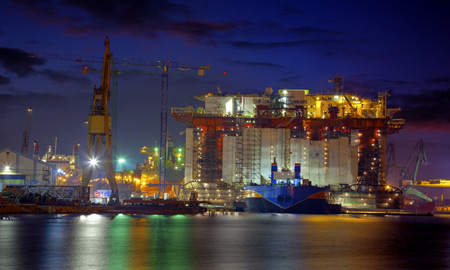 East Africa is the region to watch, many believe, as E&P companies discover more and more natural gas, with the hope of making it an export hub in the next decade.
East Africa is one of the fastest-growing economies, and with the region's natural resources, including discoveries in Tanzania, Kenya, and Uganda, its prospects and potential for further gas finds keep the oil and gas industry optimistically positive about the country's development.
Many are speculating that East Africa is on the path of becoming an export hub of oil and natural gas by 2020, according to a report by Evaluate Energy.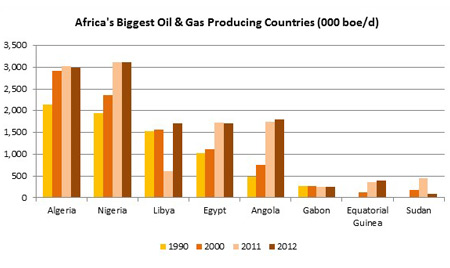 Source: Evaluate Energy
Recent developments in the exploration and production industry in three key countries, including Kenya, Mozambique and Tanzania, have laid a possible foundation for one or a couple of these countries to become an exporter of its resources in the next decade, noted Evaluate Energy. And if this region accomplishes this goal, the impact on the global oil and gas industry will be significant. The attractiveness of investing in Africa represents an opportunity for exploration and production (E&P) companies to take big risks with great returns, the company noted.
Rigzone sat down with John Sisa, lead upstream analyst for Sub Saharan Africa with GlobalData (energy.globaldata.com), a London-based oil and gas research and consultancy, to discuss East Africa's emerging developments along the coast, fiscal policies governing the regime and its overall potential.
Rigzone: Tanzania is on the path of becoming a major gas provider. Can you please discuss where this country is heading and what makes this area very attractive?
Sisa: Tanzania is headed to be one of the major gas exporters of natural gas if the recently discovered gas reserves are optimally exploited. What makes it most attractive is its proximity to the Asian market. Natural gas is in very high demand in the Eastern Hemisphere and with Tanzania and Mozambique being close to the Asian market, it makes it all the more attractive, mainly because of the reduction in transportation cost.
The quality of the gas found is pretty remarkable, so it might be cheaper for the Asian market to seek natural gas within that region instead of their own.
Also, the willingness of the government to work with international companies is very attractive, as well. They have various attractive fiscal terms, as compared to other regions.
Rigzone: When these resources come online, how will this affect and/or shift the global market?
Sisa: The United States is becoming more energy independent and is developing its nonconventional natural resources and therefore the U.S. market is closing down. The only markets left with such high demand are the Asian and African markets. Non-OECD Asia accounts for more than three-quarters of the net global increase, rising by nearly 13 Million barrels of per day by 2030. Therefore most of these resources would be sold to African and Asian countries.
Also, the situation in Europe between Russia and Ukraine, is forcing a few European countries to search for a new source of natural gas supply. These countries don't want their gas supplies to be dictated by the Russian government and are trying to reach out and tap some of the gas reserves in East Africa to avoid the gas supply interruptions resulting from hostilities or the political interference from Russia.
Rigzone: Can you discuss China and India's role in East Africa, in terms of exploiting or producing the natural resources?
Sisa: Most of the companies interested in tapping the East Africa reserves are state-controlled, [similar to the Indian-state controlled] Gujarat State Petroleum Corporation Ltd. These government-controlled companies are interacting with the host government on a different level and have a special relationship, a more diplomatic relationship.
East Africa is a bit short in terms of infrastructure, and for that reason, the host governments are working with these state-controlled companies on a diplomatic level with the aim of boosting infrastructure development. I believe that the state-controlled companies from Asia have an upper hand in terms of tapping these resources as compared to other international oil companies because of their willingness to build, create and help the host countries.
Rigzone: How is the political and foreign investment environment in East Africa? And how is the country handling important issues such as maritime piracy?
Sisa: There is a favorable foreign investment environment in East Africa. And yes, there is local content requirements but they are not as strict as other well-advanced countries in oil and gas like Nigeria and Angola. East Africa is trying to attract more foreign investors, knowing that they do not have the technical know-how or enough skilled labor. They don't have the right equipment and infrastructures in place so the only option for them is to relax their local content requirements in order to incentivize investors.
As far as stability and security is concerned within the region, we do have the piracy issue along the Indian Ocean, but it is being handled by the joint governments of Tanzania, Mozambique and South Africa. These three governments have set up a security commission to counter the piracy.
Also, there exists other factors that can affect oil and gas developments, especially in Tanzania where local communities have been demonstrating and trying to ask for more share, in terms of revenues.
Last year, after plans for Mtwara to Dar es Salam gas pipeline development were finalized, a few local communities attempted to block the pipeline construction because they want all the gas resources to be consumed within the Mtwara region.
When local people see pipelines being developed to ship natural gas to other communities, it becomes a concern to them. They worry that their community might not get a correct share, or what they feel is deserving. There are some communities who feel ownership of the resources due to their proximity and feel that some of the infrastructure should be developed within their localities, and not other localities and not somewhere else. These are some of the issues that might arise because each community wants to have their fair share.
Furthermore, there is the government side, which is trying to dictate how this will pan out but we also have the local county governments that has a say [as well]. Most governments in East Africa are trying to devolve power to local county governments, so there's a tug of war between the federal government, the local government and then the people.
The federal government might have agreed with international oil companies to have these facilities located in a certain area while the local governments are having opposing thoughts. Also, the local leaders want the facilities in certain areas because they know it will benefit them in terms of employment and services. Such facilities may include roads, power plants, fertilizer plants, airstrips, health centers and water projects. All these projects usually are covered and guaranteed within the petroleum agreement.
Rigzone: What about manpower and local content rules?
Sisa: Well, right now, there's a shortage of skilled manpower. This is the first time most of these countries have been involved in projects of this magnitude. They don't have enough manpower or skilled labor specialized in this type of a project.
Most of these companies are allowed to bring in foreign skilled workers to work on these projects. But there are some assignments that I think are required by the host governments to be assigned to the local people. Government are encouraging these companies to train the local people in order to assume certain roles.
Rigzone: This allows for the control of the resources to shift to the local people and the local government. Is that the goal for East Africa's future instead of what has occurred in nearby Nigeria?
Sisa: Yes and that's why these governments are more comfortable dealing with state-controlled international oil companies, like the CNOOC, CNPC and JOGMEG because for them, they are exchanging these oil resources for infrastructure development with hopes that this will aid the local people while promoting education and skill development. Most East African governments, for now, are relaxing their regulations to encourage foreign investments. But in the future, you'll see these governments tighten their local content and domestic obligation requirements. There is also a likelihood that these governments will increase their participation rates in the future.
Rigzone: Kenya has emerged as a distribution hub and commercial powerhouse – how will this benefit the goal of the COMESA region becoming an exporter?
Sisa: Kenya is appearing in the news of late because of the new oil discoveries and future planned infrastructure development. It is strategically located and has political system that is democratic. Most investors feel that Kenya provides a good environment for the development of these infrastructure that will serve Kenyans and other neighboring countries like Uganda, Ethiopia, South Sudan, Rwanda, Central Republic of Africa and Chad. It's a strategic location and even its political system provides a good environment for all of these projects to be operated or managed through Kenya.
Kenya's attractive political and economic environment is more capitalistic; it has a capital city in terms of business. People are free to do business, they have a very favorable tax code and even the Kenyans themselves are very hardworking and business-oriented. Kenyans haven't had a lot of resources, they've not been dependent on resources economically, so their economy has always relied on agriculture, human capital and tourism.
The government of Kenya is trying to take advantage of the chance to develop infrastructure that can be shared with their neighbors, while providing employment opportunities. It is trying to improve its relationship with its neighbors such as Ethiopia and South Sudan, Uganda, Rwanda; knowing that if all of these countries work together and develop these infrastructures – which will include refineries, pipelines, railway lines and roads – it will benefit the Kenyan economy in the end.
Rigzone: What's the current status of the Tanzanian gas development project?
Sisa: As of now, the Tanzanian gas development project is one of the most viable development projects and one that is being fronted by both the government and the current contractors. It will produce natural gas and LNG for shipment. Because of its proximity to major discoveries found in Mozambique, the project has invited a lot of interest from international companies, such as Sasol and Gazprom from South Africa and Russia respectively, which are trying to tap these resources. Sasol plans to exploit these resources with the objective of exporting it to South Africa.
The domestic market for natural gas in East Africa is increasing. Tanzanian people need natural gas for power production, fertilizer manufacturing, and for household use.
Rigzone: What other major issues or concerns are companies looking at or trying to overcome in East Africa?
Sisa: Well, there are a lot of major issues that most companies are concerned about. For instance, poor infrastructure and the lack of proper legal and regulatory framework. Kenya is still working on its new energy bill that will address the upstream and downstream oil and gas development. This bill is expected to be ready before Q4 2014. Tanzania and Mozambique are also working to improve their legal framework that would guide the exploitation of their oil and gas reserves.
There are several planned projects located on the border between different countries so there is need for a framework that can address the cross-border development.
Security in the region is a big concern, with Al Shabaab movement, trying to penetrate into Kenya and Uganda. There have been a few incidents of attacks in Kenya and Uganda recently. There is also the piracy problem in the Indian Ocean, which is affecting exploration operations from the Kenyan coast all the way to Mozambique.
Those are some of the issues that are at stake which too many may seem too daunting to overcome, but we believe these resources are too attractive to pass up.
Rigzone: What is the government doing to overcome these challenges?
Sisa: The government along with the international community, and with the help of international oil and gas companies are addressing these issues, so progress will be made. We have a collaboration between countries to try and tackle several upcoming projects.
Kenya, Uganda and Rwanda recently signed a pact with the Chinese government to develop a railway line that might run from the coastal part of Kenya towards Rwanda. There is a pipeline project coming up that might run from Lamu in Kenya through Southern Sudan to tap the new discoveries in Lake Albert in Uganda.
The East African community is trying to strengthen relationships between these different governments with the aim of fostering the infrastructure development. They are working on a framework to harmonize legal and fiscal regulations in the region to promote trade and infrastructure development.
Some countries are working together to improve security. For example, the Kenyan soldiers are stationed in Somalia right now trying to stabilize the region and provide security in the Indian Ocean while protecting exploration activities from piracy. There are a lot of things on the horizon to ensure that all the major challenges that the oil and gas industry is facing are taken care of as soon as possible in order to encourage future investments in that sector.