Tight Oil, Shale Gas to Drive Lower 48 Production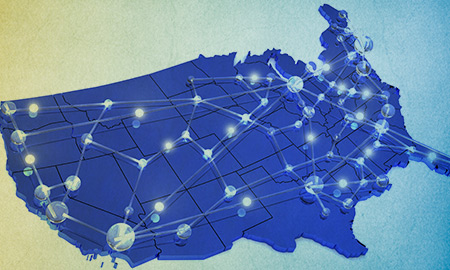 Tight oil and shale gas plays will be the primary driver behind US Lower 48 production growth through 2020, Wood Mackenzie reports.
A handful of unconventional plays will drive U.S. Lower 48 oil and gas production growth, according to a recent analysis by Wood Mackenzie.
Tight oil production is expected to reach 6 million barrels per day (MMbpd) by 2020 in the Lower 48, thanks to production in the Eagle Ford, Bakken and Bone Spring/Wolfcamp plays in the Permian Basin, John Dunn, who manages Wood Mackenzie's Lower 48 upstream research, told reporters at a media briefing Wednesday in Houston. Overall U.S. liquids production in 2020 is forecast to reach nearly 9 MMbpd.
Oil and condensate production from the Eagle Ford play in South Texas is expected to reach 2 MMbpd by 2020, while Bakken production is forecast to hit 1.7 MMbpd by 2020, according to Wood Mackenzie estimates. By 2020, oil and condensate production from the Bone Spring/Wolfcamp play in the Permian Basin – the new kid on the block – is expected to reach 800,000 barrels per day (bpd).
Natural gas production in the Lower 48 also is expected to rise -- primarily to the Marcellus and Utica shale gas plays in the U.S. Northeast – with 2020 production of 25 billion cubic feet per day forecast.
After a number of dire years, the outlook for U.S. oil and gas production is a very positive picture, particularly for the Lower 48.
"It's about the sub-plays and the stories in those subplays that is making all the difference," Dunn commented.
For the Bakken and Eagle Ford alone, Wood Mackenzie estimates that $40 billion in capital expenditures will be spent on development this year. Oil and gas companies are now moving from the exploration and appraisal phase to development in the Bakken, Eagle Ford and Marcellus plays. Now that operators have figured them out, they're trying to make things work where they work where they know it works, said Dunn. The pace of development in the Permian Basin also is picking up, Dunn noted.
1
2
3
4
5
6
View Full Article
Generated by readers, the comments included herein do not reflect the views and opinions of Rigzone. All comments are subject to editorial review. Off-topic, inappropriate or insulting comments will be removed.