2014 Hurricane Season: Fewer Storms, But Rig Workers Need to be Wary
by Gene Lockard
|
Rigzone Staff
|
Monday, June 02, 2014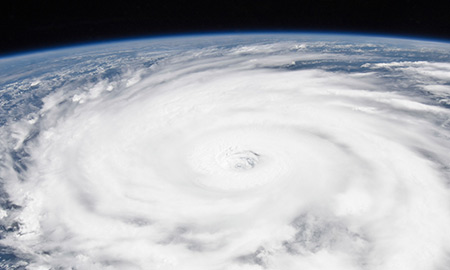 This year's Atlantic hurricane season is likely to be less active, but offshore rig workers could still be at risk.
Hurricanes and tropical storms represent a particular threat to offshore rig workers, so the arrival of the 2014 U.S. Atlantic hurricane season, which runs from June 1 to November 30, means that workers in the Gulf of Mexico will be watching weather forecasts with heightened interest.
While most major weather forecasting entities are predicting a relatively quiet season, forecasting hurricanes is an inexact science, as the 2013 hurricane season demonstrated. Also, at least one particular aspect of this year's forecast could potentially prove troubling to workers in the Gulf at some point.
The National Oceanic and Atmospheric Administration (NOAA) is forecasting between 8 and 13 named storms, with three to six of those becoming hurricanes, with winds of 74 miles per hour (mph) or higher. One or two of the hurricanes are expected to be major, reaching Category 3, 4 or 5 – Category 3 hurricanes have winds of 111 mph or greater.
Using history as a guide, Jeff Johnson, certified consulting meteorologist and chief science officer for Schneider Electric, said in a webinar that there is about a:
30-percent chance that one hurricane will make landfall every year
23-percent chance that two hurricanes will make landfall
19-percent chance that no hurricanes will make landfall
23-percent chance that three or four hurricanes will make landfall
The peak month for hurricane activity is in September, when 104 hurricanes have made landfall in the U.S., and September 10 is the peak day for hurricanes to strike. However, 76 hurricanes have made landfall in the U.S. in August, and 51 have come ashore in October, Johnson said.
One of the main factors driving the 2014 forecasts is the expectation that an El Nino will develop in the Pacific Ocean, near the Equator. A full-basin El Nino generally reduces, but does not eliminate, the likelihood of hurricane, while a central El Nino enhances the number of storms, Johnson said. The El Nino that is currently developing in the Pacific is a full-basin El Nino, which is likely to reduce the number of hurricanes in the U.S. for the 2014 season.
Securing a Well and Rigging Down
The one potentially ominous bit of news about the 2014 hurricane season for offshore rig workers in the Gulf of Mexico is that according to European models, warmer-than normal water temperatures and weaker-than-normal wind shear near the U.S. Gulf coast increase the likelihood of close-in hurricane development, according to Johnson. That would mean that everyone could see shorter forecast lead times before the arrival of a hurricane. While short lead times could affect preparations of all those who live in the region, offshore workers are the ones who will be the most affected.
1
2
3
4
View Full Article
Generated by readers, the comments included herein do not reflect the views and opinions of Rigzone. All comments are subject to editorial review. Off-topic, inappropriate or insulting comments will be removed.