White House Touts Energy Policies As Rules Loom
by The Associated Press
|
Jim Kuhnhenn
|
Thursday, May 29, 2014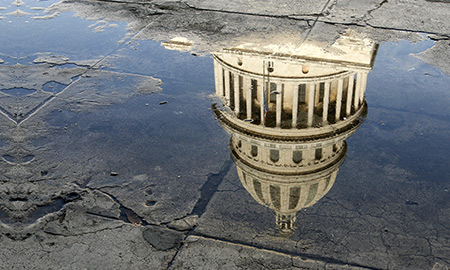 The Obama administration is making a concerted effort to cast its energy policy as an economic success.
WASHINGTON (AP) — President Barack Obama's administration, setting the stage for upcoming restrictions on coal-fired power plants, is making a concerted effort to cast its energy policy as an economic success that is creating jobs, securing the world's biggest oil consumer against international upheavals and shifting energy use to cleaner sources.
In a 42-page report to be released Thursday, the White House argues that significant increases in the domestic production of natural gas and reductions in oil consumption have better positioned the United States to advance its economic and environmental goals. The U.S. is a top oil importer, second only to China, and remains the No. 1 consumer of oil.
Few of the report's conclusions are new, but it includes a detailed analysis of how past reliance on petroleum imports made the U.S. economy especially susceptible to oil price shocks, a vulnerability that White House economists say has been diminished by a reduced U.S. demand for foreign oil.
The report, obtained in advance by The Associated Press, is designed to inoculate the administration against criticism that new Environmental Protection Agency regulations on coal-fired power plants, expected to be unveiled Monday, will increase electricity costs, cost jobs and be a drag on economic growth. Conservatives and business groups such as the U.S. Chamber of Commerce have argued that the reductions in emissions will be too small and the consequences to the economy too large to justify new restrictions.
While the White House economic report does not address those criticisms directly, it says greater domestic energy production, the use of wind and solar power and the reduction in oil consumption "have had substantial economic and energy security benefits, and they are helping to reduce carbon emissions in the energy sector and thereby tackle the challenge posed by climate change."
1
2
View Full Article
Generated by readers, the comments included herein do not reflect the views and opinions of Rigzone. All comments are subject to editorial review. Off-topic, inappropriate or insulting comments will be removed.