Roustabouts Still in Great Demand in 2014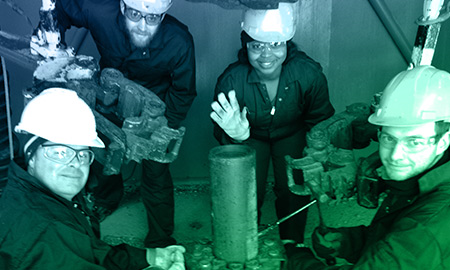 Demand for roustabouts in the oil and gas industry remains as strong as ever, a training school official tells Rigzone.
In 2012, Rigzone profiled Maritime Drilling Schools (MDS) and the strong demand at the time for roustabouts and roughnecks in the oil and gas industry.
Today, demand for these workers remains as strong as ever, so strong that MDS has partnered with Sitting Bull College in North Yates, North Dakota to train oil and gas workers needed in the Bakken/Three Forks plays in North Dakota and Montana, Reg MacDonald, CEO and President of Maritime Drilling Schools, told Rigzone.
The first class in Maritime Drilling's partnership with Sitting Bull will start in May. Through this partnership, a four-month drilling class and 10-day drilling operations class will be offered. Other programs such as firefighting, rescue and safety also will be offered.
Students can receive five college credits, along with two accreditations from the International Association of Drilling Contractors, for taking the 10-day course. Students may also complete a semester at Sitting Bull and receive 16 college credits by taking the full-semester oil drilling program. The four-month class offers students an in-depth view of the industry and of safety, while the 10-day program can equip workers to go straight into the field, MacDonald noted.
Maritime Drilling has trained more than 2,500 people from around the globe and issued over 30,000 certifications since its establishment in May 2000. The school offers a 20-day roughneck training program at its facility in North Sydney, Nova Scotia, in which groups of 10 to 20 students receive hands-on training.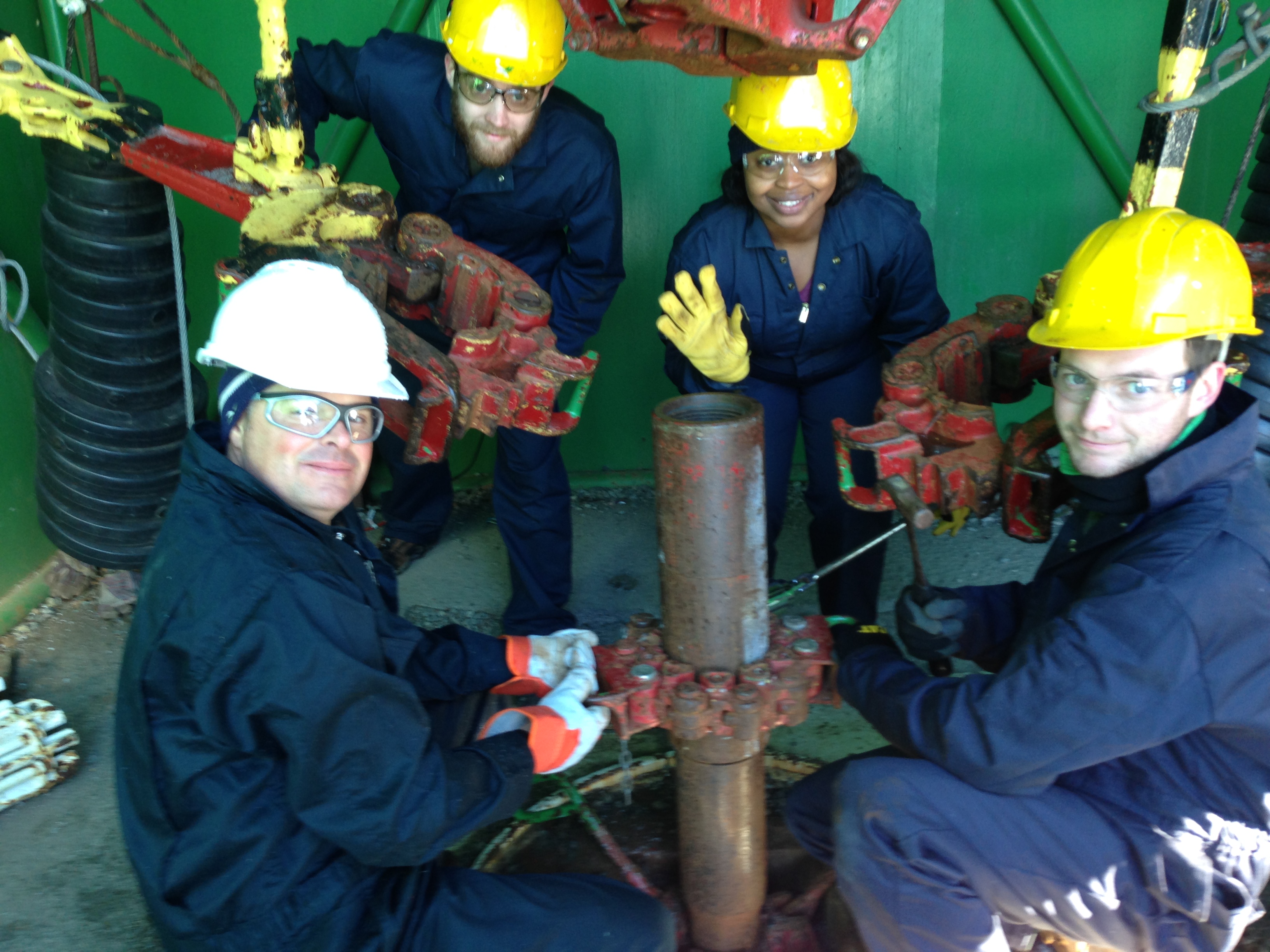 Back row: Robert Lock Ontario, Oluremi Amoo Texas A&M Engineering Student, Paulo Santos Brazil, Jack O Brien England · Source: Maritime Drilling Schools
"Demand for workers is really high, particularly since the Baby Boomers are retiring," MacDonald said. "If anything, the shortage of workers will get worse as lots of new projects open up globally, including offshore eastern Canada."
The eastern Canadian provinces of Nova Scotia and Newfoundland have been seeing record investments by major oil and gas companies with seismic activity being continually performed, MDS said in a Jan. 14 press statement.
Roustabouts also will be in greater demand as new areas of the world such as east Africa open up to oil and gas exploration. Demand for workers on rigs also has increased as this year's cold winter season, the worst in 20 years, has boosted natural gas demand.
Once they graduate, Maritime Drilling's students can draw a salary of between $70,000 and $100,000 a year or a per week average of $2800 to $3200, plus subsistence funds of $150 day. This kind of starting salary offers a great opportunity, particularly given the costs of attending university or trade school. Instead of spending $100,000, a student can spend $4,200 for a course and pay off the cost quickly, MacDonald said.
To meet demand, oil and gas employers are considering potential candidates from a variety of backgrounds, including former military veterans, women and members of aboriginal groups in Canada. The only prerequisite is the ability and desire to perform physical labor, and willing to work away from home one week to a month at a time, depending on the job location, MacDonald said.
MDS is seeing many former military veterans returning from tours of duty in Afghanistan and Iraq who are seeking training for a well-paying career as wars in both countries wind down.
"Among these soldiers are the suppliers and truckers who have been delivering goods to several bases located in both countries," according to a Jan. 5 MDS press release. "Employers have been eating up on this new intrusion of personnel as they seem to fit the drilling contractors' requirements."
MacDonald said that oil and gas companies such as Patterson UGI are constantly looking to the school's students to fill its worker needs, and the feedback that the company has gotten on these students has been positive.
Demand for workers is likely to continue in the Bakken, one of six key plays that account for nearly all recent growth in U.S. oil and natural gas production. Adam Sieminski, the administrator for the U.S. Energy Information Administration, said during a Jan. 4 presentation that, of the six plays, the Bakken and Eagle Ford plays account for nearly 67 percent of oil production growth. The Marcellus shale play accounts for approximately 75 percent of gas production growth in the United States.
Exploration and production activity offshore eastern Canada also has started to pick up as companies such as Statoil ASA explore for oil and gas. In August 2013, the company announced it had made its third oil discovery in the Flemish Pass offshore Newfoundland. Statoil's three discoveries offshore eastern Canada, Bay du Nord, Mizzen and Harpoon have made the Flemish Pass look "very prospective," Statoil CEO Helge Lund said at an October 2013 media briefing.

Source: Bureau of Labor and Statistics
Generated by readers, the comments included herein do not reflect the views and opinions of Rigzone. All comments are subject to editorial review. Off-topic, inappropriate or insulting comments will be removed.