OriginOil Scaling Up Water Recycling System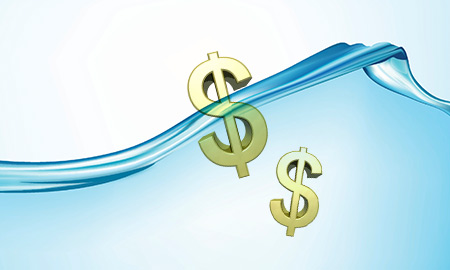 Two-stage water recycling system uses could save approximately $150,000 in water management costs for typical US onshore well, developer OriginOil claims. Source: OriginOil Inc.
A California-based company that developed a technology for harvesting algae cells from water is adapting its invention to recycle produced and frac flowback water used in the oil and gas industry.
"Our system is continuous, chemical-free and very low-energy," Bill Charneski, general manager with OriginOil, Inc., told Rigzone last week on the sidelines of the Offshore Technology Conference 2014 in Houston.
OriginOil has modified its "Electro Water Separation" (EWS) technology to remove hydrocarbons, suspended solids and bacteria from produced or frac flowback water. The system, which the company is in the process of scaling up, separates various constituents from water via a two-stage process, Charneski said. A description of each stage follows.
Stage 1 – Extraction: Contaminated water moves from an oil-water separator or skim tank into reactor tubes where electrical pulses are applied, neutralizing repulsive charges of oil droplets and suspended solids and allowing them to agglomerate. This "electro-coagulation" process also kills bacteria present in the produced or frac flowback water.
Stage 2 – Concentration: The contaminated water moves into a flotation chamber in which a series of anodes and cathodes generates a cloud of bubbles. The microscopic bubbles attach themselves to the agglomerated oil droplets and suspended solids, lifting them to the topmost layer. This "electro-flotation" step, which does not rely on the addition of chemicals, concludes with the concentrated waste being skimmed from the water and placed into a hopper for disposal. Onshore, the recycled water can then be re-used for hydraulic fracturing or treated further for other applications. Offshore, it can be returned to the ocean once the agglomerated hydrocarbons have been recovered.
A supervisory control and data acquisition (SCADA) system controls the electro-coagulation and electro-flotation processes, monitoring water parameters and adjusting electromagnetic pulse characteristics in real time, according to OriginOil. Although other water recycling processes apply electro-coagulation as well, OriginOil's system needs considerably less power compared to other methods, Charneski said.
"Our power requirements are extremely low – an ohm or less," he explained, adding that the largely passive two-stage process avoids the high pumping costs of other technologies.
Third-party testing of OriginOil's oil and gas industry adaptation of EWS – marketed under the trade name "EWS Petro" – has shown the process removes dispersed oil by up to 99.9 percent and total suspended solids by as much as 99.6 percent in a matter of minutes, the company maintains.
1
2
3
View Full Article
Generated by readers, the comments included herein do not reflect the views and opinions of Rigzone. All comments are subject to editorial review. Off-topic, inappropriate or insulting comments will be removed.