CEA Dispels Misconceptions Around Shale's Environmental Impact
by Rigzone Staff
|
Karen Boman & Matthew V. Veazey
|
Tuesday, May 06, 2014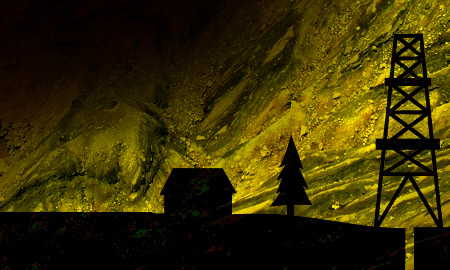 CEA officials dispel the misconceptions they see surrounding the environmental impact of shale activity across the United States.
Hydraulic fracturing, a technology that has been around for decades, has allowed the oil and gas industry to explore and produce the United States' shale resources. To date, 26 U.S. states have active shale developments or potential shale developments; this development has reversed previous declines in U.S. oil and gas production, positioning the United States as a potential exporter of liquefied natural gas and as a significant oil producer, said David Holt, president of the Houston-based Consumer Energy Alliance
However, the rise in shale activity has been accompanied by a proliferation of groups giving a one-sided view of hydraulic fracturing as an "untested technology". While development of U.S. shale resources should move forward, the oil and gas industry needs to ensure that hydraulic fracturing is done safely and in an environmentally responsible manner, said Holt.
CEA, a nationwide association that represents interests ranging from academia and organized labor to energy producers, environmental conservation, agricultural and manufacturing, is redoubling efforts to educate Americans across the United States on how environmentally responsible oil and gas development can benefit local communities in terms of job creation and economic growth.
"If we can play a role in getting that story out to local officials, groups, and the public and get a balanced discussion, we're doing a service," Holt said.
"Because of the increased use of natural gas, the United States is the industrialized country that's actually close to meeting Kyoto Protocol standards," Holt told Rigzone. "From a GHG reduction standpoint, that is the most underreported story from an energy or an environmental protection standpoint."
Holt noted that this remarkable achievement is not driven by government but by a "remarkable advance" in technology and a profound historical game-changing revolution in energy development."
Rigzone spoke with CEA officials on the truths and misconceptions surrounding U.S. shale development.
Rigzone: What are the biggest misconceptions you're seeing in regard to shale development and its impact on the environment, and what evidence counters this perspective?
Ohio
Ryan Scott, Executive Director, CEA-Ohio
There are several significant misconceptions when it comes to shale development in Ohio. First, there are unsubstantiated assertions that hydraulic fracturing (the process most often used to produce in shale resource areas) leads to groundwater pollution. This is simply not true. Despite many claims to the contrary, the Environmental Protection Agency has maintained that there have been no documented cases where the hydraulic fracturing process has been responsible for groundwater contamination even after conducting testing in specific areas where contamination related to hydraulic fracturing was rumored to have occurred such as Dimock, Pennsylvania.
The second major misconception in Ohio is related to brine, namely its toxicity and how it is disposed. Brine is the primary component of "produced water", the water that puts the hydraulic in hydraulic fracturing. There is even a proposed law that would require jail time for improper disposal of brine. While brine must be disposed of properly, it is not a toxic substance. It is nothing more than very salty water. Brine comprises 98 percent of the fluids injected into Class II wells in Ohio, which all meet or exceed EPA standards. It is worth noting that the majority of produced water in Ohio is currently recycled.
Last but not least is the misconception is that the components of hydraulic fracturing fluid are secret. Ohio's Oil and Gas Law – among the most stringent in the country and following the lead of the federal government – requires the disclosure of the components of the fluids used in hydraulic fracturing. Many well owners choose to post the information pertinent to hydraulic fracturing fluid at www.frackfocus.org.
Pennsylvania
Mike Butler, Executive Director, CEA-Pennsylvania
The biggest misconception that we are seeing is the myth that drilling is contaminating the water tables. However, a federal study monitoring wells in Greene County conducted by the National Energy Technology Laboratory showed no evidence of chemical contamination of local drinking water.
Most don't realize that the state established the Marcellus Legacy Fund (receives its proceeds from the State Impact Fee), which is administered by the Commonwealth Financing Authority, and funds watershed restoration, abandoned mine reclamation, open space, greenway, trail and recreation projects, flood control and water and sewer construction.
Colorado, New Mexico and Texas
Shawn Martini, Director of Communications, CEA & Marty Allday, Executive Director, CEA-Texas
The biggest misconception we see in these states, and the rest of the country in general is that energy development is an either/or proposition; that we can have energy development only at the expense of the environment. We believe this is a false choice. The technology in use today allows us to both tap our oil and natural gas resources AND ensure environmental protection. Domestic energy production also directly benefits the environment by reducing domestic carbon emissions to levels not seen since 1992!
Secondly, in arid western states the subject of water availability to complete hydraulic fracturing operations is high on the list of voters concerns. Water resources are indeed precious. But in Colorado, 85 percent of the state's water resources are used by agriculture while only .08 percent goes toward energy development. Projections show oil and gas development will steadily increase over the next two years, but water demand for those operations will remain flat or increase only slightly.
The industry is doing all it can to protect consumers and our water resources by implementing new technology to better reuse and treat water. In western Colorado and New Mexico some drillers have switched to completely "closed-loop" systems which recycle nearly 100 percent of the water used for hydraulic fracturing. In Texas, some service companies are working to tap aquifers which contain water unsuitable for drinking or other uses. This brine water is a previously untapped resource that allows companies to transition entirely away from the use of potable water.
As these types of systems are adopted over the next few years, water use for oil and natural gas drilling will continue to become more efficient.
Generated by readers, the comments included herein do not reflect the views and opinions of Rigzone. All comments are subject to editorial review. Off-topic, inappropriate or insulting comments will be removed.