Mexico's Energy Reform to Bring Significant Benefits, Challenges
by Karen Boman
|
Rigzone Staff
|
Thursday, May 01, 2014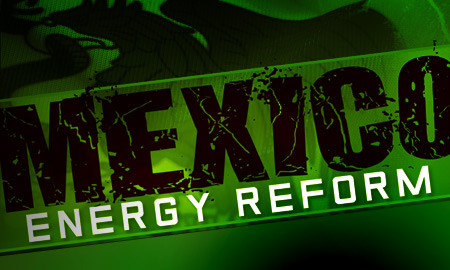 The reform of Mexico's energy sector poses significant potential economic benefits as well as challenges.
The reform of Mexico's energy sector could create significant opportunities for job creation and economic growth in its oil and gas sector, but effective secondary legislation, strong regulatory institutions and contract terms attractive for investment are needed to make Mexico's energy reform successful.
The reform – made possible through amendments to Articles 25, 27 and 28 in Mexico's Constitution – would eliminate the state's exclusivity in upstream, midstream and downstream energy activities, and allow private investment by Mexican and foreign companies in not only in the exploration, production and transportation of oil and gas, but also in oil refining, marketing and electric power generation.
After the reform's implementation, the state, not Petroleos Mexicanos (PEMEX), would be able to enter into contracts,
including licenses, and the change would call for a new set of autonomous, independently funded regulators for licensing, safety and environmental protection in the hydrocarbons sector.
A new, transparent national petroleum fund will also be established and managed by Mexico's central bank to cap the
government's share of revenue, and to ensure resources are shared with future generations, that research and development is encouraged, and that a rainy day reserve is available, according to a December 2013 report "Mexico Rising: Energy Reform at Last?" from The Atlantic Council.
This most recent attempt at energy reform was made possible through the ability of Mexican President Enrique Pena Nieto, leader of the Partido Revolucionario Institucional (PRI), to unite the PRI with the Partido Accion Nacional (PAN) and Partido de la Revolution Democratica (PRD), under the Pacto por Mexico. Through this political vehicle, Mexico's government has implemented reform in Mexico's telecommunications, education and labor sectors, said David L. Goldwyn, author of the Atlantic Council report.
Mexico's declining crude production and high electricity costs are the primary catalysts behind Mexico's push to open its energy sector to private and foreign investment, said PEMEX Chief Executive Emilio Lozoya during the early March IHS CERAWeek conference in Houston.
Energy reform is central to the Mexican government's strategy of growing Mexico's economy and reversing declines in its oil production from fields such as Cantarell, where production fell from 2.1 million barrels per day in 2003 to .4 million bpd in 2013.
1
2
3
4
5
6
7
View Full Article
Generated by readers, the comments included herein do not reflect the views and opinions of Rigzone. All comments are subject to editorial review. Off-topic, inappropriate or insulting comments will be removed.