Bakken Oil Fields Mark Billionth Barrel Of Oil
by The Associated Press
|
James MacPherson
|
Tuesday, April 29, 2014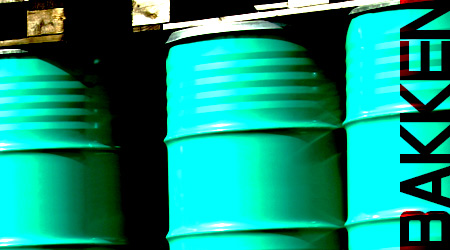 State data show that 1 billion barrels of oil have been produced from the rich Bakken shale formation in western North Dakota and eastern Montana.
BISMARCK, North Dakota (AP) — Oil drillers targeting the rich Bakken shale formation in western North Dakota and eastern Montana have produced 1 billion barrels of crude, data from the two states show.
Drillers first targeted the Bakken in Montana in 2000 and moved into North Dakota about five years later using advanced horizontal drilling and hydraulic fracturing techniques to recover oil trapped in a thin layer of dense rock nearly two miles (three kilometers) beneath the surface.
North Dakota has generated 852 million barrels of Bakken crude, and Montana has produced about 151 million barrels through the first quarter of 2014, data show.
Oklahoma City-based Continental Resources Inc., one the oldest and biggest operators in the Bakken, said two-thirds of the production has come in the past three years.
"This milestone validates the immense potential of the Bakken field, and development is just beginning," the company said in a statement.
Experts had known for decades that the Bakken held millions of barrels of crude, but it wasn't until oil prices reached record levels that the technology was developed to the point of being able to exploit the formation.
The Bakken encompasses some 25,000 square miles (64,750 sq. kilometers) in North Dakota, Montana, Saskatchewan and Manitoba. About two-thirds of the acreage is in western North Dakota.
Unlocking the once-perplexing formation has propelled North Dakota from America's ninth-largest oil producer in 2006 to No. 2, behind Texas.
The Bakken and the Three Forks formation directly below it account for about 94 percent of North Dakota's current oil production, which is nearing 1 million barrels a day, said Alison Ritter, a North Dakota Department of Mineral Resources spokeswoman. Three Forks production is counted toward Bakken production.
1
2
View Full Article
Generated by readers, the comments included herein do not reflect the views and opinions of Rigzone. All comments are subject to editorial review. Off-topic, inappropriate or insulting comments will be removed.