Comprehensive Program Needed to Address US Arctic Oil Spill Risk
|
Wednesday, April 23, 2014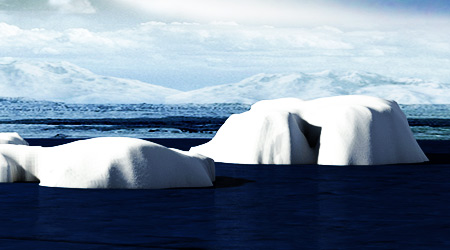 The National Research Council offers recommendations to address the oil spill risk posed by commercial activity in US Arctic waters.
The United States needs to validate current and emerging oil spill response technologies under the "real-world" challenges of the Arctic through carefully controlled field experiments as part of a long-term, collaborative Arctic oil spill research development program.
This program – which should span the local, state and federal U.S. government levels – should focus on understanding oil spill behavior in the Arctic marine environment, including the relationship between oil and sea ice formation, transport and fate, according to a report released by the National Research Council (NRC) Wednesday.
"It should include assessment of oil spill response technologies and logistics, improvements to forecasting models and associated data needs, and controlled field releases under realistic conditions for research purposes."
The projected rise in commercial activity associated with the thinning and retreat of Arctic ice has raised concerns about the risk of oil spills. Recent interest in developing Alaska's offshore oil and gas resources has led to planning, environmental assessments and preliminary drilling. Greater accessibility to the Arctic region also could result in greater seasonal use of Arctic waters by tankers and bulk carriers, fishing fleets and tourists on cruise ships seeking to interact with the Arctic wilderness.
To address potential oil spills and the range of conditions in the Arctic – from extreme weather and environmental settings, limited infrastructure, vast area and vulnerable species, ecosystems and cultures – the United States needs a full suite of proven oil response tools to address potential oil spills in U.S. Arctic waters. However, not all these tools are readily available.
"While much is known about both oil behavior and response technologies in ice-covered environments, there are areas where additional research would enable more informed decisions about the most effective response strategies for different Arctic spill situations," according to the report.
NRC recommended that a decision process similar to Net Environmental Benefit Analysis, which compares advantages and disadvantages of response options, should be used to determine which tool offers the greater overall reduction of adverse environment impact.
1
2
3
4
View Full Article
Generated by readers, the comments included herein do not reflect the views and opinions of Rigzone. All comments are subject to editorial review. Off-topic, inappropriate or insulting comments will be removed.